Genotoxic Effect of Chronic Exposure to DDT on Lymphocytes, Oral Mucosa and Breast Cells of Female Rats
1
Unit of Medical and Pharmaceutical Biotechnology, Center for Research and Assistance in Technology and Design of Jalisco, A.C. (CIATEJ), Normalistas 800, Guadalajara, 44270, Mexico
2
Laboratory of Regenerative Medicine, Neuroscience Institute, Hospital Clinico San Carlos, Madrid, 28040, Spain
3
Biological Sciences Department, Biological and Agricultural Sciences Center, University of Guadalajara, Carr. a Nogales Km 15.5, Zapopan, 45110, Mexico
4
BiosMedica Cancer Research Institute, Alcatraces 72, Jardin Real, Zapopan, 45136, Mexico
5
Environmental Immunology Laboratory, Western Biomedical Research Center of the Mexican, Institute for Social Security, Sierra Mojada 800, Colonia Independencia, S.L., Guadalajara, 44340, Mexico
*
Author to whom correspondence should be addressed.
Received: 27 December 2010 / Revised: 27 January 2011 / Accepted: 28 January 2011 / Published: 18 February 2011
Abstract
The genotoxicity of some environmental contaminants may affect human health directly by damaging genetic material and thus plays an important role in cancer development. Xenoestrogens are one kind of environmental pollutants that may alter hormonal routes or directly affect DNA. The number of available biomarkers used to assess genetic risk and cancer is very extensive. The present study evaluated genotoxicity produced by the pesticide DDT on systemic and mammary gland cells obtained from adult female Wistar rats. Oral mucosa cells micronuclei were assessed; the comet assay in peripheral blood-isolated lymphocytes and mammary epithelial cells was also carried out. Additionally, oxidative stress was studied in mammary tissue through a lipid peroxidation assay. Our data showed an increase in lipid peroxidation, product of an increase in free oxygen radical levels, which leads to an oxidative stress status. Our results suggest that DDT is genotoxic, not only for lymphocytes but also to mammary epithelial cells.
View Full-Text
►

▼

Figures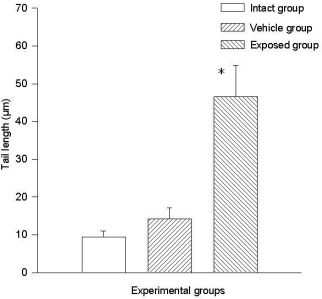 Share & Cite This Article
MDPI and ACS Style
Canales-Aguirre, A.; Padilla-Camberos, E.; Gómez-Pinedo, U.; Salado-Ponce, H.; Feria-Velasco, A.; De Celis, R. Genotoxic Effect of Chronic Exposure to DDT on Lymphocytes, Oral Mucosa and Breast Cells of Female Rats. Int. J. Environ. Res. Public Health 2011, 8, 540-553.
Related Articles
Comments
[Return to top]