Photodegradation of Selected PCBs in the Presence of Nano-TiO2 as Catalyst and H2O2 as an Oxidant
Department of Chemistry and Biochemistry, Jackson State University, 1400 J. R. Lynch Street, P.O. Box 17910, Jackson, MS 39217, USA
*
Author to whom correspondence should be addressed.
Received: 8 October 2010 / Revised: 25 October 2010 / Accepted: 12 November 2010 / Published: 15 November 2010
Abstract
Photodegradation of five strategically selected PCBs was carried out in acetonitrile/water 80:20. Quantum chemical calculations reveal that PCBs without any chlorine on
ortho
-positions are closer to be planar, while PCBs with at least one chlorine atoms at the
ortho
-positions causes the two benzene rings to be nearly perpendicular. Light-induced degradation of planar PCBs is much slower than the perpendicular ones. The use of nano-TiO
2
speeds up the degradation of the planar PCBs, but slows down the degradation of the non-planar ones. The use of H
2
O
2
speeds up the degradation of planar PCBs greatly (by >20 times), but has little effect on non-planar ones except 2,3,5,6-TCB. The relative photodegradation rate is: 2,2',4,4'-TCB > 2,3,5,6-TCB > 2,6-DCB ≈ 3,3',4,4'-TCB > 3,4',5-TCB. The use of H
2
O
2
in combination with sunlight irradiation could be an efficient and "green" technology for PCB remediation.
View Full-Text
►

▼

Figures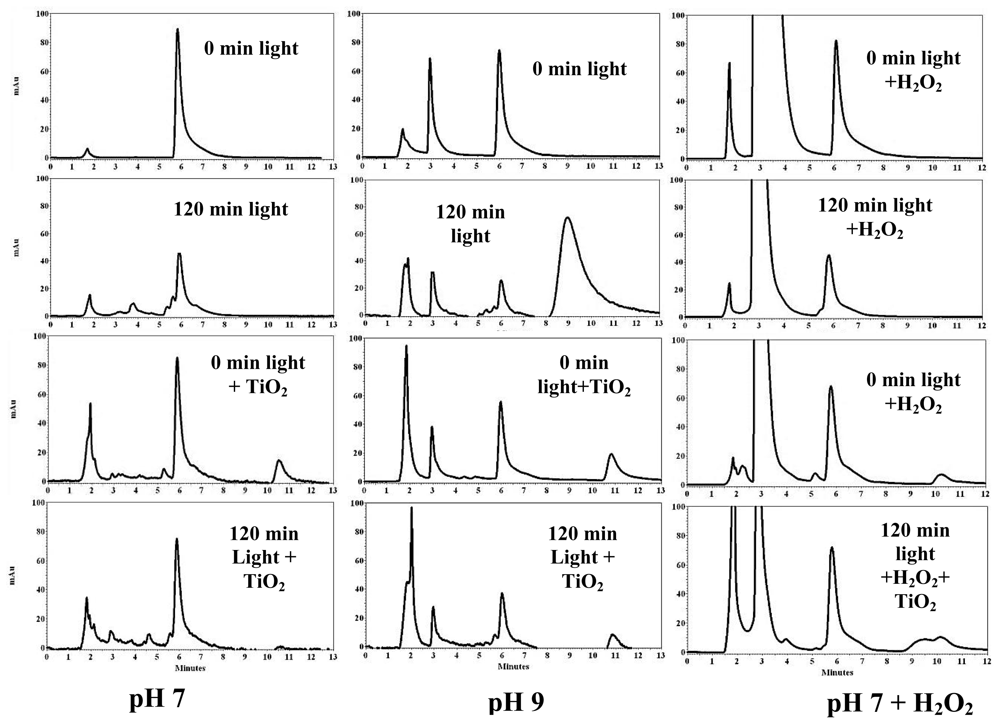 Share & Cite This Article
MDPI and ACS Style
Dasary, S.S.R.; Saloni, J.; Fletcher, A.; Anjaneyulu, Y.; Yu, H. Photodegradation of Selected PCBs in the Presence of Nano-TiO2 as Catalyst and H2O2 as an Oxidant. Int. J. Environ. Res. Public Health 2010, 7, 3987-4001.
Related Articles
Comments
[Return to top]