Association between a Polymorphism of Aminolevulinate Dehydrogenase (ALAD) Gene and Blood Lead Levels in Japanese Subjects
1
Department of Neurology, School of Medicine, Keio University, Tokyo, Japan
2
Department of Health Informatics, School of Public Health, Graduate School of Medicine, Kyoto University, Kyoto, Japan
3
Department of Molecular Epidemiology, Medical Research Institute, Tokyo Medical and Dental University, Tokyo, Japan
4
Department of Internal Medicine, School of Medicine, Keio University, Tokyo, Japan
5
Department of Social and Preventive Epidemiology, School of Public Health, Graduate of School of Medicine, University of Tokyo, Japan
*
Author to whom correspondence should be addressed.
Received: 4 January 2009 / Accepted: 4 March 2009 / Published: 6 March 2009
Abstract
This cross-sectional study investigated the relationship between the aminolevulinate dehydrogenase (ALAD) genotype and blood lead levels among 101 Japanese workers. Blood lead concentration measurement, biomarkers, and genotyping were performed. The minor allele frequency (MAF) for ALAD (ALAD2) was 0.08. Although the blood lead level in the subjects with heterozygous GC genotype was significantly higher than those with homozygous GG genotype, there were no significant differences for hemoglobin, hematocrit, serum and urinary ALA levels among genotypes. ALAD2 genotype was significantly associated with the blood lead concentration, even in the environmental lead exposed subjects. Further confirmation with a large sample size is needed.
View Full-Text
►

▼

Figures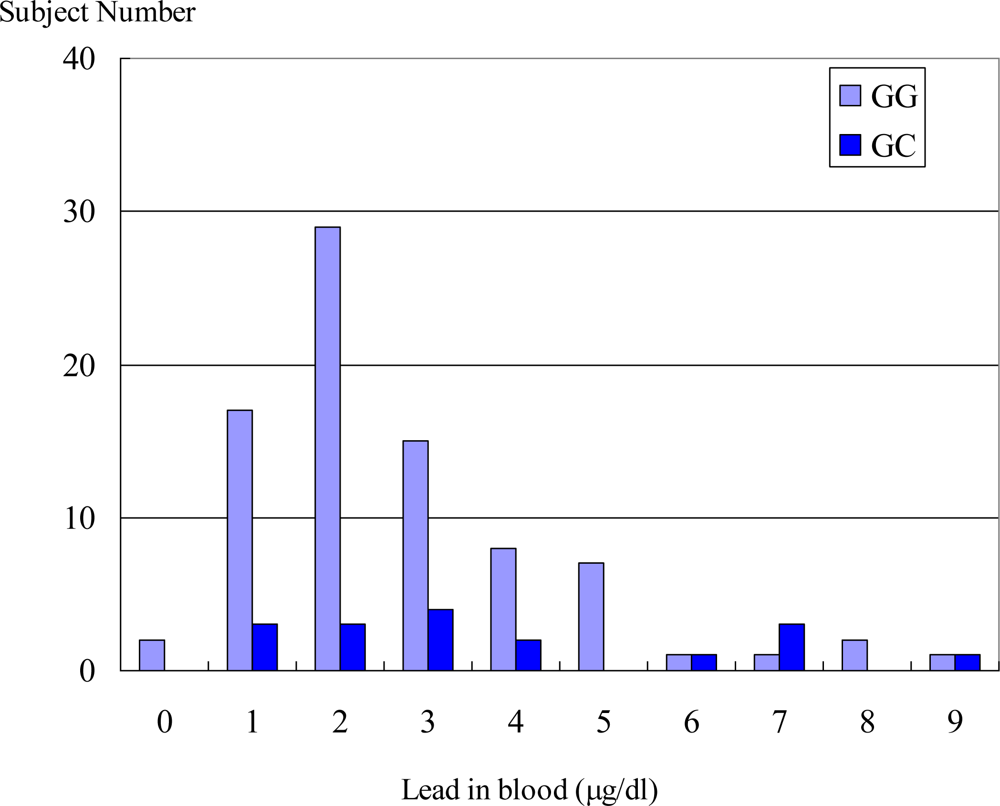 Share & Cite This Article
MDPI and ACS Style
Miyaki, K.; Lwin, H.; Masaki, K.; Song, Y.; Takahashi, Y.; Muramatsu, M.; Nakayama, T. Association between a Polymorphism of Aminolevulinate Dehydrogenase (ALAD) Gene and Blood Lead Levels in Japanese Subjects. Int. J. Environ. Res. Public Health 2009, 6, 999-1009.
Related Articles
Comments
[Return to top]