Mercury Induces the Externalization of Phosphatidyl-Serine in Human Renal Proximal Tubule (HK-2) Cells
Molecular Toxicology Research Laboratory, NIH-Center for Environmental Health, College of Science, Engineering and Technology, Jackson State University, 1400 Lynch Street, Box 18540 Jackson, Mississippi 39217, USA
*
Author to whom correspondence should be addressed.
Received: 5 January 2007 / Accepted: 30 April 2007 / Published: 30 June 2007
Abstract
The underlying mechanism for the biological activity of inorganic mercury is believed to be the high affinity binding of divalent mercuric cations to thiols of sulfhydryl groups of proteins. A comprehensive analysis of published data indicates that inorganic mercury is one of the most environmentally abundant toxic metals, is a potent and selective nephrotoxicant that preferentially accumulates in the kidneys, and is known to produce cellular injury in the kidneys. Binding sites are present in the proximal tubules, and it is in the epithelial cells of these tubules that toxicants such as inorganic mercury are reabsorbed. This can affect the enzymatic activity and the structure of various proteins. Mercury may alter protein and membrane structure and function in the epithelial cells and this alteration may result in long term residual effects. This research was therefore designed to evaluate the dose-response relationship in human renal proximal tubule (HK-2) cells following exposure to inorganic mercury. Cytotoxicity was evaluated using the MTT assay for cell viability. The Annexin-V assay was performed by flow cytometry to determine the extent of phosphatidylserine externalization. Cells were exposed to mercury for 24 hours at doses of 0, 1, 2, 3, 4, 5, and 6 μg/mL. Cytotoxicity experiments yielded a LD
50
value of 4.65 ± 0.6 μg/mL indicating that mercury is highly toxic. The percentages of cells undergoing early apoptosis were 0.70 ± 0.03%, 10.0 ± 0.02%, 11.70 ± 0.03%, 15.20 ± 0.02%, 16.70 ± 0.03%, 24.20 ±0.02%, and 25.60 ± 0.04% at treatments of 0, 1, 2, 3, 4, 5, and 6 μg/mL of mercury respectively. This indicates a dose-response relationship with regard to mercury-induced cytotoxicity and the externalization of phosphatidylserine in HK-2 cells.
View Full-Text
►

▼

Figures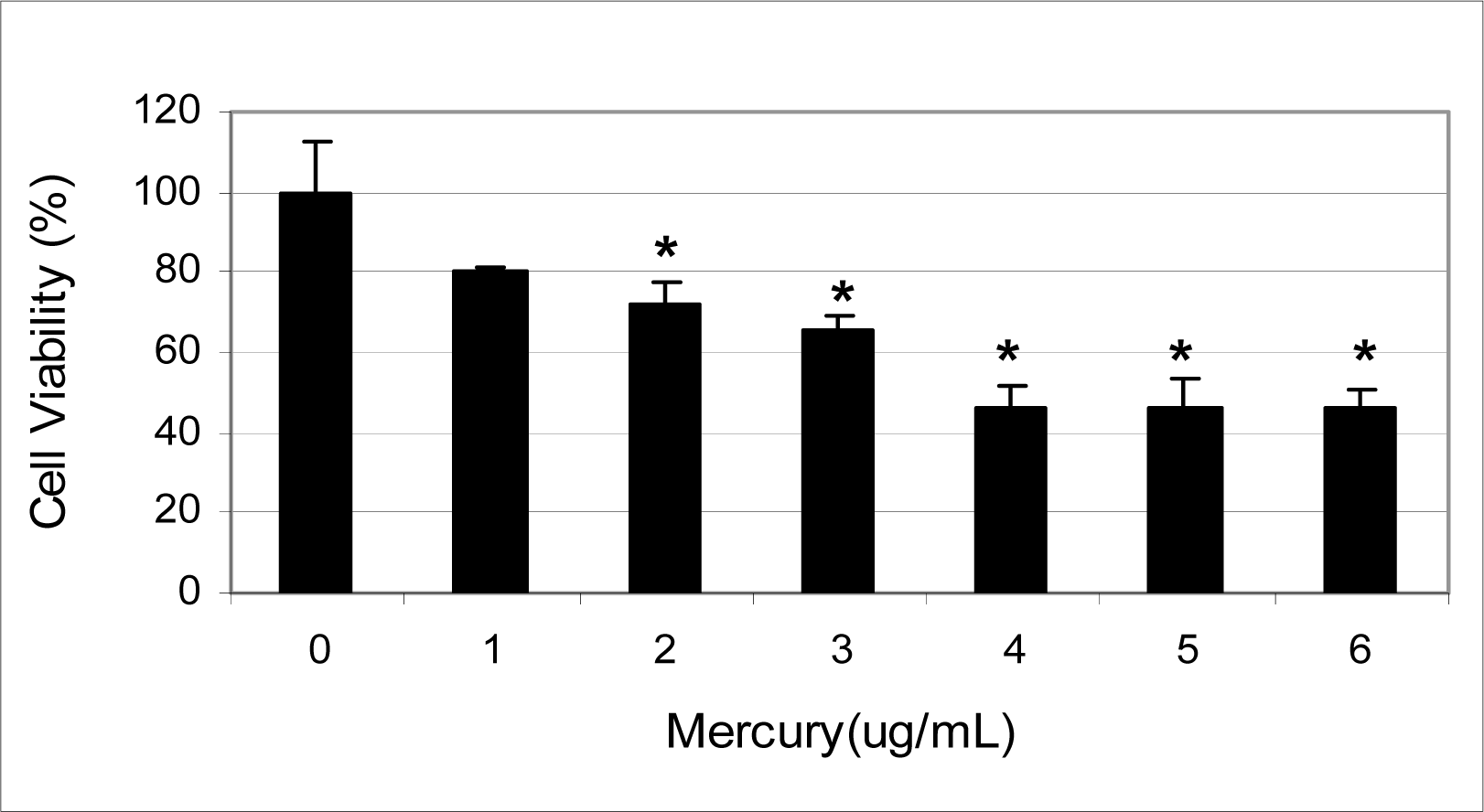 Share & Cite This Article
MDPI and ACS Style
Sutton, D.J.; Tchounwou, P.B. Mercury Induces the Externalization of Phosphatidyl-Serine in Human Renal Proximal Tubule (HK-2) Cells. Int. J. Environ. Res. Public Health 2007, 4, 138-144.
Related Articles
Comments
[Return to top]