Open Access This article is
freely available
re-usable
Article
Exposure Assessment of Diesel Bus Emissions
1
Division of Physics and Biophysics, Department of Molecular Biology, University of Salzburg, A-5020 Salzburg, Austria
2
International Laboratory for Air Quality and Health Queensland University of Technology, QLD 4001, Brisbane, Australia.
*
Correspondence to Mr. Pierre Madl. Email:
Received: 27 August 2005 / Accepted: 10 February 2006 / Published: 31 December 2006
Abstract
:
The goal of this study was to measure ultrafine particle concentrations with diameters less than 1 μm emitted by diesel buses and to assess resulting human exposure levels. The study was conducted at the Woolloongabba Busway station in Brisbane, Australia in the winter months of 2002 during which temperature inversions frequently occurred. Most buses that utilize the station are fuelled by diesel, the exhaust of which contains a significant quantity of particle matter. Passengers waiting at the station are exposed to these particles emitted from the buses. During the course of this study, passenger census was conducted, based on video surveillance, yielding person-by-person waiting time data. Furthermore, a bus census revealed accurate information about the total number of diesel versus Compressed Natural Gas (CNG) powered buses. Background (outside of the bus station) and platform measurements of ultrafine particulate number size distributions were made to determine ambient aerosol concentrations. Particle number exposure concentration ranges from 10 and 40 to 60% of bus related exhaust fumes. This changes dramatically when considering the particle mass exposure concentration, where most passengers are exposed to about 50 to 80% of exhaust fumes. The obtained data can be very significant for comparison with similar work of this type because it is shown in previous studies that exhaust emissions causes cancer in laboratory animals. It was assumed that significant differences between platform and background distributions were due to bus emissions which, combined with passenger waiting times, yielded an estimate of passenger exposure to ultrafine particles from diesel buses. From an exposure point of view, the Busway station analyzed resembles a street canyon. Although the detected exhaust particle concentration at the outbound platform is found to be in the picogram range, exposure increases with the time passengers spend on the platform along with their breathing frequency.
Keywords:
Ultrafine particles; diesel engine exhaust; exposure assessment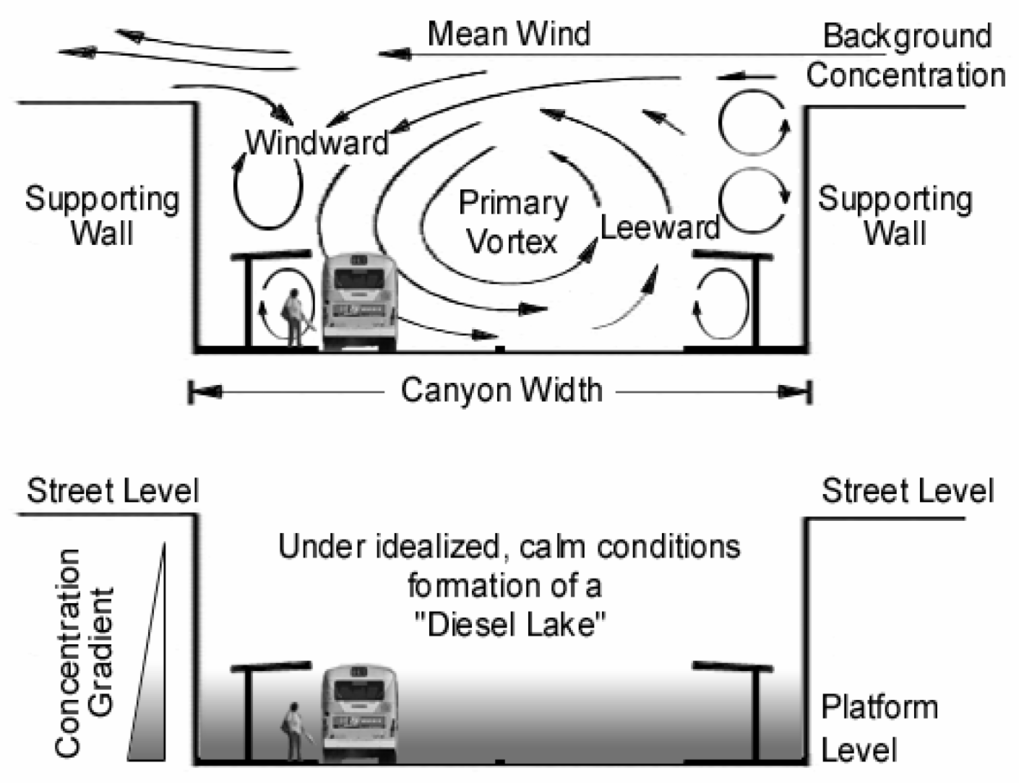 Figure 1.
Identical pollutant dispersion in a street canyon (modified [
14
]). The upper part of this picture shows strong wind conditions, which are capable to provide adequate ventilation and to remove air pollutants coming from the buses. The lower part depicts the most likely conditions in absence of wind or low ventilation favoring particle exposure.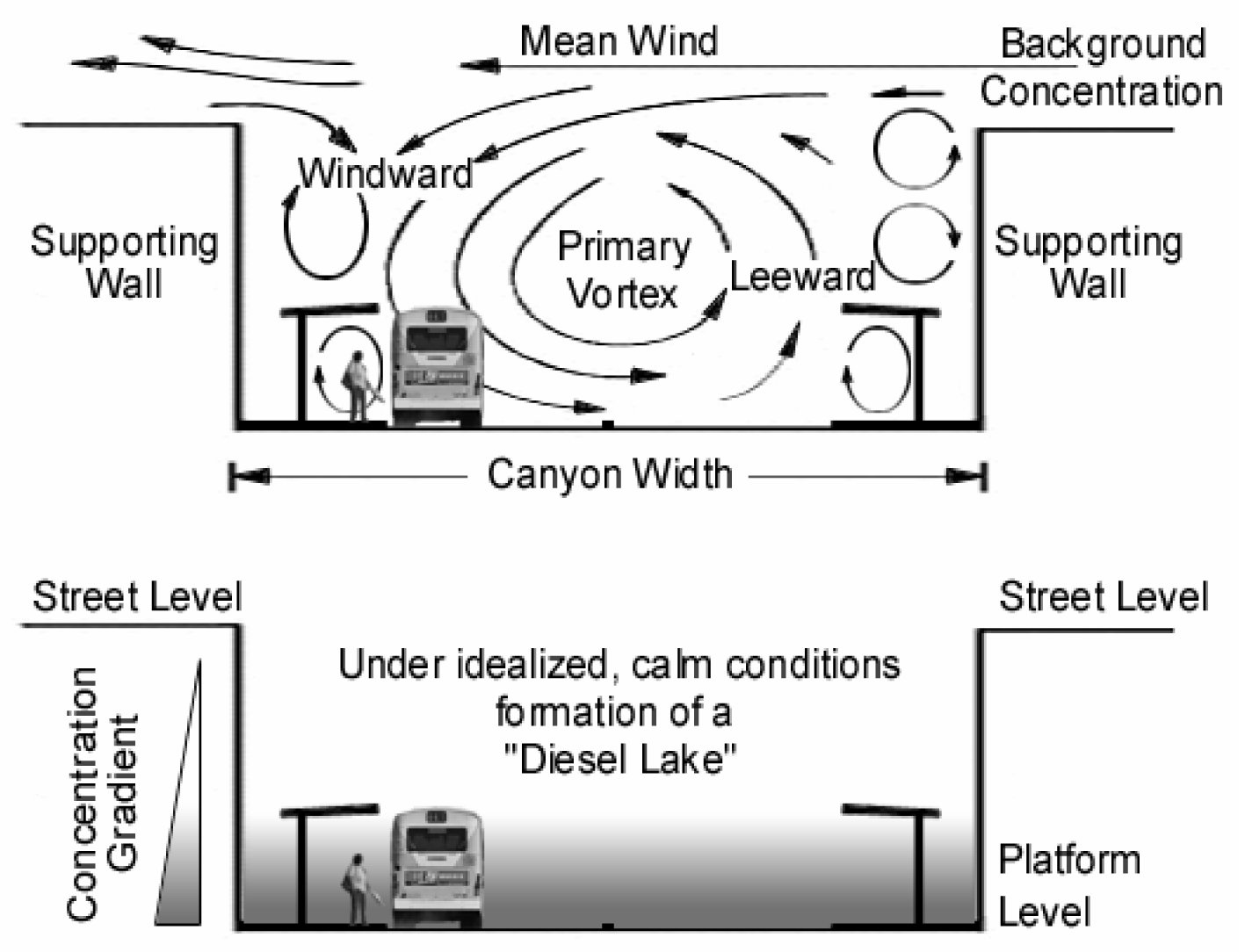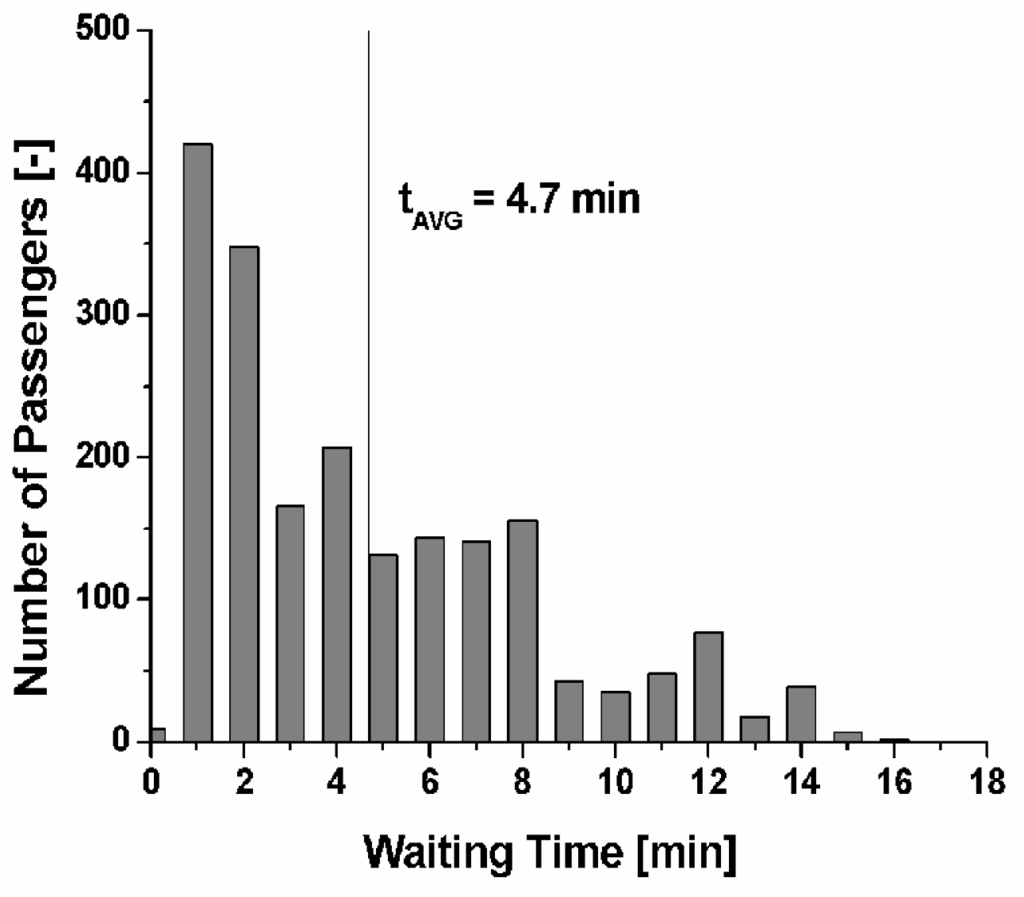 Figure 2. Histogram revealing waiting time frequencies for 2547 cases (passengers) present on a typical working day at the platform. The overall average for the entire pool of passengers counted amounts to 4.7 minutes.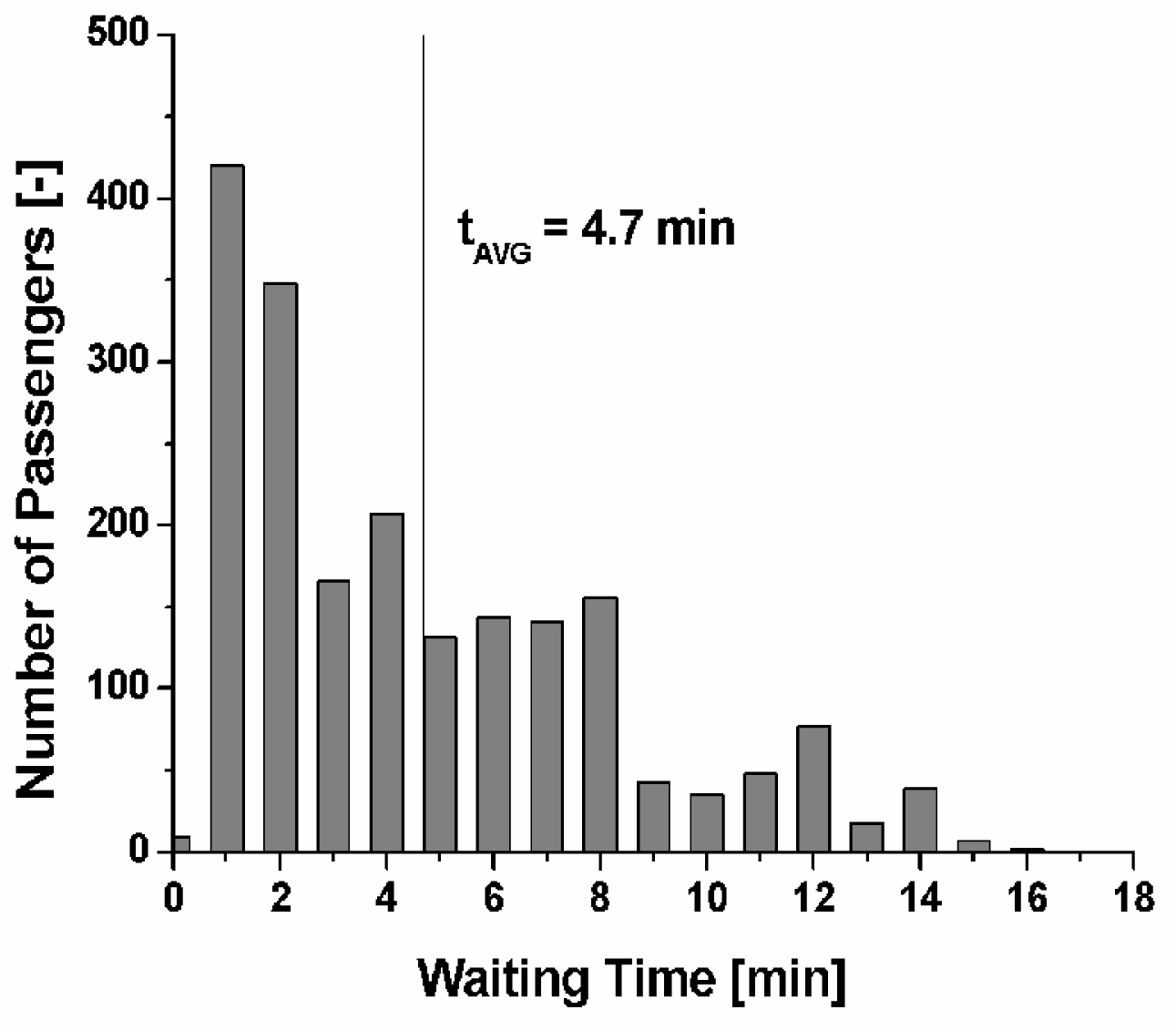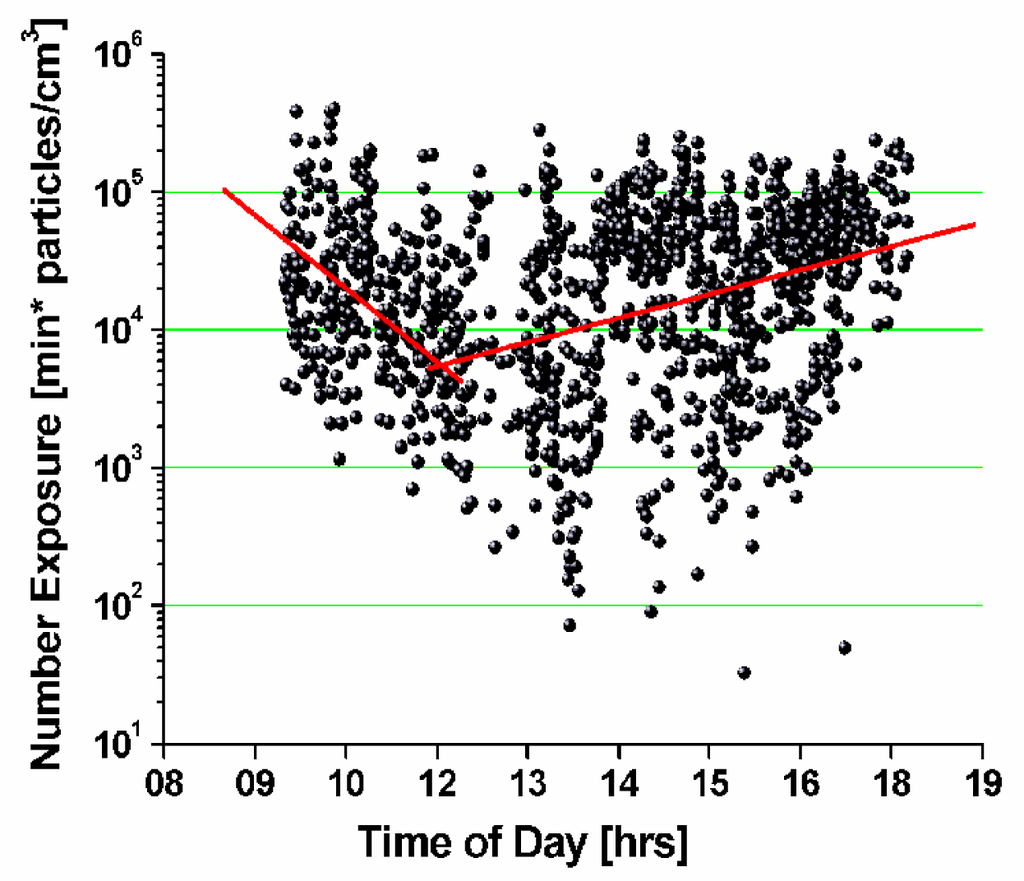 Figure 3. This 7-working day summary shows an increase of particle number exposure during the early peak hours in the mornings, a depression during midday hours and an increase in the late afternoon. The superimposed trend lines group together the morning measurements and the afternoon measurements, which are separated by the background measurement performed at noon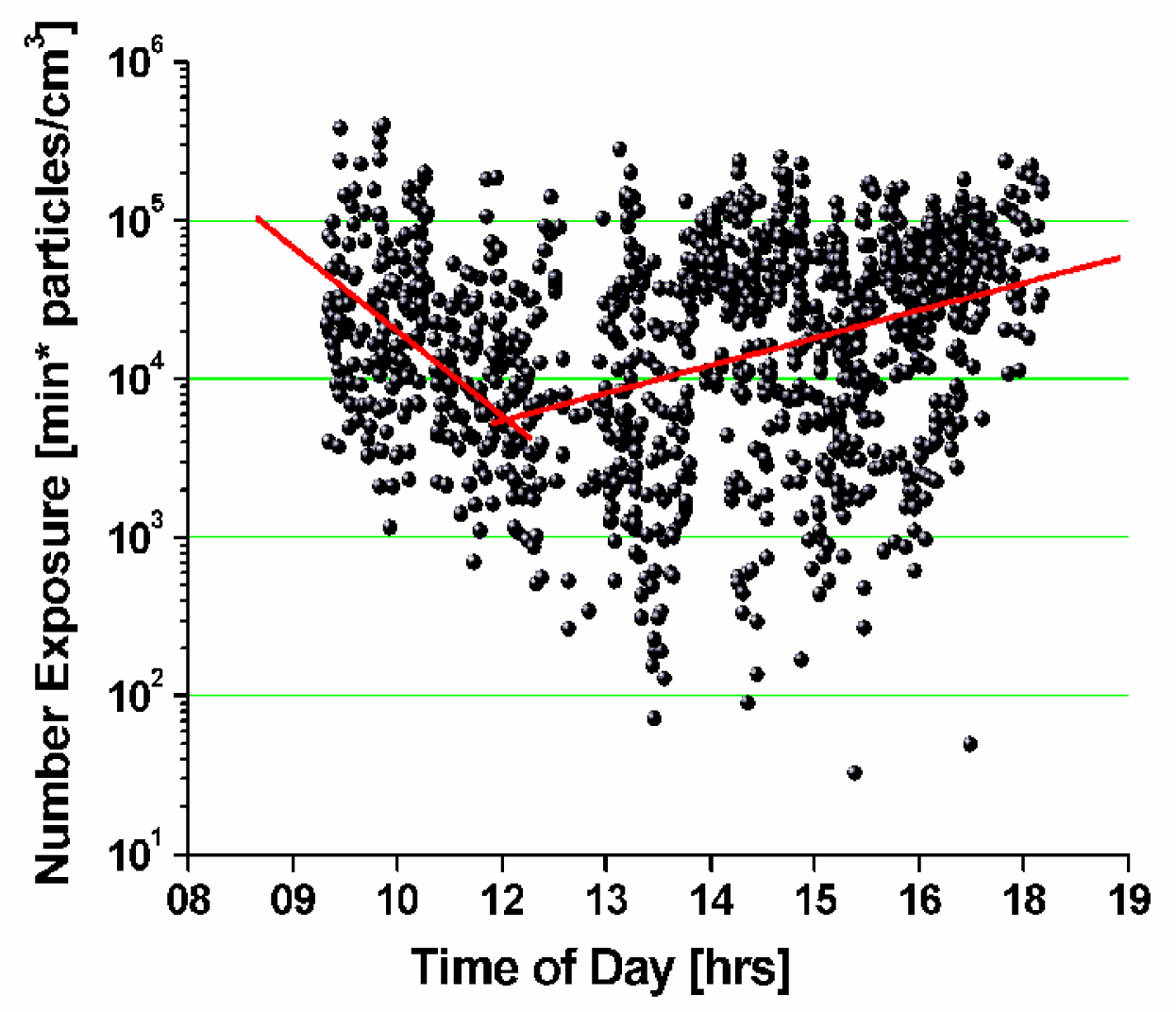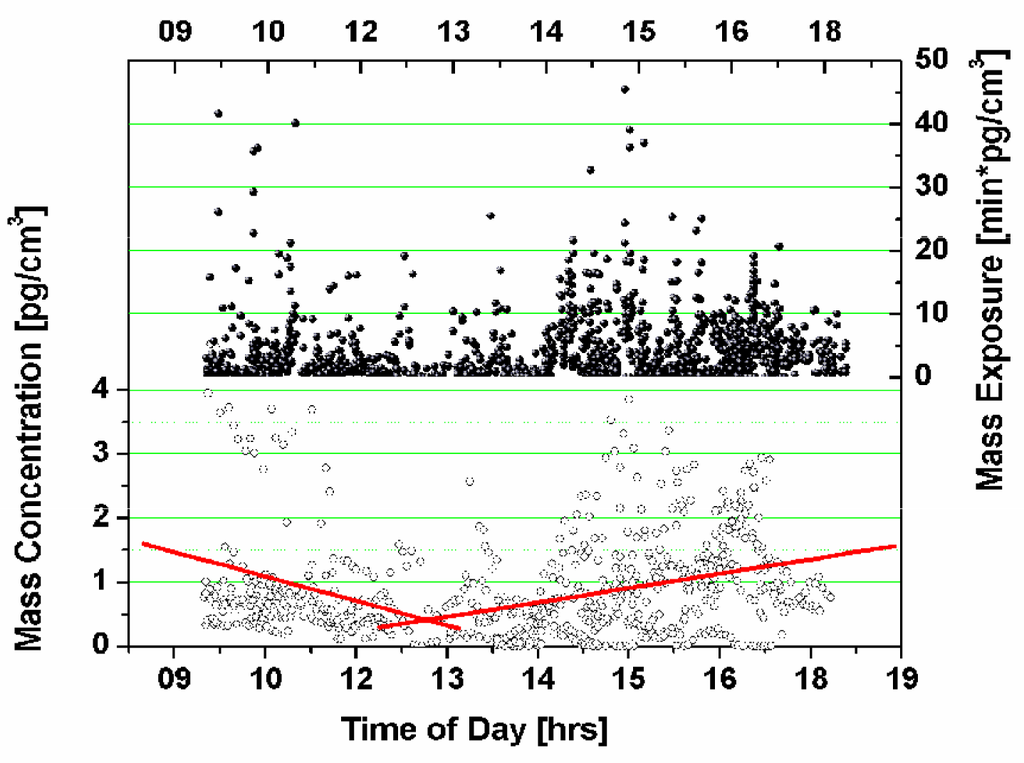 Figure 4. Diurnal particle mass concentration below and the particle mass exposure above. Using a standard exhaust aerosol conversion density of 1g/cm3, it is possible to convert particle concentration data into mass exposure data.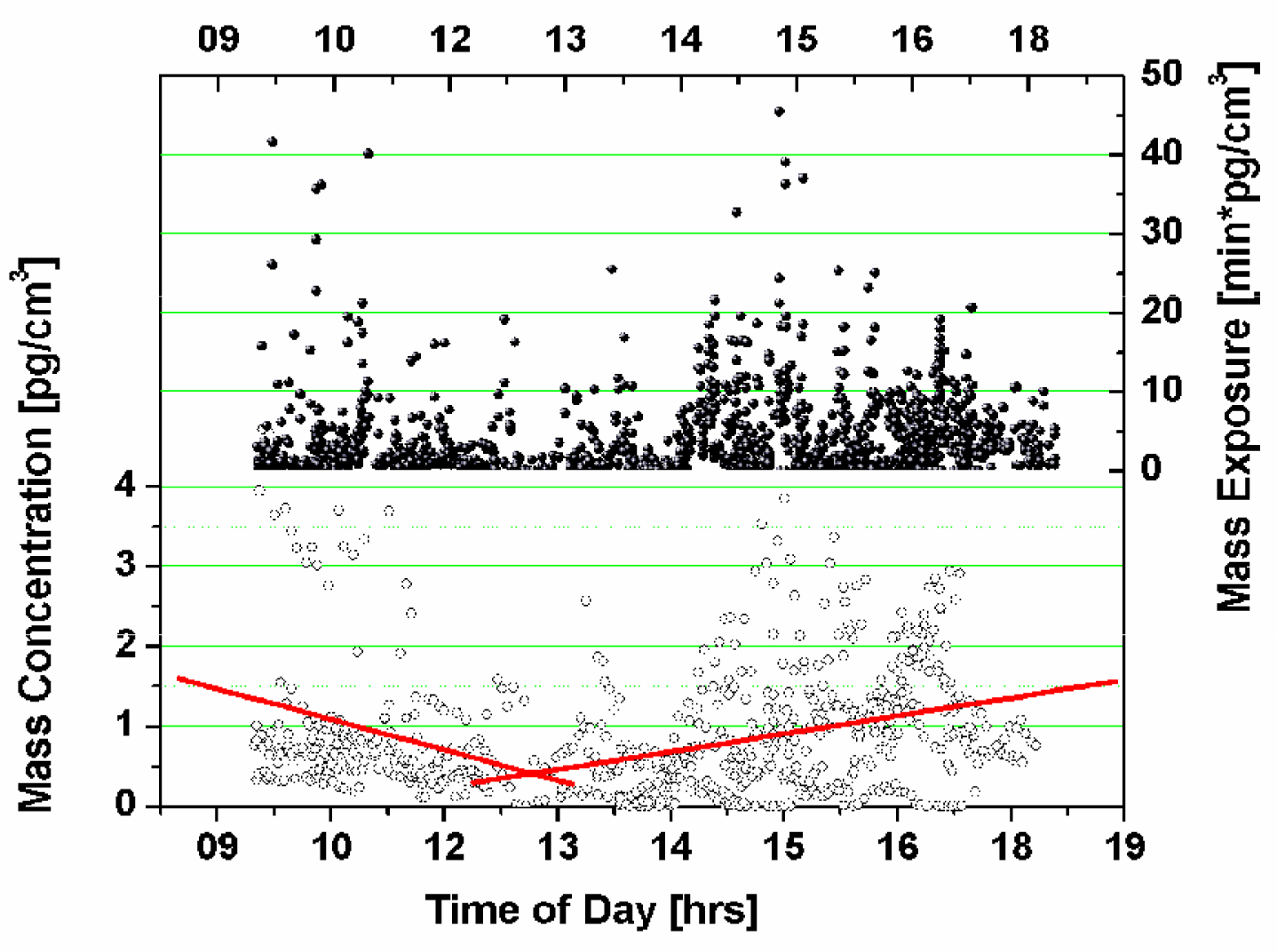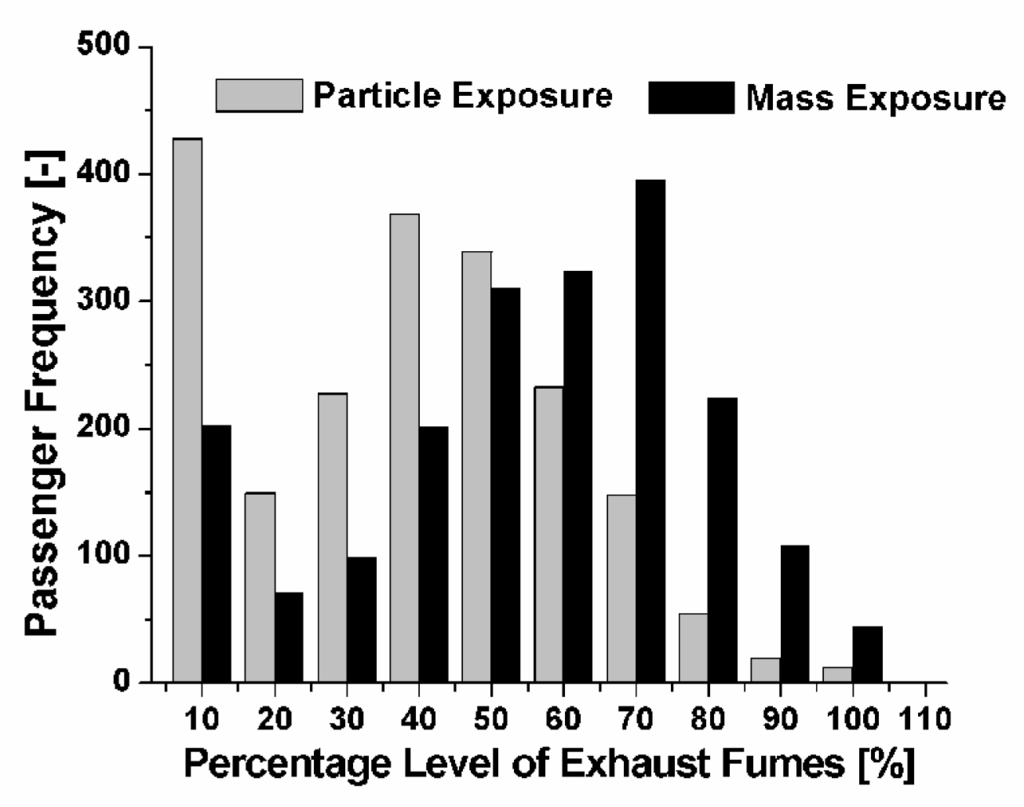 Figure 5. This histogram representation reveals the number of passengers exposed partially or entirely to bus fumes. The dark-colored section highlights particle number concentration, whereas the light-shaded portion the corresponding mass exposure concentration.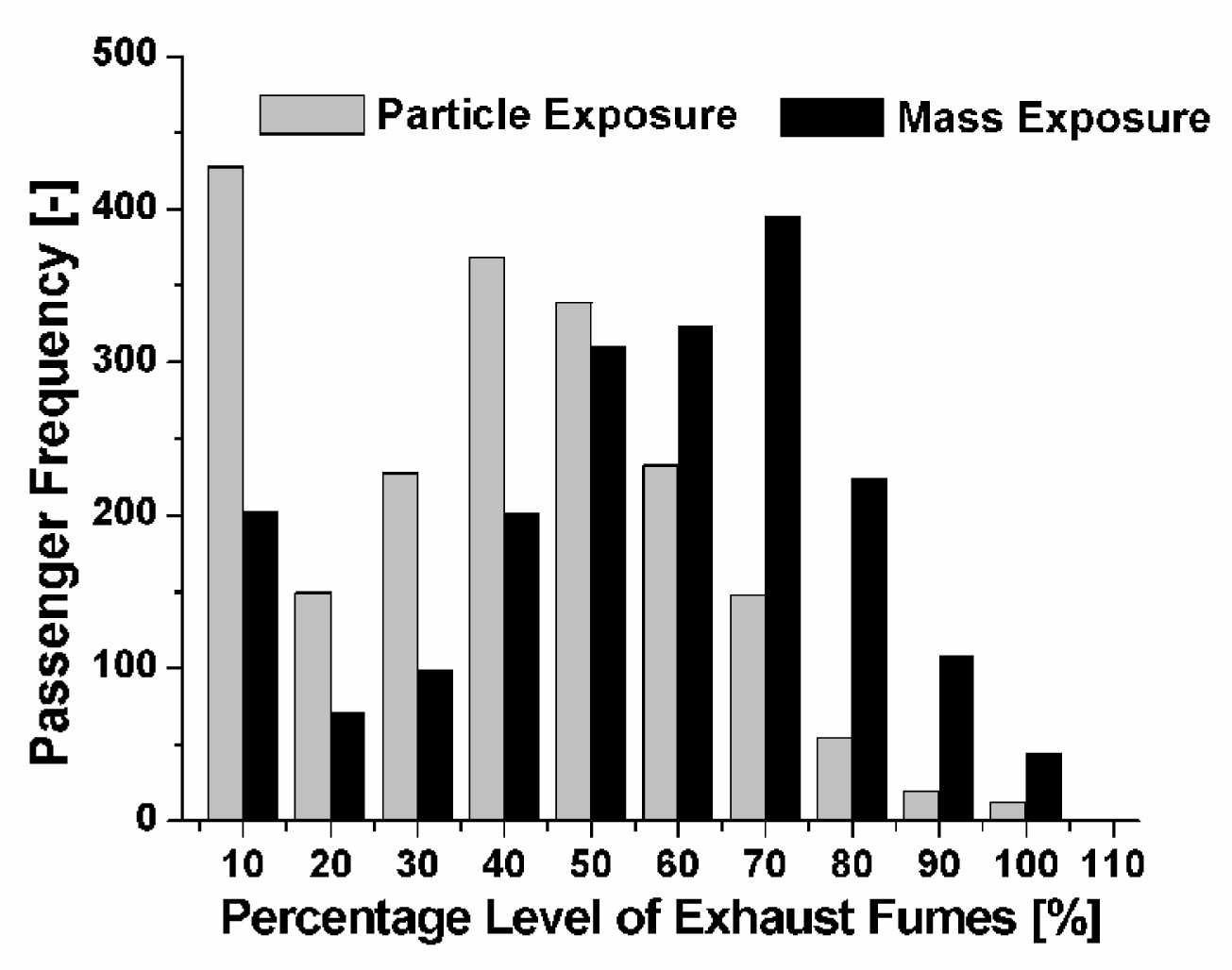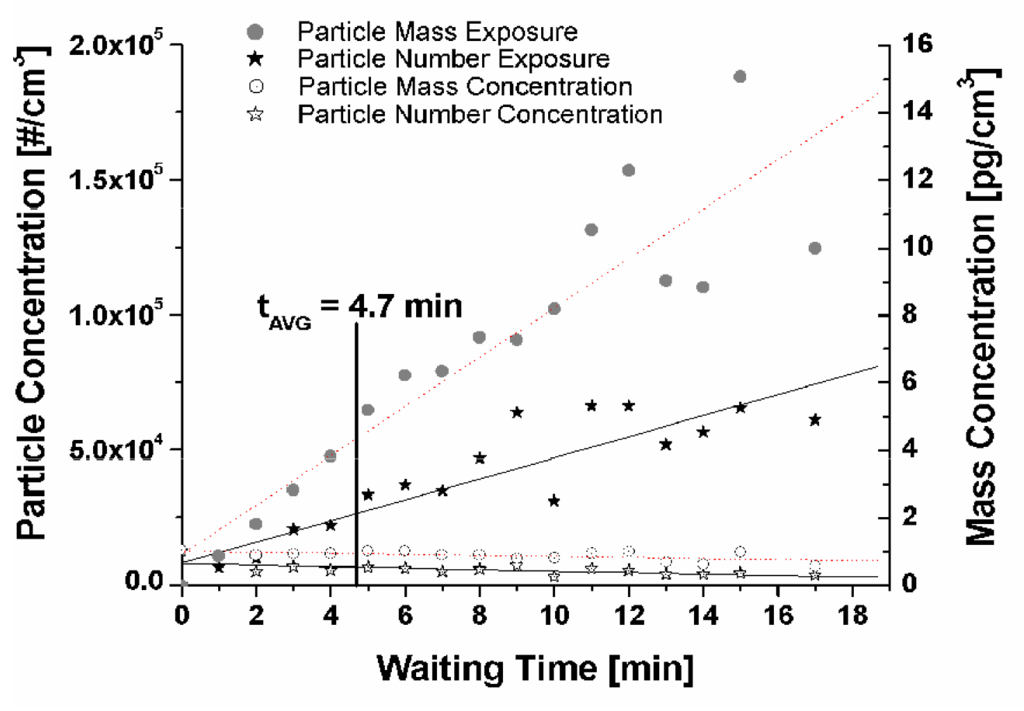 Figure 6. Particle and mass concentrations as fractions of the passengers' waiting times. Both particle and mass concentrations decline with time, whereas particle and mass exposure increase as passengers wait on the platform.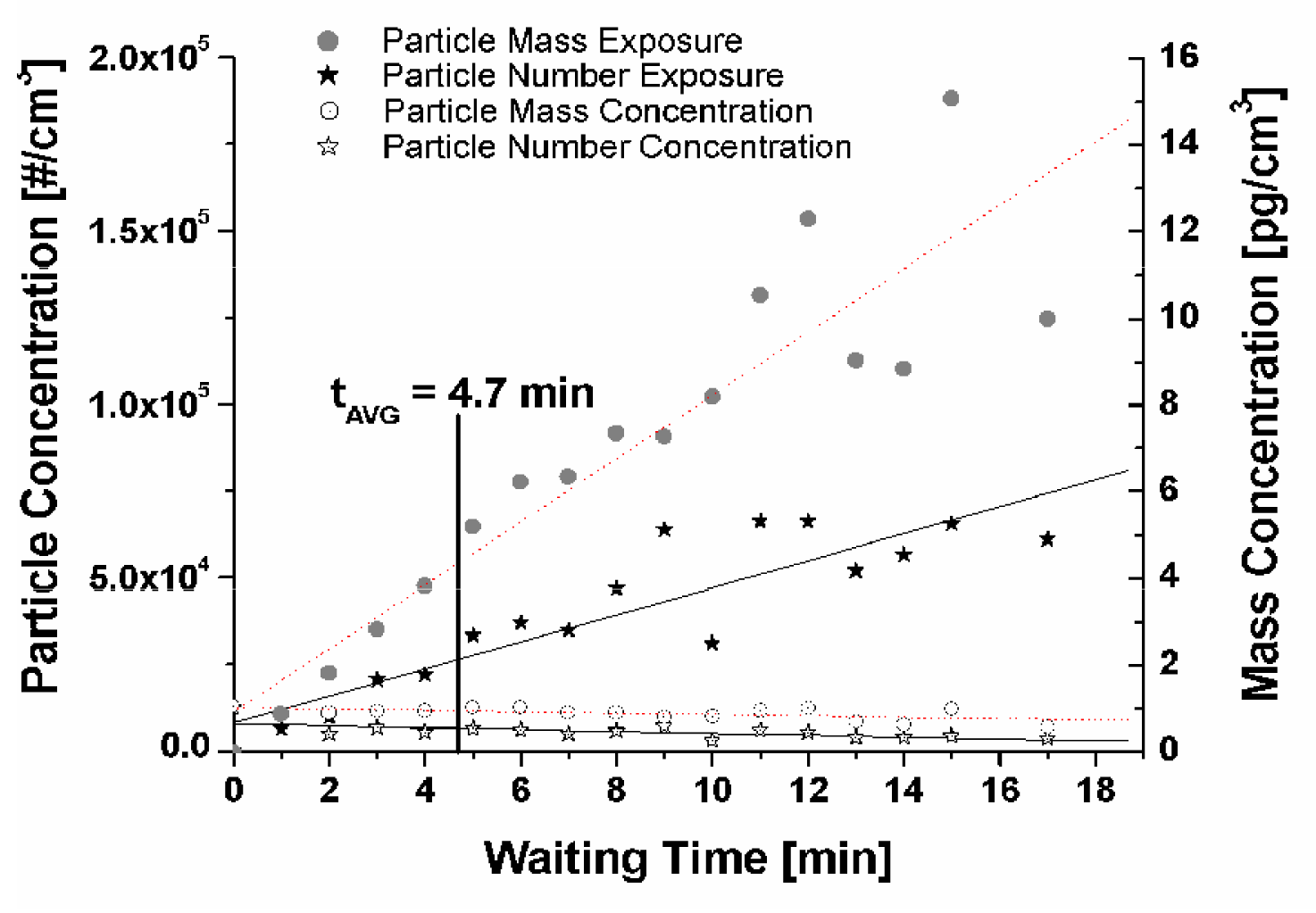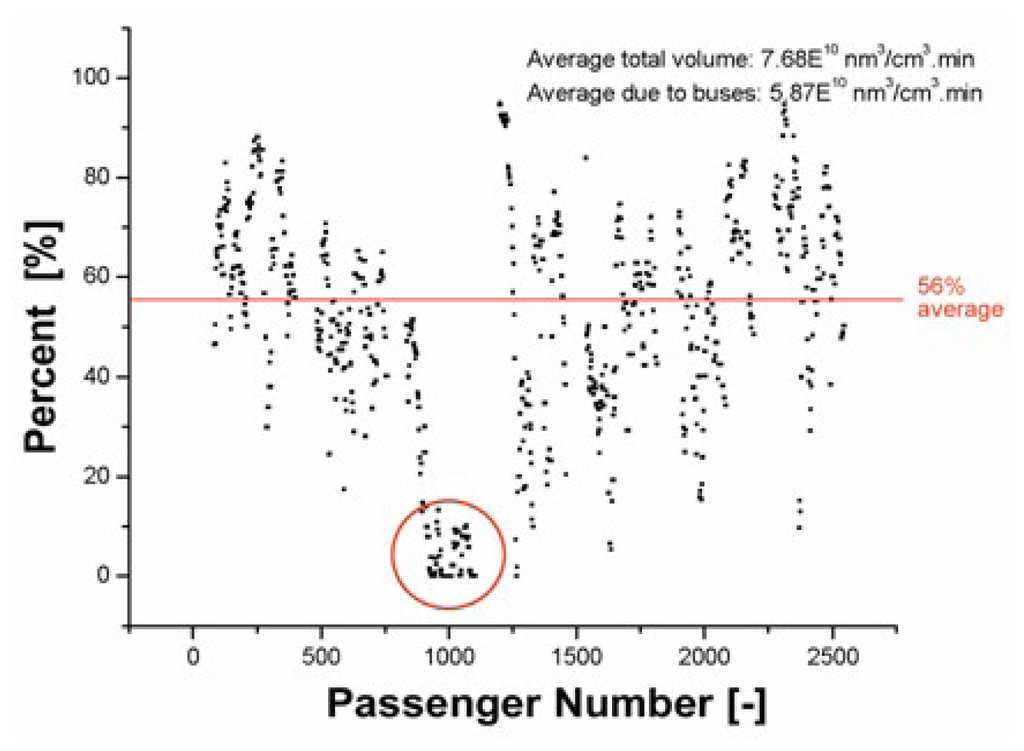 Figure 7. Exposure originating from bus fumes by particle volume concentration [nm3/cm3 min], which corresponds to mass (see text). The circled area indicates the flushing effect when longitudinal winds blow through the Busway Canyon (red circle).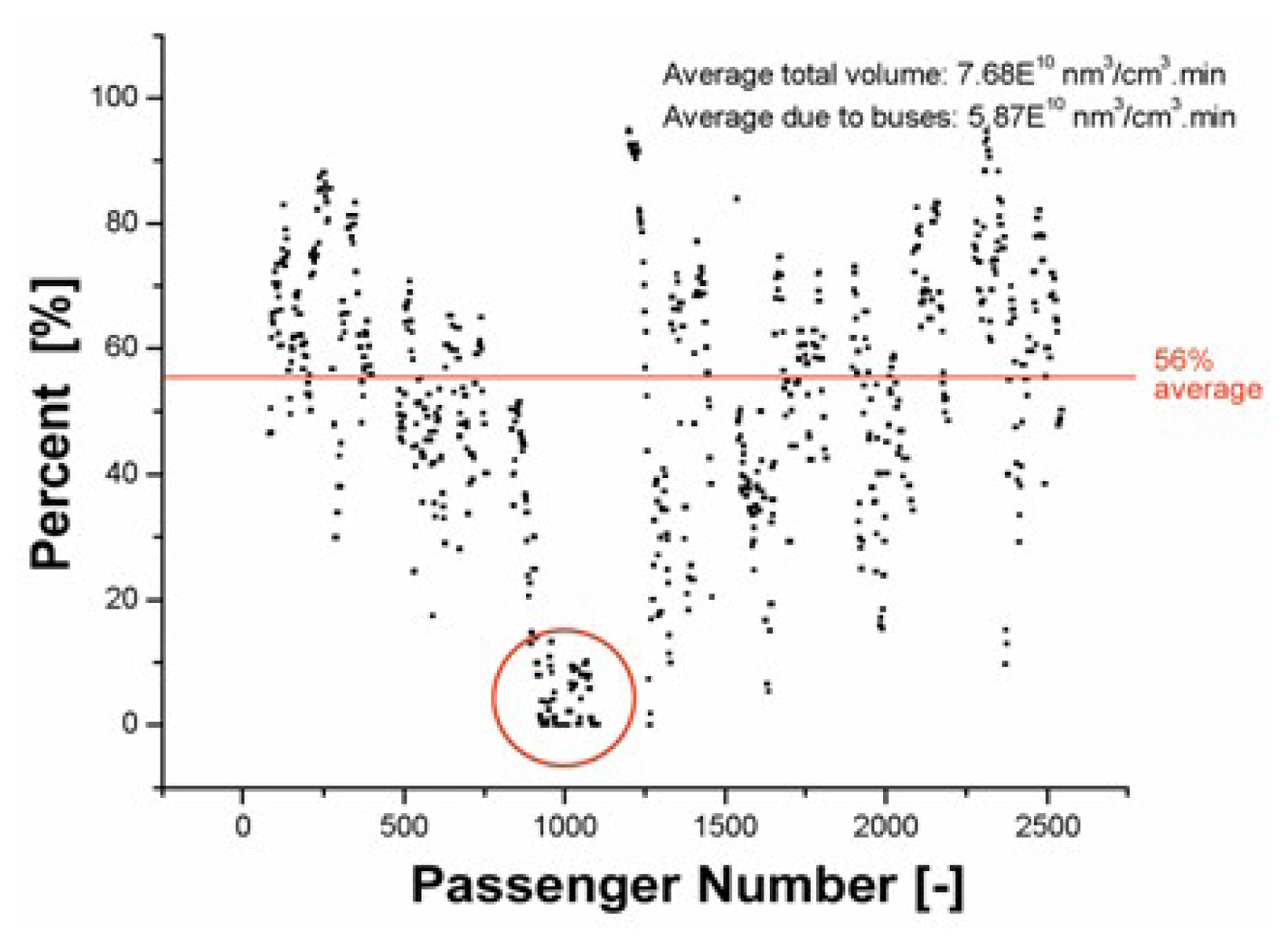 Acknowledgements
The authors wish to thank the Center Operations at Woolloongabba Busway Station and the Queensland Environmental Protection Agency for their kind assistance.
References
AKPF. Arbeitskreis Partikel-Filter-Systemhersteller.

Exhaust Motor Particles: Lexikon Verbrennungsmotor-Partikel

; Vorschlag TTM, 2000. http://www.akpf.org/pub/lexicon10-3-2000.pdf.
Boffetta, P.; Dosemeci, M.; Gridley, G.; Silverman, D.; Bath, H; Moradi, T. Occupational exposure to diesel engine emissions and risk of cancer in Swedish men and women, Cancer Causes and Control.

Lung Cancer

2001,

12

, 365–374. [Google Scholar]
CaEPA. California Environmental Protection Agency. Air Resources Board, Office of Environmental Health Hazard Assessment.

Executive Summary for the Proposed Identification of Diesel Exhaust as a Toxic Air Contaminant

. 1998. http://www.arb.ca.gov/toxics/dieseltac/staffrpt.pdf.
CSE, Center for Science and Environment,

The smokescreen of lies, Myths and facts about CNG

; Right to Clean Air Campaign Team: New Delhi, 2001; Volume 11, p. 12.
Dieselnet Ecopoint Inc.

Diesel Exhaust Particle Size, Revision

. 2002, 11. http://www.dieselnet.com/tech/dpm_size.html.
Enya, T.; Suzuki, H.; Watanabe, T.; Hirayama, T.; Hisamatsu, B. 3-Nitrobenzanthrone, a powerful bacterial mutagen and suspected carcinogen found in diesel exhaust and airborne particles.

Environmental Science and Technology

1997,

31

, 2772–2776. [Google Scholar]
IARC. International Agency for Research on Cancer, Diesel and gasoline engine exhaust, IARC Monographs on the Evaluation of Carcinogenic Risks to Humans. In

Diesel and Gasoline Engine Exhaust and Some Nitroarenes

; Lyon, 1989; Volume 46, pp. 41–185.
Hofmann, W.; Koblinger, L. Monte Carlo modeling of aerosol deposition in human lungs. Part II: Deposition fractions and their sensitivity to parameter variations.

Journal of Aerosol Science

1990,

21

, 675–688. [Google Scholar]
Majewski, W. A. DieselNet Technology Guide: Diesel Particulate Matter Revision. 2002, 11a. http://www.dieselnet.com/tech/dpm.html.
Morawska, L.; Vishvakarman, D.; Mengersen, K.; Stephen, T. Spatial variation of airborne pollutant concentrations in Brisbane, Australia and its potential impact on population exposure assessment.

Atmospheric Environment

2002,

36

, 3545–3555. [Google Scholar]
OEHHA. Office of Environmental Health Hazard Assessment.

Executive Summary for the "Proposed Identification of Diesel Exhaust, as a Toxic Air Contaminant"

; USU: CA, 1998. http://www.oehha.ca.gov/air/toxic_contaminants/html/Diesel%20Exhaust.htm.
Spadaro, J.; Rabl, A. Damage costs due to automotive air pollution and the influence of street canyons.

Atmospheric Environment

2001,

35

, 4763–4775. [Google Scholar]
USEPA. United States Environmental Protection Agency,

Health Assessment Document for Diesel Engine Exhaust

; EPA/600/8-90/057F; USA, 2002.
Vardoulakis, S.; Fisher, B.; Pericleous, K.; Flesca, N. Modeling air quality in street canyons: a review.

Atmospheric Environment

2003,

37

, 155–182. [Google Scholar]
© 2006 MDPI. All rights reserved.