Open Access This article is
freely available
re-usable
Article
Systems Biology: New Approaches to Old Environmental Health Problems
1
Div. of Environmental Health Sciences, University of Minnesota School of Public Health, Minneapolis, MN 55455, USA
2
Minnesota Department of Health, Minneapolis MN 55440-9441, USA
*
Correspondence to Dr. William A. Toscano
Received: 15 November 2004 / Accepted: 6 February 2005 / Published: 30 April 2005
Abstract
:
The environment plays a pivotal role as a human health determinant and presence of hazardous pollutants in the environment is often implicated in human disease. That pollutants cause human diseases however is often controversial because data connecting exposure to environmental hazards and human diseases are not well defined, except for some cancers and syndromes such as asthma. Understanding the complex nature of human-environment interactions and the role they play in determining the state of human health is one of the more compelling problems in public health. We are becoming more aware that the reductionist approach promulgated by current methods has not, and will not yield answers to the broad questions of population health risk analysis. If substantive applications of environment-gene interactions are to be made, it is important to move to a systems level approach, to take advantage of epidemiology and molecular genomic advances. Systems biology is the integration of genomics, transcriptomics, proteomics, and metabolomics together with computer technology approaches to elucidate environmentally caused disease in humans. We discuss the applications of environmental systems biology as a route to solution of environmental health problems.
Keywords:
genomics; envirome; exposure; systems analysis; toxicology; environmental health
Introduction
The relationship between the external environment and human health was recognized by ancient societies. The Greek physicians Alcmaeon of Croton and Hippocrates are credited with hypotheses linking environment and health [
1
]. In Roman times it was known that a source of potable water was necessary for human health, thus in addition to building aqueducts to supply necessary drinking water. Roman laws concerning public health were severe and strictly enforced [
2
]. Remnants of association between environment and disease survive to this day in some of the names associated with diseases. Malaria, for example, literally means "bad air", which was associated with the onset of the disease. With the discovery that bacteria could cause disease, the
Germ Theory of Disease
was promulgated, largely from the work of Lister, Koch and Pasteur [
3
–
6
]. The germ theory recognized infectious agents of biological origin such as bacteria and viruses as the cause of much of human disease, subsequently leading to discovery of antibiotics that control bacteria and development of new regimens of immunization to control viral diseases [
6
–
8
]. Together with greater understanding of vector control and use of antibiotics and vaccines, the ability to manage diseases increased and the environment was largely overlooked as a causative agent of human disease.
With the elucidation of the structure of DNA in the early 1950's and the growth of molecular biology, the genetic basis of non-infectious diseases blossomed, and great emphasis on genetics as a cause of diseases was emphasized in medicine [
9
–
12
]. In fact, chronic diseases for which no specific cause was known were largely attributed to genetics or even "bad genes" [
13
].
The Envirome
Environmental Systems Biology
Where Do We Go From Here?
The science underlying genomic and system biology approaches to environmental diseases is readily available. However, application of these powerful methods is lagging, in part because at first glance, genomics and public health practice are at polar opposites. Public health is practical and utilitarian, where the rights of the majority out weigh the rights of the minority, resulting in interventions that can be perceived as coercive. For example general immunization and isolation or quarantine has been justified over individual civil rights to protect general health of the population [
65
]. On the other hand, using systems biology to identify susceptibility to environmental diseases other is highly personalized [
66
]. There is no guarantee that individual findings will be generalizeable to the population at large, consequently, there is potential for clashes between public health and new genomics approaches [
67
]. Another major concern includes, ethical, legal and social issues regarding the accumulation and proper application of the data derived from such studies [
68
–
70
]. These points will have to be addressed before modern genomic approaches can be widely accepted in the practice of environmental public health.
Human population studies using clinical or epidemiological data that associate environmental exposures with health endpoints and disease can now be studied using systems biology approaches incorporating enviromics, and metabolomics. Together with the use of population genetic histories, understanding human genetic variation and genomic reactions to specific environmental exposures will allow us to uncover the causes of variations in human response to environmental exposures providing important new tools in assessing risk of human disease [
31
].
Figure 1.
Central Dogma of Biology
: Modern-omics technologies follow the pattern established by the central dogma of biology proposed more than 50 years ago by Watson and Crick [
27
], with the addition of active enzymes and metabolities, which taken together reflect human phenotypes. Here we include enzymes as part of the metabolome because metabolities are regulated by enzyme patterns.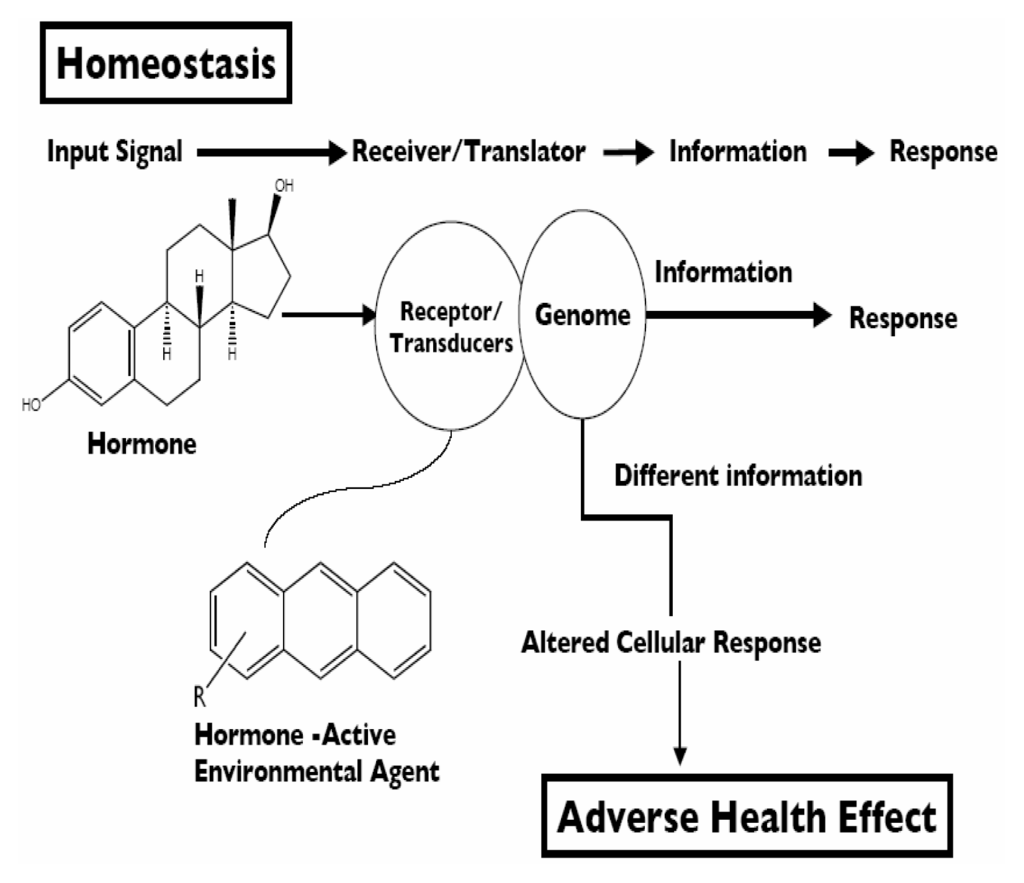 Figure 2.
Indirect Environment-Gene Interaction
: Hormones and vitamins interact with the genome
via
ligand-activated transcription factors yielding a "normal" cellular response to maintain homeostasis. Environmental agents can mimic natural ligands or bind to other intracellular receptors that yield different information from homeostatic regulation. The result is an altered cellular response yielding an adverse health effect.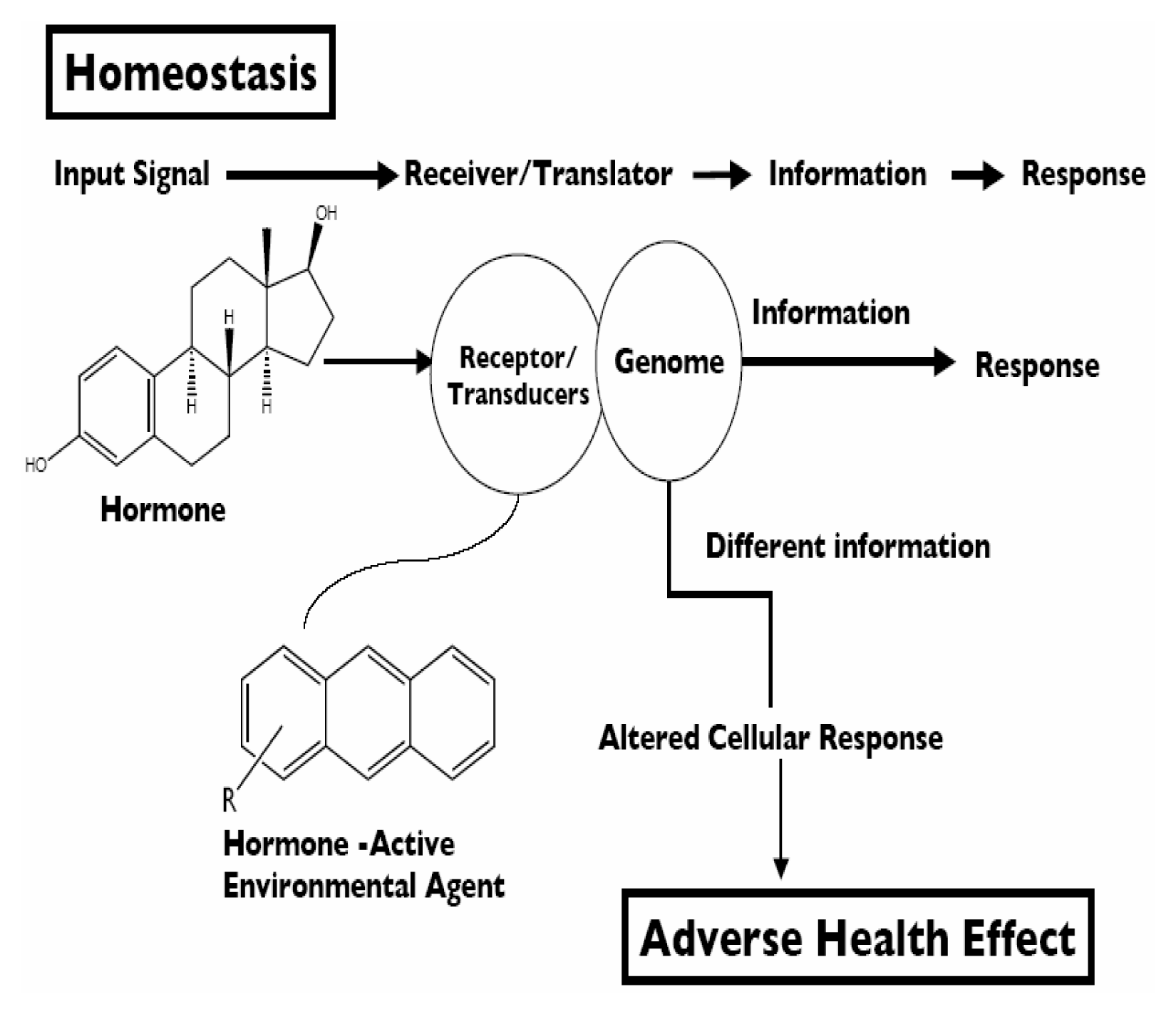 Figure 3.
Simple Interaction Gene Regulatory Network
: In the simple model, three interacting genes form a network in a cell. Here Gene A activates Gene B. Gene B activates Gene A and Gene C, and Gene C inactivates Gene A. Thus several levels of regulation are possible with the three interacting genes.

Acknowledgements
Supported in part by grants from National Science Foundation (0234143), National Institute of Environmental Health Science (ES-10956 and ES-013379), Department of Energy (DE-FC26-00NT40843), and Centers for Disease Control and Prevention.
References
Vegetti, M. Law and nature in the Hippocratic treatise "

De aere

".

Med. Secoli. (Italy)

1995,

7

, 611–619. [Google Scholar]
Alvarez, M. C. Graeco-Roman case histories and their influence on Medieval Islamic clinical accounts.

Soc. Hist. Med

1999,

12

, 19–43. [Google Scholar]
Geisen, G. L.

The Private Science of Louis Pasteur

; Princeton University Press: Princeton, NJ, 1995. [Google Scholar]
Baxter, A. G. Louis Pasteur's beer of revenge.

Nat Rev Immunol

2001,

1

, 229–232. [Google Scholar]
Prost, A. From disease to health: The individual, society, environment and culture.

Sante (France)

1995,

5

, 331–333. [Google Scholar]
Waller, J.

The discovery of the germ: Twenty years that transformed the way we think about disease

; Columbia University Press: NY, 2002. [Google Scholar]
Roberts, L. Polio Endgame: The exit strategy.

Science

2004,

303

, 1960–1071. [Google Scholar]
John, T. J. The golden jubilee of vaccination against poliomyelitis.

Indian J. Med. Res

2004,

119

, 1–17. [Google Scholar]
Franklin, R. E.; Gosling, R. G. Molecular Configuration in Sodium Thymonucleate.

Nature (London)

1953,

171

, 740–741. [Google Scholar]
Watson, J. D.; Crick, F. H. Molecular structure of nucleic acids: A structure for deoxyribose nucleic acid.

Nature (London)

1953,

171

, 737–738. [Google Scholar]
Seegmiller, J. E. Genetic and Molecular Basis of Human Hereditary Diseases.

Clin. Chem

1967,

13

, 554–564. [Google Scholar]
Day, I. N. M.; Gu, D.; Ganderton, R. H.; Spanakis, E.; Ye, S. Epidemiology and the genetic basis of disease.

Int. J. Epidemiol

2001,

30

, 661–667. [Google Scholar]
Fitzgerald, P. J.

From Demons Evil Spirite to Cancer Genes

; American Registry of Pathology: Washington, DC, 2000. [Google Scholar]
Carson, R.

Silent Spring

; Houghton Mifflin Co.: Boston, MA, 1962;

Reprinted 2002

. [Google Scholar]
Mazur, A.

Hazardous Inquiry: The Rashomon Effect at Love Canal

; Harvard University Press: Cambridge, MA, 1997. [Google Scholar]
Brown, P.; Clapp, R. Looking back on Love Canal.

Public Health Rep

2002,

117

, 9598. [Google Scholar]
Renn, O. Perception of Risks.

Toxicol. Lett

2004,

149

, 403–413. [Google Scholar]
Grandjean, P. Implications of the precautionary principle for primary prevention and research.

Annu. Rev. Public Health

2004,

25

, 199–223. [Google Scholar]
Rushton, L.; Elliott, P. Evaluating evidence on environmental health risks.

Br. Med. Bull

2003,

68

, 113–128. [Google Scholar]
Kaufman, J. S.; Poole, C. Looking back on "causal thinking in the health sciences".

Annu. Rev. Public Health

2000,

21

, 101–119. [Google Scholar]
Maldonado, G.; Greenland, S. Estimating causal effects.

Int. J. Epidemiol

2002,

31

, 422–429. [Google Scholar]
Collins, F. S.; Morgan, M.; Patrinos, A. The Human Genome Project: lessons from large-scale biology.

Science

2003,

300

, 286–90. [Google Scholar]
Austin, M. A. The impact of the completed human genome sequence on the development of novel therapeutics for human disease.

Annu. Rev. Med

2004,

55

, 1–13. [Google Scholar]
Thomas, P. D.; Kejariwal, A. Coding single-nucleotide polymorphisms associated with complex vs. Mendelian disease: Evolutionary evidence for differences in molecular effects.

Proc. Natl. Acad. Sci. (USA)

2004. [Google Scholar]
Primrose, S. B.; Twyman, R. M.

Genomics: Applications in Human Biology

; Blackwell Scientific: Malden, MA, 2004. [Google Scholar]
Bentley, D. R. The human genome project -An overview.

Med. Res. Rev

2000,

20

, 189186. [Google Scholar]
Crick, F. H. Central dogma of molecular biology.

Nature (London)

1970,

227

, 561–563. [Google Scholar]
Bentley, D. R. Genomes for medicine.

Nature (London)

2004,

429

, 440–445. [Google Scholar]
Orcutt, B. C.; George, D. G.; Dayhoff, M. O. Protein and nucleic acid sequence database systems.

Annu. Rev. Biophys. Bioeng

1983,

12

, 419–441. [Google Scholar]
Ouzounis, C. A.; Valencia, A. Early bioinformatica: The birth of a discipline--A Personal View.

Bioinformatics

2003,

19

, 2176–2179. [Google Scholar]
Mori, C. M. K.; Adachi, T.; Sakurai, K.; Nishimura, D.; Takashima, K.; Todaka, E. Application of toxicogenomic analysis to risk assessment of delayed long-term effects of multiple chemicals, including endocrine disruptors in human fetuses.

Environ Health Perspect

2002,

111

, 7–13. [Google Scholar]
Grody, W. W. Molecular genetic risk screening.

Annu. Rev. Med

2003,

54

, 473–490. [Google Scholar]
Shastry, B. S. SNP Alleles in human disease and evolution.

J. Hum. Genet

2002,

47

, 561566. [Google Scholar]
Crawford, D. C.; Carlson, C. S.; Reider, M. J.; Carrington, D. P.; Yi, Q.; Smith, J. D.; Eberle, M. A.; Kruglyak, L.; Nickerson, D. A. Haplotype diversity across 100 candidate genes for inflammation, lipid metabolism, and blood pressure regulation in two populations.

Amer. J. Hum. Genet

2004,

74

, 610–622. [Google Scholar]
Erichsen, H. C.; Chanock, S. J. SNPs in cancer research and treatment.

Br J Cancer

2004,

90

, 747–51. [Google Scholar]
Judson, R.; Salisbury, B.; Schneider, J.; Windemuth, A.; Stephens, J. C. How many SNPs does a genome-wide haplotype map require?

Pharmacogenomics

2002,

3

, 379–391. [Google Scholar]
Miller, M. S.; Cronin, M. T.

Genetic Polymorphisms and Susceptibility to Disease

; Taylor & Francis: London, UK, 2000. [Google Scholar]
Olden, K. Genomics in environmental health research-opportunities and challenges.

Toxicology

2004,

198

, 19–24. [Google Scholar]
Bruning, T. R.; Bruning, T.; Roohs, P. H.; Rihs, H. P.; Golka, K.; Ko, Y.; Bolt, H. M. Markers of genetic susceptibility in human environmental hygiene and toxicology: the role of selected CYP, NAT and GST genes.

Int. J. Hyg. Environ. Health

2003,

206

, 149171. [Google Scholar]
Rabinowitz, P. M.; Poljak, A. Host-environment medicine: A primary care model for the age of genomics.

J. Gen. Intern. Med

2003,

18

, 222–227. [Google Scholar]
Dean, M. Approaches to identify genes for complex human diseases: lessons from Mendelian disorders.

Hum. Mutat

2003,

22

, 261–274. [Google Scholar]
Simmons, P. T.; Portier, C. J. Toxicogenomics: the new frontier in risk analysis.

Carcinogenesis

2002,

23

, 903–905. [Google Scholar]
Anthony, J. C. The promise of psychiatric enviromics.

Br J Psychiatry Suppl

2001,

40

, s8. [Google Scholar]
Khoury, M. J.; Burke, W.; Thompson, E. J. Genetics and public health: A framework for the integration of human genetics into public health practice. Khoury, M. J., Burke, W., Thompson, E. J., Eds.; In

Genetics and Public Health in the 21st Century: Using Genetic Information to Improve Health and Prevent Disease

; Oxford University Press: London, UK, 2000; pp. 3–23. [Google Scholar]
Merikangas, K. R.; Risch, N. Genomic priorities and public health.

Science

2003,

302

, 599–601. [Google Scholar]
Ishibe, N.; Kelsey, K. T. Genetic susceptibility to environmental and occupational cancers.

Cancer Causes Control

1997,

8

, 504–513. [Google Scholar]
Fujii, T. Transgenerational effects of maternal exposure to chemicals on the functional development of the brain in the offspring.

Cancer Causes Control

1997,

8

, 524–528. [Google Scholar]
Bennett, W. P.; Hussain, S. P. B.; Vahakangas, K. H.; Kahn, M. A.; Shields, P. C.; Harris, C. C. Molecular epidemiology of human cancer risk: gene-environment interactions and p53 mutation spectrum in human lung cancer.

J. Pathol

1999,

187

, 8–18. [Google Scholar]
Wilson, T. M.; Moore, J. T. Genomics versus orphan nuclear receptors--a halftime report.

Mol. Endocrinol

2002,

16

, 1135–1144. [Google Scholar]
Colborn, T. Neurodevelopment and endocrine disruption.

Environ Health Perspect

2004,

112

, 944–949. [Google Scholar]
Fisher, J. S. Environmental anti-androgens and male reproductive health: Focus on phthalates and testicular dysgenesis syndrome.

Reproduction

2004,

127

, 305–315. [Google Scholar]
Nebert, D. W.; Dalton, T. P.; Okey, A. B.; Gonzalez, F. J. Role of aryl hydrocarbon receptor-mediated induction of the CYP1 enzymes in environmental toxicity and cancer.

J. Biol. Chem

2004,

279

, 23847–23850. [Google Scholar]
Egger, G.; Liang, G.; Aparicio, A.; Jones, P. A. Epigenetics in human disease and prospects for epigenetic therapy.

Nature (London)

2004,

429

, 457–463. [Google Scholar]
Jablonka, E. Epigenetic Epidemiology.

Int. J. Epidemiol

2004,

33

, 929–935. [Google Scholar]
National Research Council, N.

Risk assessment in the Federal Government: Managing the Process

; National Academy Press: Washington, DC, 1983.
Olden, K.; Guthrie, J. Genomics: implications for toxicology.

Mutat Res

2001,

475

, 3. [Google Scholar]
Lash, L. H.; Hines, R. N.; Gonzalez, F. J.; Zacharewski, T. R.; Rothstein, M. A. Genetics and susceptibility to toxic chemicals: do you (or should you) know your genetic profile?

J. Pharmacol. Exp. Ther

2003,

305

, 403–409. [Google Scholar]
Pearl, J.

Causality

; Cambridge University Press: Cambridge, UK, 2000. [Google Scholar]
Frazier, M. E.; Johnson, G. M.; Thomassen, D. G.; Oliver, C. E.; Patrinos, A. Realizing the potential of the genome revolution: The genomes to life program.

Science

2003,

300

, 290–293. [Google Scholar]
Ideker, T.; Galitsky, T.; Hood, L. A New Approach to Decoding Life: Systems Biology.

Annu. Rev. Genomics Hum. Gene

2001,

2

, 343–372. [Google Scholar]
Hanahan, D.; Weinberg, R. A. The hallmarks of cancer.

Cell

2000,

700

, 57–70. [Google Scholar]
Toyoshiba, H.; Yamanaka, T.; Sone, H.; Parham, F. M.; Walker, N. J.; Martinez, J.; Portier, C. J. Gene interaction network suggests dioxin induces a significant linkage between aryl hydrocarbon receptor and retinoic acid receptor beta.

Environ Health Perspect

2004,

112

, 1217–1224. [Google Scholar]
Sanchez, J. C.; Corthals, G. L.; Hochstrasser, D. F. (Eds.)

Biomedical Applications of Proteomics

; Wiley-VCH: NY, NY, 2004.
Collins, F. S. The Case for a US Prospective Cohort Study of Genes and Environment.

Nature (London)

2004,

429

, 475–411. [Google Scholar]
Brooks, J. The sad and tragic life of Typhoid Mary.

Can. Med. J

1996,

154

, 915–916. [Google Scholar]
Gerard, S.; Hayes, M.; Rothstein, M. A. On the edge of tomorrow: fitting genomics into public health policy.

J Law Med Ethics

2002,

30

, 173–176. [Google Scholar]
Levy, F.; Lawler, J. F. The potential impact of genetic sequencing on the American health insurance system.

J. Health Care Law Policy

2003,

6

, 203–221. [Google Scholar]
Clayton, E. W. Ethical, legal, and social implications of genomic medicine.

N. Engl. J. Med

2003,

349

, 562–569. [Google Scholar]
Kelada, S. M.; Eaton, D. L.; Wang, S. S.; Rothman, N. R.; Khoury, M. J. Applications of human genome epidemiology to environmental health. Khoury, M. J., Little, J., Burke, W., Eds.; In

Human Genome Epidemiology

; Oxford University Press: London, UK, 2004; pp. 145–167. [Google Scholar]
Khoury, M. J.; Little, J.; Burke, W. Human genome epidemiology: Scope and strategies. Khoury, M. J., Little, J., Burke, W., Eds.; In

Human Genome Epidemiology

; Oxford University Press: London, UK, 2004; pp. 3–16. [Google Scholar]
© 2005 MDPI. All rights reserved.