Photodecomposition and Phototoxicity of Natural Retinoids
1
National Center for Toxicological Research, U.S. Food and Drug Administration, Jefferson, AR 72079, USA
2
Office of Cosmetics and Colors, Center for Food Safety and Applied Nutrition, U.S. Food and Drug Administration, College Park, MD 20740, USA
3
Department of Chemistry, Jackson State University, Jackson, MS 39217, USA
*
Author to whom correspondence should be addressed.
Received: 15 November 2004 / Accepted: 6 February 2005 / Published: 30 April 2005
Abstract
Sunlight is a known human carcinogen. Many cosmetics contain retinoid-based compounds, such as retinyl palmitate (RP), either to protect the skin or to stimulate skin responses that will correct skin damaged by sunlight. However, little is known about the photodecomposition of some retinoids and the toxicity of these retinoids and their sunlight-induced photodecomposition products on skin. Thus, studies are required to test whether topical application of retinoids enhances the phototoxicity and photocarcinogenicity of sunlight and UV light. Mechanistic studies are needed to provide insight into the disposition of retinoids in vitro and on the skin, and to test thoroughly whether genotoxic damage by UV-induced radicals may participate in any toxicity of topically applied retinoids in the presence of UV light. This paper reports the update information and our experimental results on photostability, photoreactions, and phototoxicity of the natural retinoids including retinol (ROH), retinal, retinoid acid (RA), retinyl acetate, and RP (Figure 1).
View Full-Text
►

▼

Figures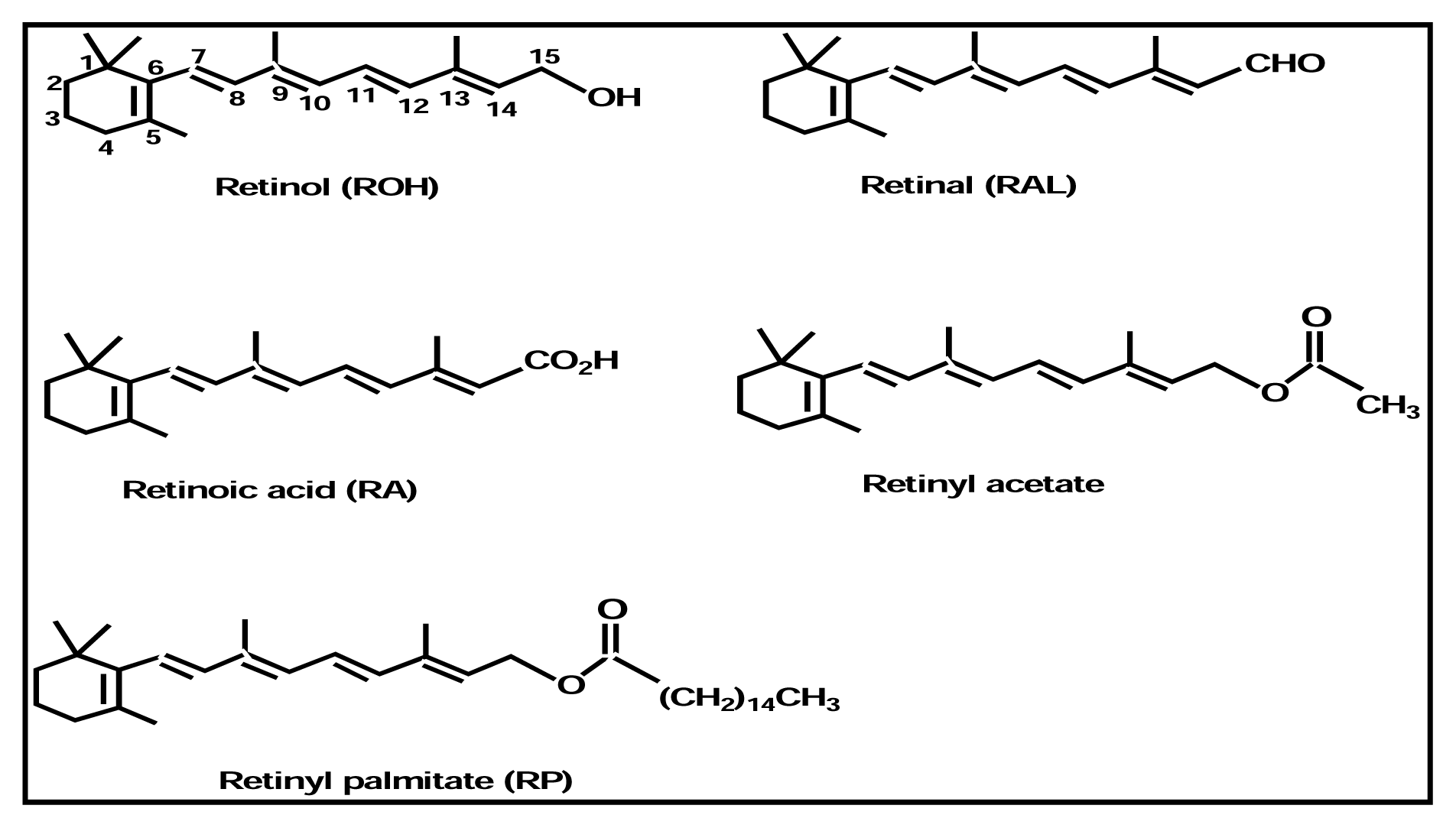 Share & Cite This Article
MDPI and ACS Style
Tolleson, W.H.; Cherng, S.-H.; Xia, Q.; Boudreau, M.; Yin, J.J.; Wamer, W.G.; Howard, P.C.; Yu, H.; Fu, P.P. Photodecomposition and Phototoxicity of Natural Retinoids. Int. J. Environ. Res. Public Health 2005, 2, 147-155.
Related Articles
Comments
[Return to top]