Preparation and Optimisation of Cross-Linked Enzyme Aggregates Using Native Isolate White Rot Fungi Trametes versicolor and Fomes fomentarius for the Decolourisation of Synthetic Dyes
1
Department of Chemistry and Biochemistry, Mendel University in Brno, Zemedelska 1, 61300 Brno, Czech Republic
2
Central European Institute of Technology, Brno University of Technology, Technicka 3058/10, 61600 Brno, Czech Republic
*
Author to whom correspondence should be addressed.
Received: 23 October 2017 / Revised: 11 December 2017 / Accepted: 12 December 2017 / Published: 23 December 2017
Abstract
The key to obtaining an optimum performance of an enzyme is often a question of devising a suitable enzyme and optimisation of conditions for its immobilization. In this study, laccases from the native isolates of white rot fungi
Fomes fomentarius
and/or
Trametes versicolor
, obtained from Czech forests, were used. From these, cross-linked enzyme aggregates (CLEA) were prepared and characterised when the experimental conditions were optimized. Based on the optimization steps, saturated ammonium sulphate solution (75 wt.%) was used as the precipitating agent, and different concentrations of glutaraldehyde as a cross-linking agent were investigated. CLEA aggregates formed under the optimal conditions showed higher catalytic efficiency and stabilities (thermal, pH, and storage, against denaturation) as well as high reusability compared to free laccase for both fungal strains. The best concentration of glutaraldehyde seemed to be 50 mM and higher efficiency of cross-linking was observed at a low temperature 4 °C. An insignificant increase in optimum pH for CLEA laccases with respect to free laccases for both fungi was observed. The results show that the optimum temperature for both free laccase and CLEA laccase was 35 °C for
T. versicolor
and 30 °C for
F. fomentarius
. The CLEAs retained 80% of their initial activity for
Trametes
and 74% for
Fomes
after 70 days of cultivation. Prepared cross-linked enzyme aggregates were also investigated for their decolourisation activity on malachite green, bromothymol blue, and methyl red dyes. Immobilised CLEA laccase from
Trametes versicolor
showed 95% decolourisation potential and CLEA from
Fomes fomentarius
demonstrated 90% decolourisation efficiency within 10 h for all dyes used. These results suggest that these CLEAs have promising potential in dye decolourisation.
View Full-Text
►

▼

Figures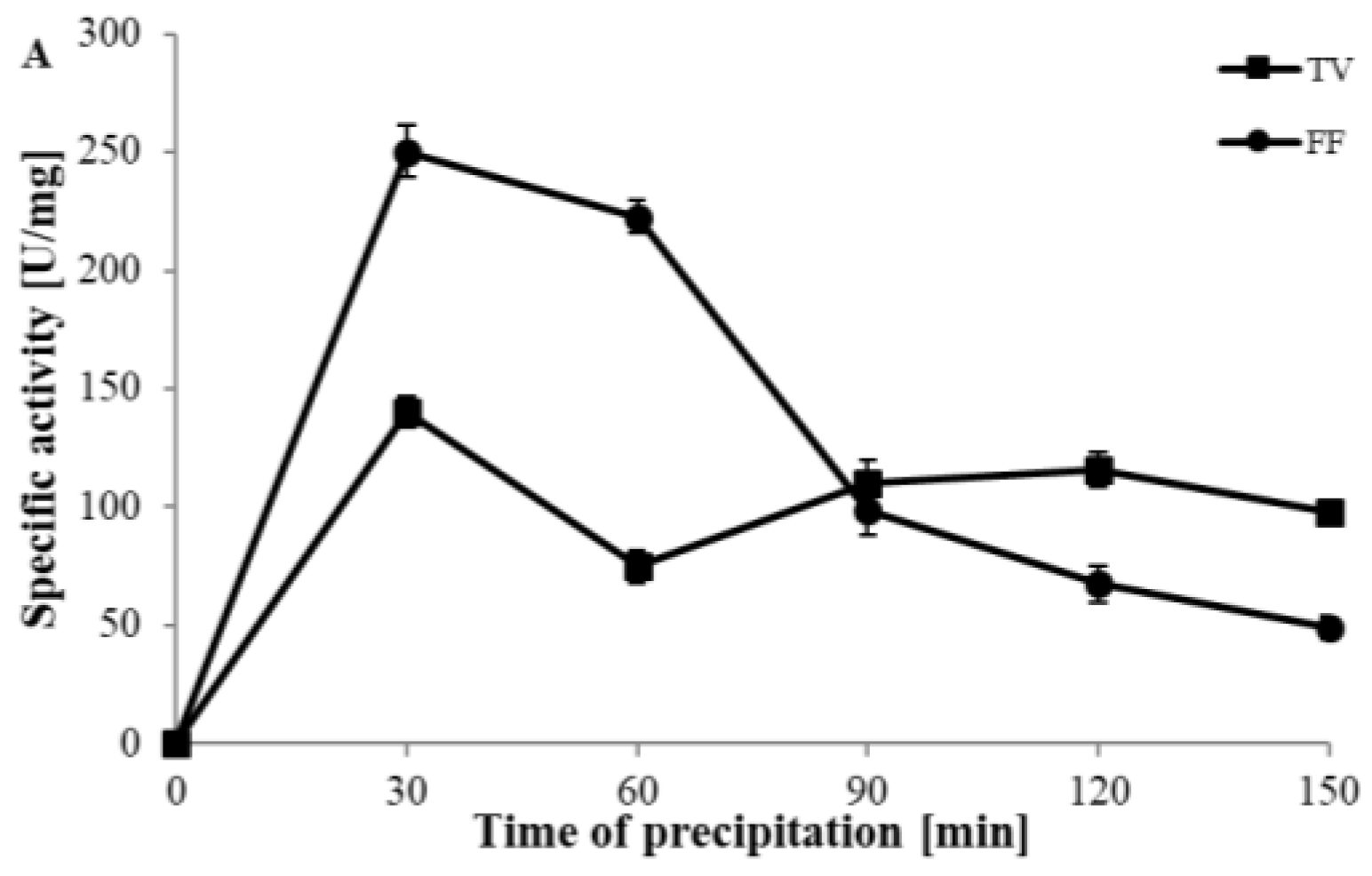 Figure 1a
This is an open access article distributed under the
Creative Commons Attribution License
which permits unrestricted use, distribution, and reproduction in any medium, provided the original work is properly cited. (CC BY 4.0).
Share & Cite This Article
MDPI and ACS Style
Vršanská, M.; Voběrková, S.; Jiménez Jiménez, A.M.; Strmiska, V.; Adam, V. Preparation and Optimisation of Cross-Linked Enzyme Aggregates Using Native Isolate White Rot Fungi Trametes versicolor and Fomes fomentarius for the Decolourisation of Synthetic Dyes. Int. J. Environ. Res. Public Health 2018, 15, 23.
Note that from the first issue of 2016, MDPI journals use article numbers instead of page numbers. See further details here.
Related Articles
Comments
[Return to top]