Dietary Inflammatory Index and Cardiometabolic Risk Parameters in Overweight and Sedentary Subjects
1
Centro de Estudios para la Medición de la Actividad Física (CEMA), Escuela de Medicina y Ciencias de la Salud, Universidad del Rosario, Bogotá DC 111221, Colombia
2
Departamento de Enfermería, Facultad de Ciencias de la Salud Avda, De la Ilustración, s/n, (18016), Universidad de Granada, Granada 18071, Spain
*
Author to whom correspondence should be addressed.
Received: 3 September 2017 / Revised: 15 September 2017 / Accepted: 21 September 2017 / Published: 6 October 2017
Abstract
Nutrition has been established as a relevant factor in the development of cardiovascular disease (CVD). We aimed to investigate the relationship between the dietary inflammatory index (DII) and cardiometabolic risk parameters in a cohort of 90 overweight and sedentary adults from Bogotá, Colombia. A 24-h dietary record was used to calculate the DII. Body composition variables, flow-mediated dilation (FMD), pulse wave velocity (PWV), lipid profile, glucose, glycosylated hemoglobin (Hb1Ac), and blood pressure were measured and a cardiometabolic risk score (MetScore) was calculated. A lower DII score (anti-inflammatory diet) was significantly associated with higher high-density lipoprotein-cholesterol (HDL-C) and FMD, and lower Hb1Ac and MetScore (
p
< 0.05). A lower DII score was inversely correlated with plasma triglyceride levels (
r
= −0.354,
p
< 0.05), glucose (
r
= −0.422,
p
< 0.05), MetScore (
r
= −0.228,
p
< 0.05), and PWV (
r
= −0.437,
p
< 0.05), and positively with FMD (
r
= 0.261,
p
< 0.05). In contrast, a higher DII score (pro-inflammatory diet) showed a positive relationship with MetScore (
r
= 0.410,
p
< 0.05) and a negative relationship with FMD (
r
= −0.233,
p
< 0.05). An increased inflammatory potential of diet was inversely associated with an improved cardiometabolic profile, suggesting the importance of promoting anti-inflammatory diets as an effective strategy for preventing CVD.
View Full-Text
►

▼

Figures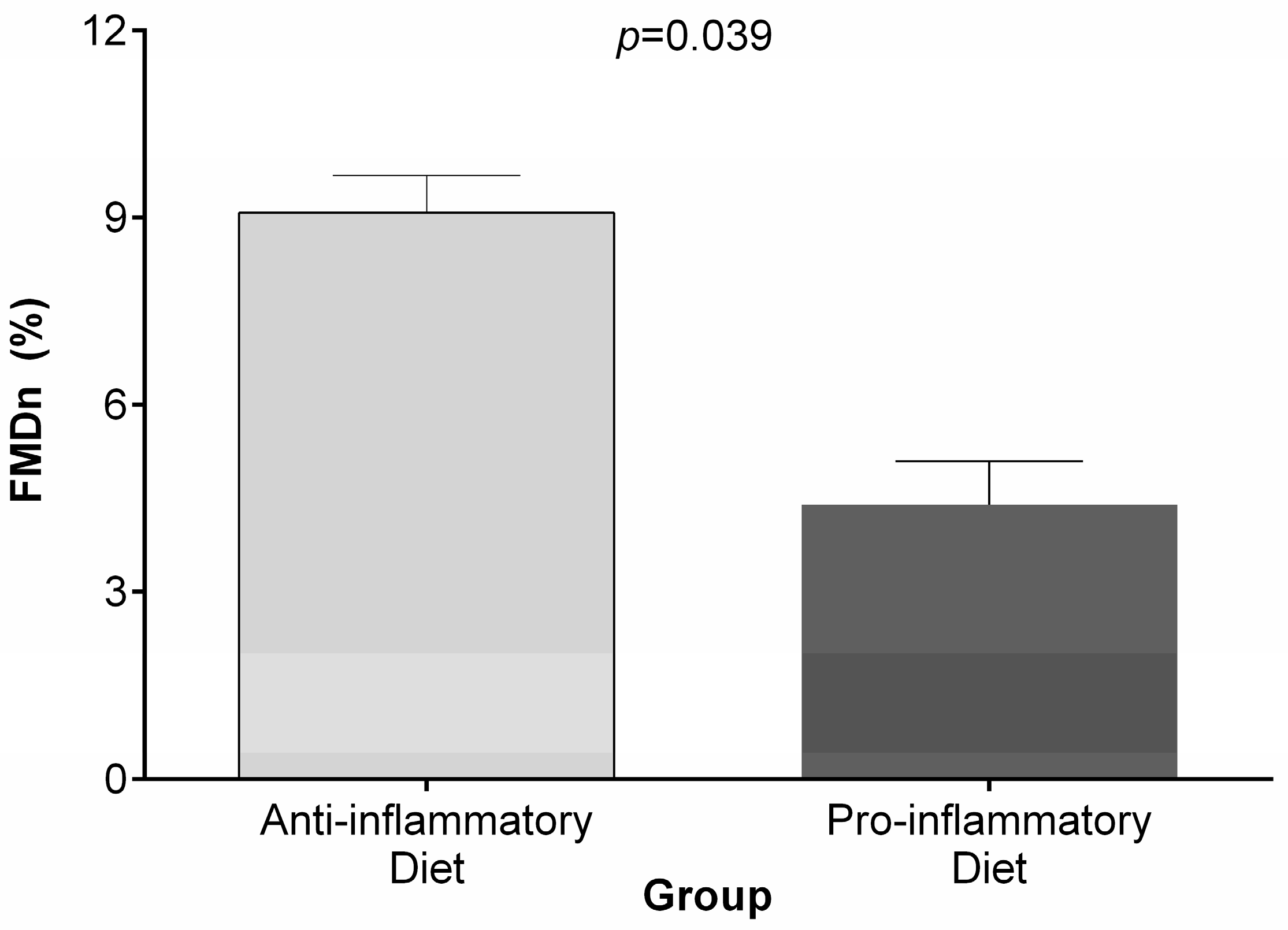 Figure 1
This is an open access article distributed under the
Creative Commons Attribution License
which permits unrestricted use, distribution, and reproduction in any medium, provided the original work is properly cited. (CC BY 4.0).
Share & Cite This Article
MDPI and ACS Style
Camargo-Ramos, C.M.; Correa-Bautista, J.E.; Correa-Rodríguez, M.; Ramírez-Vélez, R. Dietary Inflammatory Index and Cardiometabolic Risk Parameters in Overweight and Sedentary Subjects. Int. J. Environ. Res. Public Health 2017, 14, 1104.
Note that from the first issue of 2016, MDPI journals use article numbers instead of page numbers. See further details here.
Related Articles
Comments
[Return to top]