Characterization of Diarrheagenic Escherichia coli Isolated in Organic Waste Products (Cattle Fecal Matter, Manure and, Slurry) from Cattle's Markets in Ouagadougou, Burkina Faso
1
Laboratoire de Biologie Moléculaire d'Epidémiologie et de Surveillance des Bactéries et Virus Transmis par les Aliments (LaBESTA), Centre de Recherche en Sciences Biologiques, Alimentaires et Nutritionnelles (CRSBAN), Université Ouaga I Prof Joseph KI-ZERBO, 03 BP 7021 Ouagadougou 03, Burkina Faso
2
Institut de Sciences, 01 BP 1757 Ouagadougou 01, Burkina Faso
3
Direction de la Nutrition, Ministère de la Santé, 03 BP 7068 Ouagadougou 03, Burkina Faso
4
Laboratoire de Biochimie et d'Immunologie Appliquée (LABIA), Centre de Recherche en Sciences Biologiques Alimentaires et Nutritionnelles (CRSBAN), Université Ouaga I Professeur Joseph KI-ZERBO, 03 BP 7131 Ouagadougou 03, Burkina Faso
5
Centre de Recherche en Sciences Biologiques Alimentaires et Nutritionnelles (CRSBAN), Université Ouaga I Professeur Joseph KI-ZERBO, 03 BP 7131 Ouagadougou 03, Burkina Faso
*
Author to whom correspondence should be addressed.
Received: 2 August 2017 / Revised: 13 September 2017 / Accepted: 14 September 2017 / Published: 22 September 2017
Abstract
Cattle farming can promote diarrheal disease transmission through waste, effluents or cattle fecal matter. The study aims to characterize the diarrheagenic
Escherichia coli
(DEC) isolated from cattle feces, manure in the composting process and slurry, collected from four cattle markets in Ouagadougou. A total of 585 samples (340 cattle feces, 200 slurries and 45 manures in the composting process) were collected from the four cattle markets between May 2015 and May 2016. A multiplex Polymerase Chain Reaction (PCR), namely 16-plex PCR, was used to screen simultaneously the virulence genes specific for shiga toxin-producing
E. coli
(STEC), enteropathogenic
E. coli
(EPEC), enterotoxigenic
E. coli
(ETEC), enteroinvasive
E. coli
(EIEC) and enteroaggregative
E. coli
(EAEC). DEC was detected in 10.76% of samples. ETEC was the most prevalent (9.91%). STEC and EAEC have been observed with the same rate (0.51%). ETEC were detected in 12.64% of cattle feces, in 6.66% of manure in the composting process and in 5% of slurry. STEC were detected in 0.58% of cattle feces and in 2.22% of manure in the composting process. EAEC was detected only in 1% of slurry and in 2.22% of manure in the composting process. ETEC strains were identified based on
estIa
gene and/or
estIb
gene and/or
elt
gene amplification. Of the 58 ETEC, 10.34% contained
astA
, 17.24% contained
elt
, 3.44% contained
estIa
and 79.31% contained
estIb
. The two positive EAEC strains contained only the
aggR
gene, and the third was positive only for the
pic
gene. The results show that effluent from cattle markets could contribute to the spreading of DEC in the environment in Burkina Faso.
View Full-Text
►

▼

Figures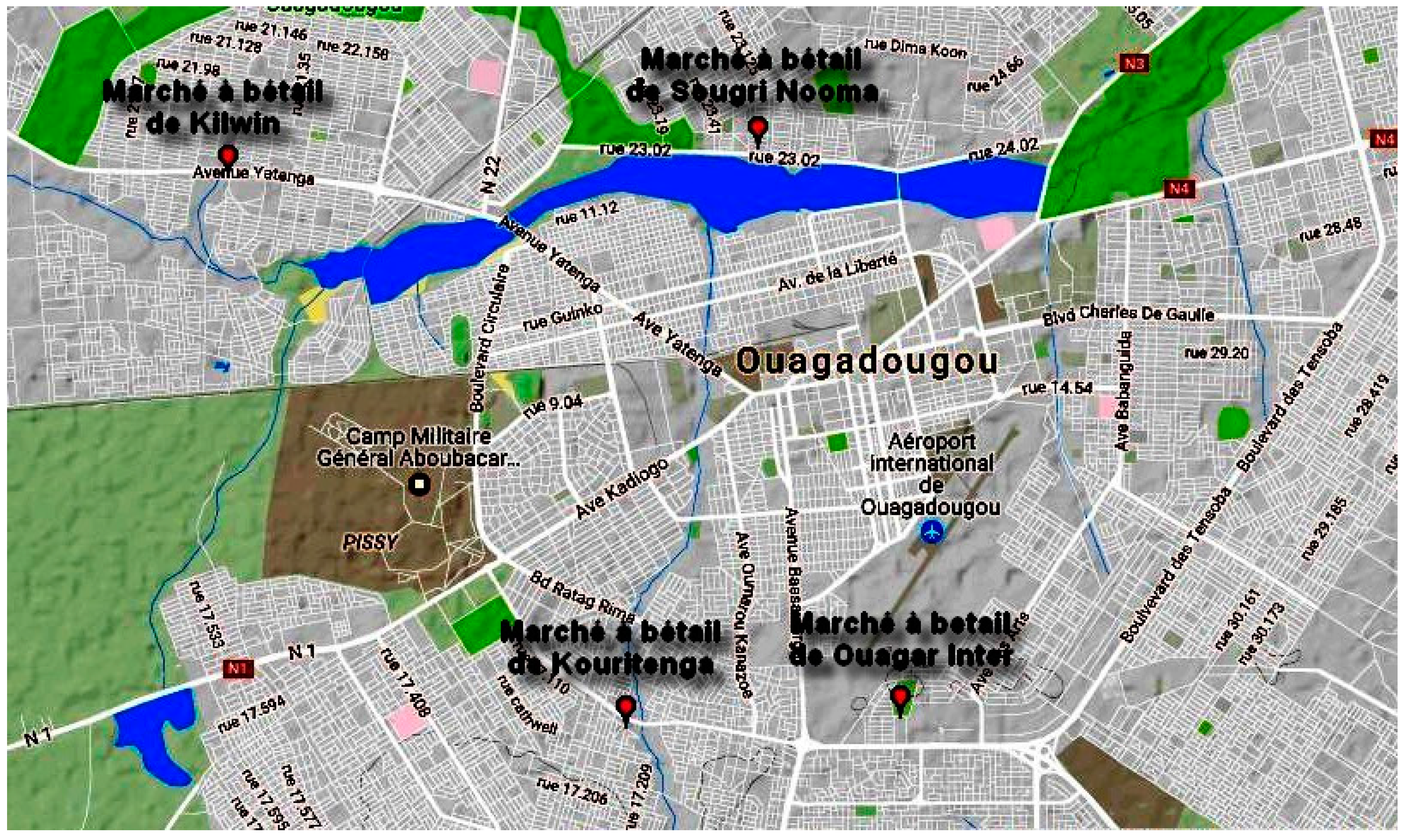 Figure 1
This is an open access article distributed under the
Creative Commons Attribution License
which permits unrestricted use, distribution, and reproduction in any medium, provided the original work is properly cited. (CC BY 4.0).
Share & Cite This Article
MDPI and ACS Style
Bako, E.; Kagambèga, A.; Traore, K.A.; Bagre, T.S.; Ibrahim, H.B.; Bouda, S.C.; Bonkoungou, I.J.O.; Kaboré, S.; Zongo, C.; Traore, A.S.; Barro, N. Characterization of Diarrheagenic Escherichia coli Isolated in Organic Waste Products (Cattle Fecal Matter, Manure and, Slurry) from Cattle's Markets in Ouagadougou, Burkina Faso. Int. J. Environ. Res. Public Health 2017, 14, 1100.
Note that from the first issue of 2016, MDPI journals use article numbers instead of page numbers. See further details here.
Related Articles
Comments
[Return to top]