Shift in HIV/AIDS Epidemic in Southeastern China: A Longitudinal Study from 1987 to 2015
1
Fujian Provincial Center for Disease Control and Prevention, No. 76 Jintai Road, Fuzhou 350001, China
2
Fujian Provincial Key Laboratory of Zoonosis Research, No. 76 Jintai Road, Fuzhou 350001, China
3
School of Public Health, Fujian Medical University, No. 88 Jiaotong Road, Fuzhou 350004, China
*
Authors to whom correspondence should be addressed.
Academic Editor: Paul B. Tchounwou
Received: 13 June 2016 / Revised: 18 July 2016 / Accepted: 27 July 2016 / Published: 6 August 2016
Abstract
Objective: The aim of this study was to investigate the shift in the epidemiological features of HIV/AIDS during the last three decades in Fujian Province, southeastern China, so as to provide evidence for the development of novel HIV/AIDS control strategies. Methods: Data pertaining to the conventional surveillance, sentinel surveillance and epidemiological survey in Fujian Province during the period from 1987 to 2015 were collected. The epidemiological trends were described, and the subtypes of HIV strain were genotyped. In addition, the response to antiretroviral therapy was evaluated, and HIV genotypic resistance was assayed. Results: There was an increasing trend observed in the reported cases of HIV/AIDS in Fujian Province. From 1987 to the end of 2015, a total of 8651 HIV/AIDS cases were reported across the province, with totally 1557 deaths found. Among the total cases, the ratio of male/female cases was 3.7:1, which appeared to be an increasing trend; 77.1% cases were detected in young and middle-aged populations aged 19 to 50 years, however, the new HIV infections recently tended to occur in young people aged 15 to 18 years and in populations aged 50 years and older. Among all infected individuals, 49.3% were married, however, the percentage of unmarried cases increased from 6.67% before 1994 to 40.1% in 2015; 64.8% had junior high school education or lower, however, the proportion of HIV/AIDS cases with junior college education or above gradually increased from 6.5% in 2009 to 21.4% in 2015. The reported HIV/AIDS cases were predominantly found in coastal regions; however, a rapidly increasing trend was seen in the number of HIV/AIDS cases in inland regions, and the geographical variation of the cases gradually reduced. There were multiple routes of HIV transmission found in Fujian Province, and 94.2% infections were sexually transmitted, with a large increase in the percentage of male homosexual transmission. A variety of HIV-1 subtypes were genotyped in the province during the study period, and CRF01-AE and CRF07-BC intersubtype recombinant forms were predominant; however, a declining trend in the proportion of HIV-1 CRF01-AE recombinant virus and a significant rise in the proportion of HIV-1 CRF07-BC recombinant virus were observed. Over 90% HIV inhibition was found in all cases receiving antiretroviral therapy during the period from 2011 to 2015, indicating a low prevalence of HIV drug resistance. Conclusions: An increasing trend is still observed in the HIV/AIDS epidemics in Fujian Province, southeastern China. However, the epidemiological pattern of HIV/AIDS has recently changed in the province, and effective control interventions targeting the shift in the epidemiological features of HIV/AIDS should therefore be implemented to control the spread of the epidemic.
View Full-Text
►

▼

Figures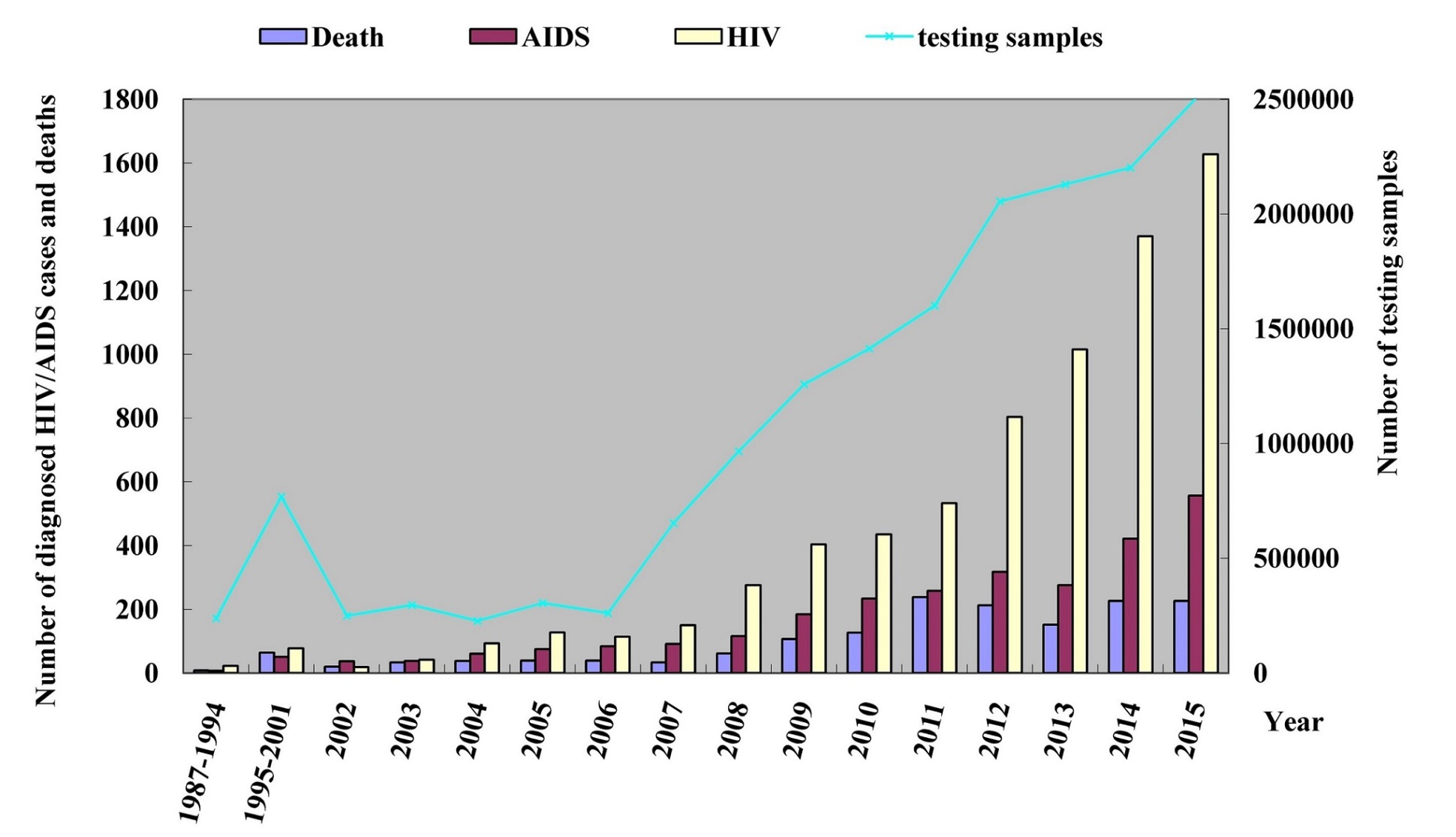 This is an open access article distributed under the
Creative Commons Attribution License
which permits unrestricted use, distribution, and reproduction in any medium, provided the original work is properly cited. (CC BY 4.0).
Share & Cite This Article
MDPI and ACS Style
Yan, Y.; Wu, S.; Chen, L.; Yan, P.; Qiu, Y.; Xie, M.; Wang, Z.; Lin, X. Shift in HIV/AIDS Epidemic in Southeastern China: A Longitudinal Study from 1987 to 2015. Int. J. Environ. Res. Public Health 2016, 13, 794.
Note that from the first issue of 2016, MDPI journals use article numbers instead of page numbers. See further details here.
Related Articles
Comments
[Return to top]