Increased NQO1 but Not c-MET and Survivin Expression in Non-Small Cell Lung Carcinoma with KRAS Mutations
1
Department of Pathology, The Ohio State University, Columbus, OH 43210, USA
2
Department of Internal Medicine, The Ohio State University, Columbus, OH 43210, USA
3
Department of Animal Sciences, The Ohio State University, Columbus, OH 43210, USA
4
Department of Pharmaceutical Sciences, School of Pharmacy, The University of Montana, Missoula, MT 59812, USA
*
Author to whom correspondence should be addressed.
Received: 27 May 2014 / Revised: 7 August 2014 / Accepted: 25 August 2014 / Published: 12 September 2014
Abstract
Cigarette smoking is one of the most significant public health issues and the most common environmental cause of preventable cancer deaths worldwide. EGFR (Epidermal Growth Factor Receptor)-targeted therapy has been used in the treatment of LC (lung cancer), mainly caused by the carcinogens in cigarette smoke, with variable success. Presence of mutations in the
KRAS
(Kirsten rat sarcoma viral oncogene homolog) driver oncogene
may confer worse prognosis and resistance to treatment for reasons not fully understood. NQO1 (NAD(P)H:quinone oxidoreductase), also known as DT-diaphorase, is a major regulator of oxidative stress and activator of mitomycins, compounds that have been targeted in over 600 pre-clinical trials for treatment of LC. We sequenced
KRAS
and investigated expression of NQO1 and five clinically relevant proteins (DNMT1, DNMT3a, ERK1/2, c-MET, and survivin) in 108 patients with non-small cell lung carcinoma (NSCLC). NQO1, ERK1/2, DNMT1, and DNMT3a but not c-MET and survivin expression was significantly more frequent in patients with
KRAS
mutations than those without, suggesting the following: (1) oxidative stress may play an important role in the pathogenesis, worse prognosis, and resistance to treatment reported in NSCLC patients with
KRAS
mutations, (2) selecting patients based on their
KRAS
mutational status for future clinical trials may increase success rate, and (3) since oxidation of nucleotides also specifically induces transversion mutations, the high rate of
KRAS
transversions in lung cancer patients may partly be due to the increased oxidative stress in addition to the known carcinogens in cigarette smoke.
View Full-Text
►

▼

Figures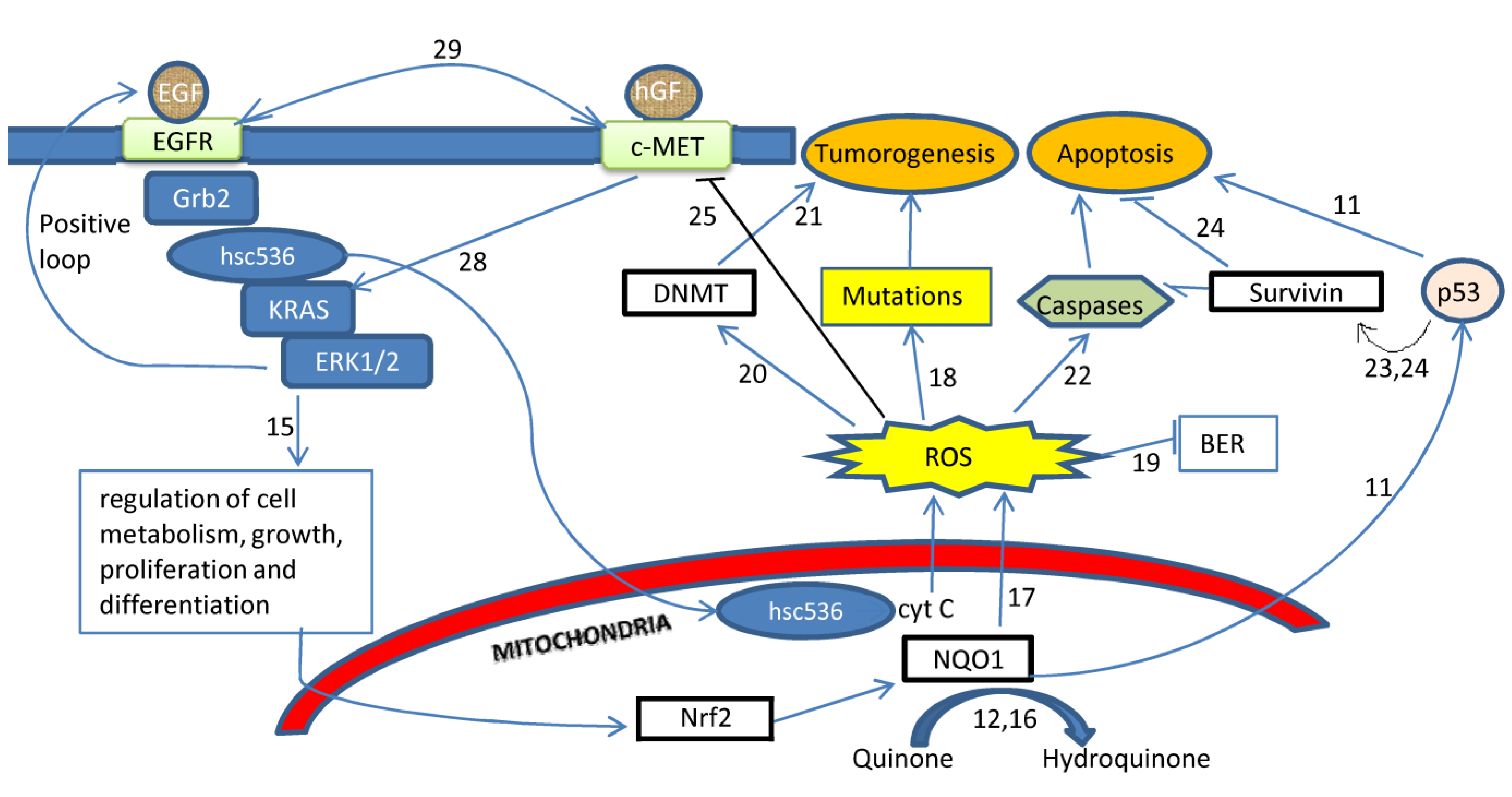 Figure 1
Share & Cite This Article
MDPI and ACS Style
Yilmaz, A.; Mohamed, N.; Patterson, K.A.; Tang, Y.; Shilo, K.; Villalona-Calero, M.A.; Davis, M.E.; Zhou, X.; Frankel, W.; Otterson, G.A.; Beall, H.D.; Zhao, W. Increased NQO1 but Not c-MET and Survivin Expression in Non-Small Cell Lung Carcinoma with KRAS Mutations. Int. J. Environ. Res. Public Health 2014, 11, 9491-9502.
Related Articles
Comments
[Return to top]