Controlled Release of Diclofenac from Matrix Polymer of Chitosan and Oxidized Konjac Glucomannan
Department of Chemistry, Faculty of Science, Chulalongkorn University, 254 Phayathai Road, Bangkok 10330, Thailand
*
Author to whom correspondence should be addressed.
Received: 2 August 2011 / Revised: 6 September 2011 / Accepted: 9 September 2011 / Published: 23 September 2011
Abstract
The controlled release of diclofenac sodium (DFNa) from a chitosan-oxidized konjac glucomannan (CTS-OKG) polymer film was studied. Konjac glucomannan (KGM) was initially oxidized by sodium periodate and then cross-linked to CTS via imine bonds (–C=N–) to form the new CTS-OKG copolymer. The DFNa loaded CTS-OKG polymers were characterized by Fourier transformed infrared spectroscopy (FT-IR) and X-ray diffractometry (XRD). Finally, the release profiles of DFNa from the CTS-OKG polymer matrices were evaluated in a simulated gastrointestinal fluid system comprised of two hours in simulated gastric fluid (SGF; pH 1.2) followed by 24 h in simulated intestinal fluid (SIF; pH 7.4). A 1:2:1 (w/w/w) ratio of CTS:OKG:DFNa prepared at room temperature for 3 hours gave the highest % encapsulation efficiency (EE) of 95.6 ± 0.6 and resulted in a minimal release of DFNa ( < 1% over 2 h) in SGF (pH 1.2) and a significantly improved sustained release in SIF (pH 7.4) with ~6% and 19% release over 8 and 24 h, respectively), some 15- and five-fold lower than that of the two commercial DFNa preparations, Diclosian and Voltaren. This formulation may be used for further study as a long term intestine controlled release drug model (at least 3 days).
View Full-Text
►

▼

Figures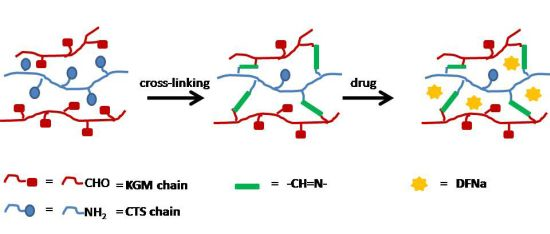 Share & Cite This Article
MDPI and ACS Style
Korkiatithaweechai, S.; Umsarika, P.; Praphairaksit, N.; Muangsin, N. Controlled Release of Diclofenac from Matrix Polymer of Chitosan and Oxidized Konjac Glucomannan. Mar. Drugs 2011, 9, 1649-1663.
Related Articles
Comments
[Return to top]