Open Access This article is
freely available
re-usable
Review
An Update on the Therapeutic Role of Alkylglycerols
1
Department of Biological and Biomedical Sciences, Glasgow Caledonian University, Glasgow, UK
2
Department of General Surgery and Surgical Specialties, Medical School and Surgical Clinic, University of Modena and Reggio Emilia, Modena, Italy
* Authors to whom correspondence should be addressed; Tel.: +39-328-281-3314; Fax: +44-0141-331-3208.
Received: 19 June 2010; in revised form: 27 July 2010 / Accepted: 3 August 2010 / Published: 5 August 2010
Abstract
: Scandinavian folk medicine used shark liver oil for the treatment of cancers and other ailments based on the rarity of tumors in sharks and their ability to resist infections. Shark liver oil is a source of alkylglycerols which have been studied as anti-cancer agents in several clinical trials. Moreover, alkylglycerols have been investigated for the treatment of radiation induced side effects and for their ability to boost the immune system. Several experimental studies have shown the ability of alkylglycerols to open the blood brain barrier to facilitate the access of therapeutic drugs to the central nervous system. This review covers the most important studies of alkylglycerols in both animals and humans.
Keywords:
alkylglycerols; alkoxyglycerols; bathyl; selachyl; chimyl; ether lipids
1. Introduction
The shark is a member of the Elasmobranch subclass of fish that includes the ratfish (Chimaera monstrosa) and the dogfish (name used to designate a variety of shark species). Virtually all species of sharks are known to have an extraordinary resistance to the growth of tumors and infections. Several reports have indicated an extremely low incidence of cancer in sharks or even that no cases of cancer in sharks have been recorded [1,2] but a review performed by Ostrander and his colleagues identified a list of solid tumors found in sharks [3]. The emerging hypothesis is that n-3-polyunsaturated fatty acids (PUFA) and other shark liver oil (SLO) components may exert anti-carcinogenic effects [1]. SLO contains both alkylglycerols (AKG) and squalene and is an ancient remedy among the fishermen along the west coast of Norway and Sweden. It has been used for wound healing, the treatment of irritations of the respiratory and alimentary tracts and lymphadenopathy. In 1922 Tsujimoto and Toyama [4] found AKG in SLO and Sir Robert Robinson, a Nobel laureate, first synthesized them in 1930 [5]. In natural sources, they are always found esterified with fatty acids. Structurally they are alkyl ethers of glycerol (Figure 1).
Brohult and Holmberg [6], using the unsaponifiable portion of different bone marrow fats as well as preparations containing esters of AKG in child leukemia observed a maturing effect on the white blood cells leading to experiments employing AKG in irradiation leucopenia [7]. In the early 1950s, Brohult performed experiments on children with leukemia. She used extracts isolated from calf marrow and observed that they were able to stimulate the production of white blood cells. These finding led, in 1963, to the publication of a thesis on AKG and their use in radiation treatment [8]. This work showed that, in patients with uterine cancer, a decrease in white cells and thrombocytes, which usually occurs during radiation treatment, is less pronounced if AKG are administered during this treatment. After that it was observed that the incidence of injuries following radiation therapy for carcinoma of the uterine cervix was significantly decreased when the patients were treated with AKG [9] and that the frequency of fistulas was reduced by 47% when AKG were administered prior to radiation treatment [10].
The principal AKG include chimyl (hexadecyl), batyl (octadecyl) and selachyl (octadecyl) ethers. Hallgreen et al. [11] reported that glycerol ethers occur in the tissues in the form of diesters and alkyl acyl phosphatides. 1-O-Alkylglycerols and 1-O-(2-methoxyalkyl) glycerols were isolated from the neutral lipids and phospholipids of human colostrums, human milk, cow's milk, sheep's milk, human red bone marrow, red cells, blood plasma, and a uterine carcinoma (Table 1).
The authors found that: (1) human colostrum has a higher content of unsubstituted glycerol ethers in the neutral lipids than human milk; (2) human milk contains nearly 10 times more unsubstituted glycerol ethers than cow's milk and twice as much as sheep's milk; (3) the highest percentage of unsubstituted glycerol ethers in neutral lipids was found in the human red bone marrow and the uterine carcinoma; (4) the methoxy substituted glycerol ethers were both found in the neutral lipids and in the phospholipids of all the tissues studied but only in trace quantities; (5) glycerol ethers with 16 and 18 carbon atoms in the long hydrocarbon chains (16:0 chimyl, 18:0 batyl and 18:1 selachyl alcohol) are the principal components of both the unsubstituted and the 2-methoxy-substituted glycerol ethers; (6) a poly-unsaturated methoxy substituted glycerol ether, 1-O-(2-ethoxydocosahexaenyl-1) glycerol, was found in the neutral lipids and phospholipids of red blood cells (first found in Greenland SLO [14]). The authors have also reported several studies on the clinical effectiveness of glycerol ethers: (1) batyl alcohol raises the erythrocyte count of both normal rats and those poisoned with benzene; (2) optically active and racemic batyl alcohol stimulate erytrhopoesis, thrombopoesis and granulopoesis; (3) chymil alcohol stimulates haemopoesis; (4) selachyl alcohol has no haemopoetic activity; (5) a high level of glycerol ethers was found in a variety of transplantable tumors in animals and in human tumors; (6) 2-methoxy substituted glycerol ethers has antibiotic activity and inhibits the dissemination and growth of several experimental tumors in mice.
SLO is also rich in squalene, a triterpene that is an intermediate in cholesterol biosynthesis. We can also find it in olive oil, palm oil, wheat-germ oil, amaranth oil, and rice bran oil [15]. Squalene is the main component of skin surface polyunsaturated lipids as an emollient and antioxidant, and has hydration and antitumor activities; it also finds application in topically applied vehicles such as lipid emulsions and nanostructured lipid carriers [15]. 1-O-Alkylglycerols are naturally occurring ether-lipids, present in human or cow's milk and in hematopoietic organs, such as bone marrow, spleen and liver [11,16]. SLO is rich in AKG and squalene, but contains relatively low amounts of n-3-PUFA. AKG may control immune response possibly through modification of platelet activating factor (PAF) and diacylglycerol (DAG) production. Squalene enhances antigen presentation and induction of the inflammatory response. Moreover, AKG and squalene have antitumor activity that may be based on different mechanisms, i.e., induction of apoptosis of neoplastic cells, suppression of signal transduction, inhibition of angiogenesis and promotion of transmembrane transport of cytotoxic agents. SLO has been found to be useful in the treatment of conditions resulting from an inadequate immune response, and in adjunctive treatment of several types of cancer [17].
It has been shown that AKG can significantly reduce the injuries due to radiation toxicity, enhancing the overall survival rate and survival time in irradiated uterine cervical cancer patients [18]. Moreover, SLO enriched diets administered to rats with ischemic heart disease and hypertension, improve clinical symptoms, anthropometric levels, lipidemic profile and immunological status [19]. Nowicki et al. [20] emphasized the protective action of SLO from bacterial and fungal infections recommending it for patients suffering from atopic dermatitis.
Marigny et al. [21] cultured endothelial cells in the presence of 1-O-alkylglycerols resulting in inhibition of calcium ionophore and phorbol-12-myristate-13-acetate (PMA) increased endothelial permeability. This effect was associated with the production of an ether analogue of DAG described as an inhibitor of DAG-induced protein kinase C activation.
2. Review Criteria
We have searched Medline for studies involving the use of alkylglycerols with the keywords alkylglycerols, alkoxyglycerols, bathyl, selachyl, chymil and ether lipids. The results are categorized according to the way these compounds affect cancer, immunity, the blood brain barrier, bacteria and fungi, plasmalogens and radiation therapy.
3. Alkylglycerols Studies
4. Conclusions
Sharks seem to be protected from developing cancer, but the reason is yet not understood. SLO is the major source of AKG, glycerol ether lipids which have been widely used in the past years in the Scandinavian medicine because of their properties as immunity boosters and a remedy against radiation therapy and cancer. We have found several clinical trials involving the use of AKG and their ability to bring several benefits to the immunitary system. Among the most interesting properties of AKG, the administration of small amounts (10–100 ng) of these compounds in mice has enhanced macrophage activation for Fc-mediated ingestion activity at the 5th day post treatment [27] and it has partially inhibited PAF-induced platelet stimulation possibly interfering with PAF receptors [30]. Moreover a study shows that a 30 min in vitro treatment of peritoneal cells with synthetic DDG has resulted in a greatly enhanced Fc-receptor-mediated ingestion activity of macrophage adherent cells [31]. A study [32] has shown that AKG are able to increase [Ca2+]i influx in human Jurkat T-cells possibly by modulating the permeability of calcium channels.
It has been hypothesized that the shark c-myc gene, which is located on the long harm of chromosome 8 in humans, can be inactive or covered [78]. Both reductions of c-myc and inappropriate over expression can be associated with cellular apoptosis and part of the oncogenic process enhancing cell proliferation and inhibition of cell differentiation. The authors did not obtain the sequence for that gene and observed some level of pigment with a background for the sequence. It has also been demonstrated that AKG are able to induce high IL-12 level, a key cytokine for the activation of Th1 responses [34].
In addition the intake of a mixture of CA, BA, M-BA and methoxy-substituted alkyl lipids has been shown to reduce the 5-year cervical cancer mortality and also the radiation-induced neutropenia; the same study has underlined that ether lipids increase blood concentrations of neutrophils and enhance antibody formation [35].
An increased response of neutrophils towards bacteria, an increased level of C4 component of complement in blood, the rise of total antioxidant status of serum, and the predominance of Type 1 cytokine IFN-gamma, TNF-α and IL-2 production by peripheral blood mononuclear cells after SLO intake have also been observed [36]. A study [37] carried out on 10 adult healthy volunteers treated with AKG per os for one month, has demonstrated an increase of C1q level and CD4/CD8 ratio from 1.3 to 1.8 and polarized Th1/Th2 lymphocyte cytokine secretion towards Th1. On the contrary no effect on CD4+CD25+ regulatory lymphocytes was observed; due to the absence of any side effects this innate immunity supporting agent was stated to be safe and effective.
In the oncological area it has been observed that AKG, orally administered to mice affected by Lewis lung carcinoma tumors, have reduced metastasis dissemination by 64 ± 8%, whereas SLO effect has been 30 ± 9% below control [41]. Purified AKG have also decreased significantly plasmalogen content in tumors, whereas SLO has had no such effect. A 5-day treatment with AKG has reduced the presence of von Willebrand factor in tumors emphasizing the anti-angiogenic effect of this compound.
Another experimental study in mice with syngeneic L-1 sarcoma has shown that SLO and fish liver oil together with arctic birch ashes are able to significantly reduce cutaneous angiogenesis induced by tumor cells and tumor growth [42].
The injection of different amounts of SLO in mice at the concentrations of 50 and 10 mg/kg/day, have had maximum DTH response in 48 hours; the percentage of CD8+ lymphocytes have increased in the mice injected with SLO; SLO (10 mg/kg/day) injected intraperitoneally has shown a slight non significant decrease of tumor growth rate and in addition SLO injection caused a significant increase in IFN-gamma production [43].
Both human prostate cancer LnCap and DU145 cell lines have responded to the antiproliferative effect of MHG in a similar manner [48].
Furthermore, a clinical trial [66] of radiotherapy for uterine cervical cancers has shown a decrease in cancer growth as well as in the number of both radiation and complex injuries due to AKG pre-radiation treatment; prophylactic AKG administration has dramatically reduced vescical fistulas thus confirming the complementary role of these compounds in supporting the patients against radiotherapy toxicity.
Summarizing, the putative milestones of AKG anticancer effects are mainly their property to activate macrophages and to increase the production of cytokines such as IL-12 and IFN-gamma; IL-12 promotes secretion of IFN-gamma from naive and activated T and NK cells, enhances the cytotoxic activity of NK cells, cytotoxic T lymphocytes, lymphokine activated killer cells and increases the proliferation of preactivated T cells and NK cells [51,52]. The anticancer effect of AKG is also supported by the O-alkyl groups storage found into cancer cells that display a low or absent expression of O-alkyl monooxygenase enzyme activity as they are unable to face the abnormal distribution of these glyceryl ether lipids [53,54].
Some studies support that AKG could represent, in the future, a new therapeutic agent to overcome the limited access of pharmacological agents for the CNS; in fact it has been shown [58] that intracarotid short-chain AKG constitute a very effective and low toxic strategy for transient opening of the BBB to overcome the limited access of cytotoxic drugs to the brain; nowadays the modern echo- and angiographic techniques represent a simple and safe way to study the carotid artery lumen, and the use of powerful effective toxic chemotherapeutic agents, in a reduced concentration, could be an important therapeutical choice in the management of primary and secondary brain cancers.
This puzzling locoregional approach has never been attempted in humans yet but it is worthy of consideration and attention. Other in vitro and experimental investigations using DDG formulations in bacteria and fungi are encouraging for a clinical widespread use against bacterial and fungal infections. Although the studies reported in this review encourage the AKG clinical use, we have not reached the evidence based confirmation yet. Since a study [76] in hamsters has shown that squalene and SLO are hypercholesterolemic, caution should be recommended when squalene or SLO are routinely consumed and more studies should be designed to point out if these effects may occur in human subjects.
Although further randomized clinical trials, involving larger cohorts of patients, are required to finally confirm the properties of these molecules and to definitely exclude possible side effects, a spontaneous anedoctical use of these compounds is strongly recommended, especially on a prophylactic perspective.
Samples Availability:

Available from the authors.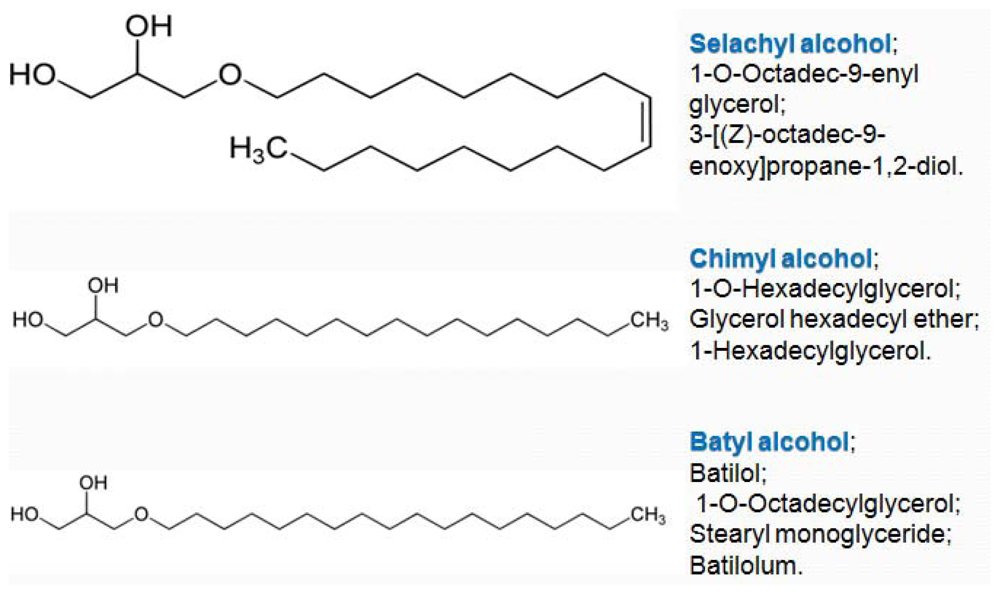 Figure 3.
Preparation of l-hexadecyl-2-palmitoyl-
sn
-glycero-3-phospho-(
N
-palmitoyl)- ethanolamine by incubating photomixotrophic cell suspension cultures of rape (
B. napus
) with
rac
-1(3)-0-hexadecylglycerol followed by enzymatic and chemical reactions (C
16
H
33
= hexadecyl; C
15
H
31
CO = palmitoyl; R'CO = acy1). Reprinted from "Biologically active ether lipids. Biotransformation of
rac
-1(3)-
O-
alkylglycerols in cell suspension cultures of rape and semisynthesis of 1-
O-
alkyl-2-palmitoyl-
sn
-glycero-3-phospho-(
N
-palmitoyl) ethanolamines, potent antitumor agents" [
40
], with permission from Elsevier.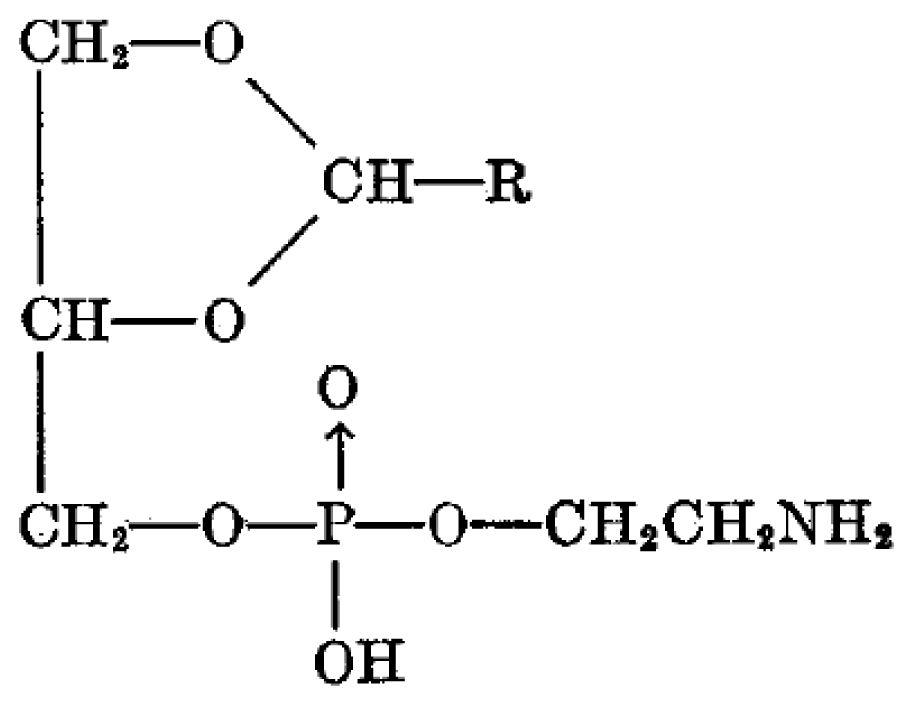 Figure 4.
Plasmalogen acetal structure proposed by Feulgen in 1939 [
61
].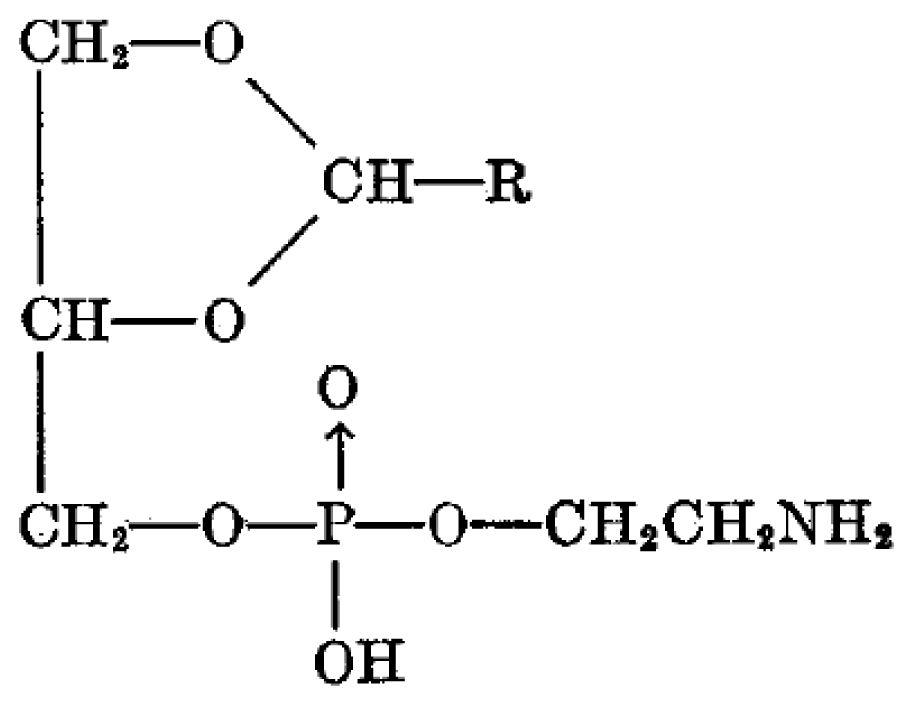 Table 1.
AKG are glycerol ether lipids that are naturally occurring in hematopoietic (blood forming) organs such as bone marrow, spleen and liver but they can also be found in neutrophils and in human and cow milk [
12
,
13
]. This table shows AKG percentage in human bone marrow, human milk and liver oil. The number of carbon atoms in the first column refers to the long-chain component of the molecule. The number after the colon denotes the number of double bonds. Table adapted from "Biochemical Effects of alkoxyglycerols and their use in cancer therapy" [
13
].
Table 1. AKG are glycerol ether lipids that are naturally occurring in hematopoietic (blood forming) organs such as bone marrow, spleen and liver but they can also be found in neutrophils and in human and cow milk [12,13]. This table shows AKG percentage in human bone marrow, human milk and liver oil. The number of carbon atoms in the first column refers to the long-chain component of the molecule. The number after the colon denotes the number of double bonds. Table adapted from "Biochemical Effects of alkoxyglycerols and their use in cancer therapy" [13].

| Alkylglycerols | Human Bone Marrow | Human Milk | Greenland Shark Liver Oil |
| --- | --- | --- | --- |
| 14:0 | | | 2.0 |
| 15a | | | 0.7 |
| 16:0 | 29.4 | 23.9 | 9.1 |
| 16:1 | | Trace | 10.8 |
| 17a | 7.6 | 3.6 | 3.6 |
| 18:0 | 24.6 | 22.8 | 2.8 |
| 18:1 | 16.7 | 33.8 | 59.4 |
| 18:2 | | 1.4 | 1.6 |
| 18:3 | | | ? |
| 19a | 6.1 | 2.4 | 1.5 |
| 20:0 | 2.9 | 1.6 | |
| 20:1 | 3.2 | 2.3 | 6.2 |
| 22:0 | 0.7 | 0.7 | |
| 22:1 | 5.1 | 3.4 | 2.2 |
| 24 | | 2.1 | |
aBoth branched and normal chains C15, C17, and C19 are present.
Abbreviations
| | |
| --- | --- |
| AKG | alkylglycerols |
| APC | alkylphosphocholine |
| AA | arachidonic acid |
| bFGF | basic fibroblast growth factor |
| BBB | blood-brain barrier |
| CEA | Carcino-EmbryonalesAntigen |
| C-injuries | complex injuries |
| CK | creatine kinase |
| CNS | central nervous system |
| DAG | diacylglycerol |
| DDG | dodecylglycerol |
| DTH | delayed-type hypersensitivity |
| EA | serum frec-01% egg albumin supplemented RPMI medium |
| ErPC | erucylphosphocholine |
| ET-16-OCH3 | 1-O-hexadecyl-2-metoxyglycero- 3-phosphatidylcholine |
| FCS | fetal calf serum |
| FITC | fluorescein isothiocyanate |
| fMLP | formyl peptide |
| i.v. | intravenous injection |
| HDL-C | high-density lipoprotein cholesterol |
| HG | sn-1-O-hexadecylglycerol |
| I-injuries | total number of injuries |
| MDA | malondialdehyde |
| MHG | 1-O (2 methoxy) hexadecyl glycerol |
| MIC | minimal inhibitory concentration |
| MTX | methotrexate |
| NK | natural killer |
| NO | nitric oxide |
| PAEC | pulmonary arterial endothelial cells |
| PAF | platelet activating factor |
| PMA | phorbol-12-myristate-13-acetate |
| PPS-C16 ODN | phosphorothioate-protected oligonucleotides with 1-O-hexadecylglycerol |
| PUFA | polyunsatured fatty acids |
| SLO | shark liver oil |
| [Ca2+]i | calcium concentrations |
| RAS | aphthous stomatitis |
| R-injuries + C-injuries | sum of the injuries |
| ROS | reactive oxygen species |
© 2010 by the authors; licensee Molecular Diversity Preservation International, Basel, Switzerland This article is an open-access article distributed under the terms and conditions of the Creative Commons Attribution license (http://creativecommons.org/licenses/by/3.0/).