Investigation of Pectenotoxin Profiles in the Yellow Sea (China) Using a Passive Sampling Technique
1
Yellow Sea Fisheries Research Institute, No.106 Nanjing Road, 266071 Qingdao, China
2
Norwegian School of Veterinary Science, P.B. 8156, 0033 Oslo, Norway
3
College of Fisheries and Life Science, Shanghai Ocean University, 200090, Shanghai, China
*
Author to whom correspondence should be addressed.
Received: 21 February 2010 / Revised: 16 March 2010 / Accepted: 7 April 2010 / Published: 15 April 2010
Abstract
Pectenotoxins (PTXs) are a group of lipophilic algal toxins. These toxins have been found in algae and shellfish from Japan, New Zealand, Ireland, Norway and Portugal. PTX profiles vary with geographic location of collection site. The aim of the present study was to investigate PTX profiles from the Yellow Sea, China. The sampling location was within an aquatic farm (N36°12.428´, E120°17.826´) near the coast of Qingdao, China, in the Yellow Sea from 28July to 29August 2006. PTXs in seawater were determined using a solid phase adsorption toxin tracking (SPATT) method. PTXs were analyzed by HPLC-MSMS. PTX-2, PTX-2
sec
acid (PTX-2 SA) and 7-
epi
-PTX-2 SA were found in seawater samples. The highest levels of PTXs (107 ng/g of resin PTX-2, 50 ng/g of resin PTX-2 SA plus 7-
epi
-PTX-2 SA) in seawater were found on 1 August, 2006. From 1 August to 29 August, the levels of PTX-2 and PTX-2 SA decreased. In the same area, the marine algae,
Dinophysis acuminata
was found in the seawater in the summer months of 2006. This indicated that
Dinophysis acuumuta
might be the original source of PTXs. PTX-11 and PTX-12a/b were not found in seawater.
View Full-Text
►

▼

Figures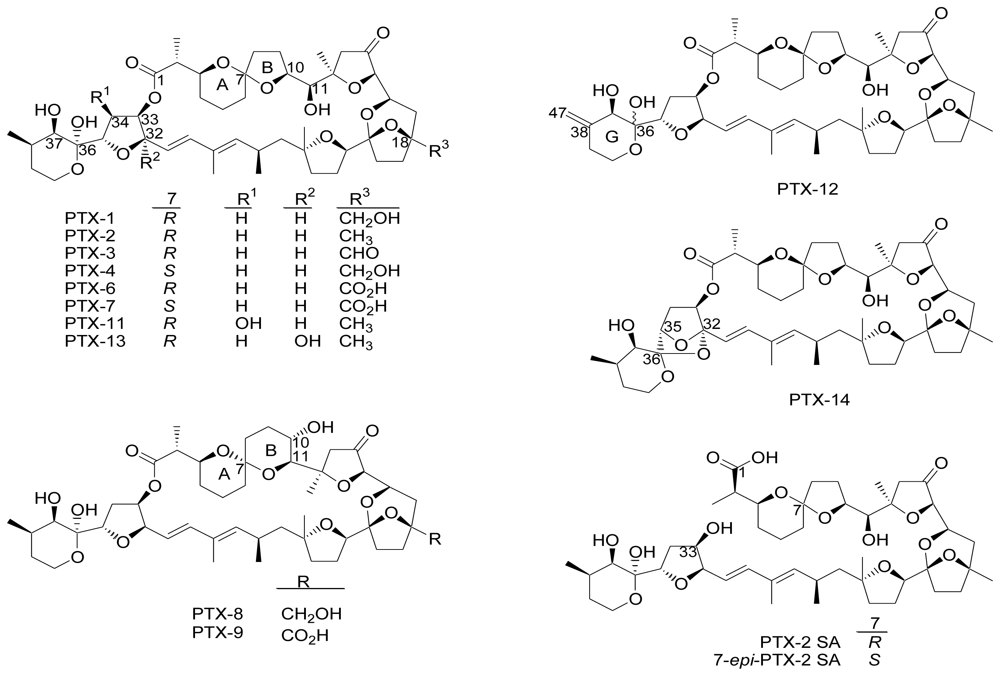 Share & Cite This Article
MDPI and ACS Style
Li, Z.; Mengmeng, G.; Shouguo, Y.; Qingyin, W.; Zhijun, T. Investigation of Pectenotoxin Profiles in the Yellow Sea (China) Using a Passive Sampling Technique. Mar. Drugs 2010, 8, 1263-1272.
Related Articles
Comments
[Return to top]