Isolation of Araguspongine M, a New Stereoisomer of an Araguspongine/Xestospongin alkaloid, and Dopamine from the Marine Sponge Neopetrosia exigua Collected in Palau
1
Department of Ocean Sciences and T/R Vessel Shin'yo Maru, Tokyo University of Marine Science and Technology, Minato-ku, Tokyo 108-8477, Japan
2
Institute of Molecular and Cellular Biosciences, The University of Tokyo, Bunkyo-ku, Tokyo 113-0032, Japan
3
Department of Natural Products, Shenyang Pharmaceutical University, Wenhua Road 103, Shenyang 110016, People's Republic of China
4
Traditional Chinese Medicines and Natural products Research Center, Tsinghua Campus, The University Town, Shenzhen 518055, People's Republic of China
5
Kyoritsu College of Pharmacy, Minato-ku, Tokyo 105-8512, Japan
*
Author to whom correspondence should be addressed.
Received: 3 August 2004 / Accepted: 22 September 2004 / Published: 25 November 2004
Abstract
A new stereoisomer of an araguspongine/xestospongin alkaloid, named araguspongine M (1), has been isolated together with 12 known compounds, araguspongines B (2) and D (3), dopamine, three galactosyl diacylglycerols, 24-methyl cholesterol, 5,6-dihydrocholesterol, β-sitosterol, and three 5α,8α-epidioxy sterols (11–13), from the marine sponge
Neopetrosia exigua
(formerly
Xestospongia exigua
) collected in Palau. The structure of 1 was assigned on the basis of its spectral data analysis. This is the first report on the isolation of dopamine from a marine sponge. This compound may be produced by an endosymbiotic
Synechococcus
-like cyanobacterium. Compounds 1–3 and 11–13 showed cytotoxicity against HL-60 at IC
50
's of 5.5, 5.5, 5.9, 22.4, 9.5, and 9.6 μM, respectively. The possible biosynthesis origin of the isolated metabolites is discussed.
View Full-Text
►

▼

Figures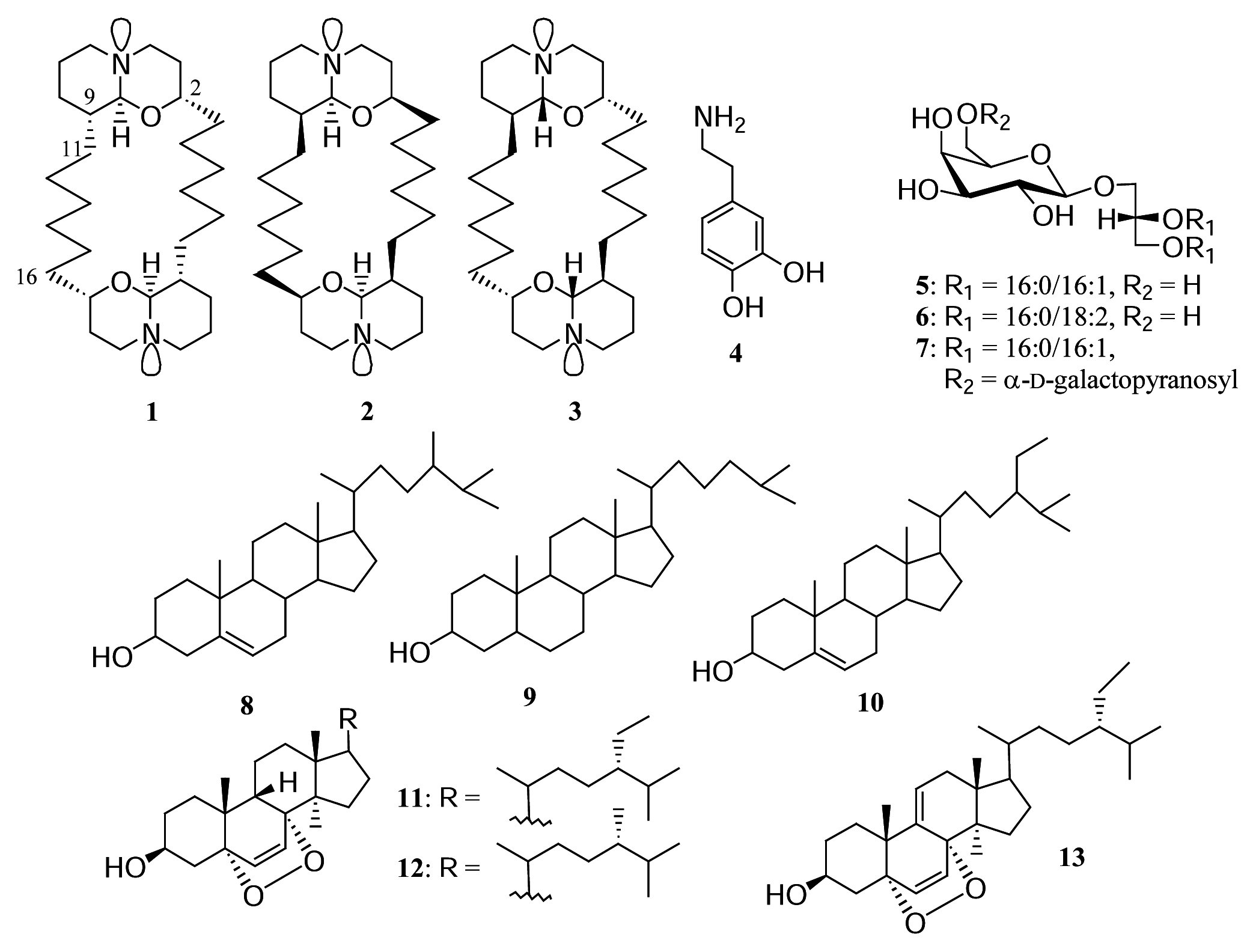 Share & Cite This Article
MDPI and ACS Style
Liu, H.; Mishima, Y.; Fujiwara, T.; Nagai, H.; Kitazawa, A.; Mine, Y.; Kobayashi, H.; Yao, X.; Yamada, J.; Oda, T.; Namikoshi, M. Isolation of Araguspongine M, a New Stereoisomer of an Araguspongine/Xestospongin alkaloid, and Dopamine from the Marine Sponge Neopetrosia exigua Collected in Palau. Mar. Drugs 2004, 2, 154-163.
Related Articles
Comments
[Return to top]