Induction of Diverse Bioactive Secondary Metabolites from the Mangrove Endophytic Fungus Trichoderma sp. (Strain 307) by Co-Cultivation with Acinetobacter johnsonii (Strain B2)
1
School of Marine Sciences, Sun Yat-Sen University, Guangzhou 510006, China
2
Zhongshan School of Medicine, Sun Yat-Sen University, Guangzhou 510275, China
3
Instrumental Analysis & Research Center, Sun Yat-Sen University, Guangzhou 510275, China
4
School of Chemistry and Chemical Engineering, Sun Yat-Sen University, Guangzhou 510275, China
5
South China Sea Bio-Resource Exploitation and Utilization Collaborative Innovation Center, Sun Yat-Sen University, Guangzhou 510275, China
*
Authors to whom correspondence should be addressed.
Academic Editor: Orazio Taglialatela-Scafati
Received: 29 December 2016 / Revised: 19 January 2017 / Accepted: 23 January 2017 / Published: 10 February 2017
Abstract
Two new sesquiterpenes, microsphaeropsisin B (
1
) and C (
2
), and two new de-
O
-methyllasiodiplodins, (3
R
, 7
R
)-7-hydroxy-de-
O
-methyllasiodiplodin (
4
) and (3
R
)-5-oxo-de-
O
-methyllasiodiplodin (
5
), together with one new natural product (
6
) and twelve known compounds (
3
,
7
–
17
), were isolated from the co-cultivation of mangrove endophytic fungus
Trichoderma
sp. 307 and aquatic pathogenic bacterium
Acinetobacter johnsonii
B2. Their structures, including absolute configurations, were elucidated by extensive analysis of spectroscopic data, electronic circular dichroism, Mo
2
(AcO)
4
-induced circular dichroism, and comparison with reported data. All of the isolated compounds were tested for their α-glucosidase inhibitory activity and cytotoxicity. New compounds
4
and
5
exhibited potent α-glucosidase inhibitory activity with IC
50
values of 25.8 and 54.6 µM, respectively, which were more potent than the positive control (acarbose, IC
50
= 703.8 µM). The good results of the tested bioactivity allowed us to explore α-glucosidase inhibitors in lasiodiplodins.
View Full-Text
►

▼

Figures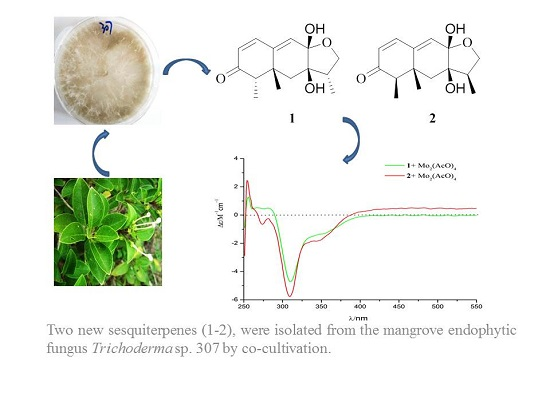 This is an open access article distributed under the
Creative Commons Attribution License
which permits unrestricted use, distribution, and reproduction in any medium, provided the original work is properly cited. (CC BY 4.0).
Share & Cite This Article
MDPI and ACS Style
Zhang, L.; Niaz, S.I.; Khan, D.; Wang, Z.; Zhu, Y.; Zhou, H.; Lin, Y.; Li, J.; Liu, L. Induction of Diverse Bioactive Secondary Metabolites from the Mangrove Endophytic Fungus Trichoderma sp. (Strain 307) by Co-Cultivation with Acinetobacter johnsonii (Strain B2). Mar. Drugs 2017, 15, 35.
Note that from the first issue of 2016, MDPI journals use article numbers instead of page numbers. See further details here.
Related Articles
Comments
[Return to top]