Angiotensin I-Converting Enzyme (ACE) Inhibitory Activity, Antioxidant Properties, Phenolic Content and Amino Acid Profiles of Fucus spiralis L. Protein Hydrolysate Fractions
1
Biotechnology Centre of Azores (CBA), University of Azores, 9501-801 Ponta Delgada, Portugal
2
Research Center for Agricultural Technology (CITA-A), University of Azores, 9501-801 Ponta Delgada, Portugal
3
Azorean Biodiversity Group, Centre for Ecology, Evolution and Environmental Changes (CE3C), Department of Biology, University of Azores, 9501-801 Ponta Delgada, Portugal
*
Author to whom correspondence should be addressed.
Received: 2 September 2017 / Revised: 29 September 2017 / Accepted: 9 October 2017 / Published: 13 October 2017
Abstract
Food protein-derived hydrolysates with multi-bioactivities such as antihypertensive and antioxidant properties have recently received special attention since both activities can play significant roles in preventing cardiovascular diseases. This study reports, for the first time, the angiotensin I-converting enzyme (ACE)-inhibition and antioxidant properties of ultrafiltrate fractions (UF) with different molecular weight ranges (<1, 1–3 and ≥3 kDa) obtained from
Fucus spiralis
protein hydrolysate (FSPH) digested with cellulase–bromelain. The amino acids profile, recovery yield, protein, peptide and total phenolic contents of these FSPH-UF, and the in vitro digestibility of
F. spiralis
crude protein were also investigated. FSPH-UF ≥3 kDa presented remarkably higher ACE-inhibition, yield, peptide and polyphenolic (phlorotannins) contents. Antioxidant analysis showed that FSPH-UF <1 kDa and ≥3 kDa exhibited significantly higher scavenging of 2,2-diphenyl-1-picrylhydrazyl radical and ferrous ion-chelating (FIC) activity. FSPH-UF ≥3 kDa had also notably higher ferric reducing antioxidant power (FRAP). Strong correlations were observed between ACE-inhibition and antioxidant activities (FIC and FRAP). The results suggest that ACE-inhibition and antioxidant properties of FSPH-UF may be due to the bioactive peptides and polyphenols released during the enzymatic hydrolysis. In conclusion, this study shows the potential use of defined size FSPH-UF for the prevention/treatment of hypertension and/or oxidative stress-related diseases.
View Full-Text
►

▼

Figures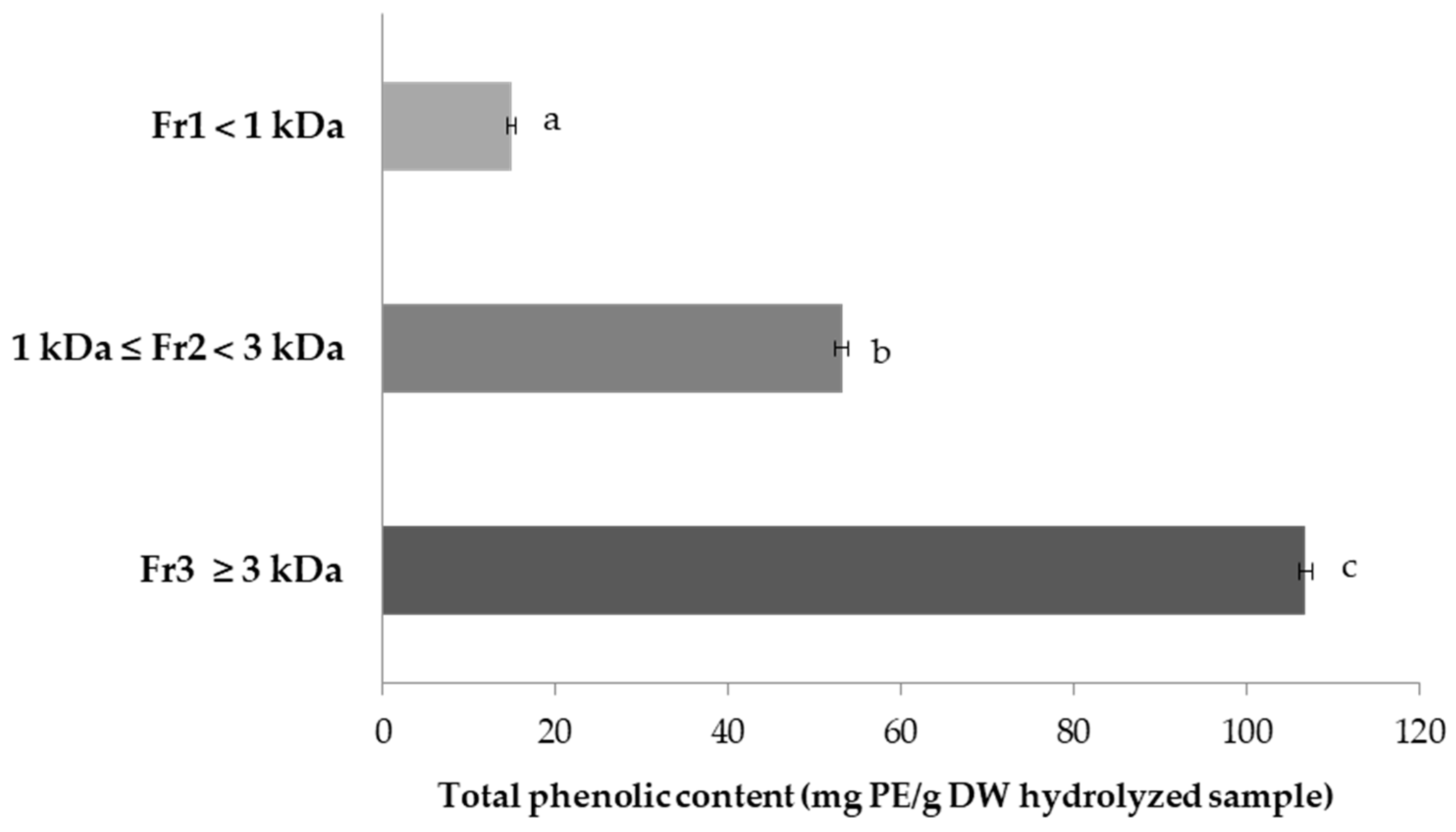 Figure 1
This is an open access article distributed under the
Creative Commons Attribution License
which permits unrestricted use, distribution, and reproduction in any medium, provided the original work is properly cited. (CC BY 4.0).
Share & Cite This Article
MDPI and ACS Style
Paiva, L.; Lima, E.; Neto, A.I.; Baptista, J. Angiotensin I-Converting Enzyme (ACE) Inhibitory Activity, Antioxidant Properties, Phenolic Content and Amino Acid Profiles of Fucus spiralis L. Protein Hydrolysate Fractions. Mar. Drugs 2017, 15, 311.
Note that from the first issue of 2016, MDPI journals use article numbers instead of page numbers. See further details here.
Related Articles
Comments
[Return to top]