Neuroprotective Effect of the Marine-Derived Compound 11-Dehydrosinulariolide through DJ-1-Related Pathway in In Vitro and In Vivo Models of Parkinson's Disease
1
Doctoral Degree Program in Marine Biotechnology, National Sun Yat-Sen University, 70 Lien-Hai Road, Kaohsiung 804, Taiwan
2
Doctoral Degree Program in Marine Biotechnology, Academia Sinica, 128 Academia Road, Section 2, Nankang, Taipei 115, Taiwan
3
Marine Biomedical Laboratory & Center for Translational Biopharmaceuticals, Department of Marine Biotechnology and Resources, National Sun Yat-sen University, Kaohsiung 804, Taiwan
4
College of Oceanology and Food Science, Quanzhou Normal University, Quanzhou 362000, China
5
Genomics Research Center, Academia Sinica, Taipei 115, Taiwan
6
Department of Pediatrics, E-DA Hospital, School of Medicine, College of Medicine, I-SHOU University, Kaohsiung 840, Taiwan
7
Graduate Institute of Biomedical Engineering, National Chung Hsing University, Taichung 402, Taiwan
8
Center for Stem Cell Research, Kaohsiung Medical University, Kaohsiung 807, Taiwan
9
Department of Medical Research, China Medical University Hospital, China Medical University, Taichung 404, Taiwan
10
Graduate Institute of Marine Biotechnology, National Dong Hwa University, Pingtung 944, Taiwan
11
Taiwan Coral Research Center, National Museum of Marine Biology & Aquarium, Pingtung 944, Taiwan
12
Department of Marine Biotechnology and Resources, National Sun Yat-Sen University, 70 Lien-Hai Road, Kaohsiung 804, Taiwan
13
Department of Obstetrics and Gynecology, Kaohsiung Veterans General Hospital, Kaohsiung 813, Taiwan
14
Department of Obstetrics and Gynecology and Institute of Clinical Medicine, National Yang-Ming University, Taipei 112, Taiwan
15
Department of Pharmacy and Graduate Institute of Pharmaceutical Technology, Tajen University, Pingtung County 907, Taiwan
16
Department of Neurosurgery and Center for Parkinson Disease, Kaohsiung Chang Gung Memorial Hospital and Chang Gung University College of Medicine, Kaohsiung 833, Taiwan
*
Authors to whom correspondence should be addressed.
Academic Editor: Peer B. Jacobson
Received: 27 August 2016 / Revised: 1 October 2016 / Accepted: 8 October 2016 / Published: 17 October 2016
Abstract
Parkinson's disease (PD) is a neurodegenerative disorder characterized by tremor, rigidity, bradykinesia, and gait impairment. In a previous study, we found that the marine-derived compound 11-dehydrosinulariolide (11-de) upregulates the Akt/PI3K pathway to protect cells against 6-hydroxydopamine (6-OHDA)-mediated damage. In the present study, SH-SY5Y, zebrafish and rats were used to examine the therapeutic effect of 11-de. The results revealed the mechanism by which 11-de exerts its therapeutic effect: the compound increases cytosolic or mitochondrial DJ-1 expression, and then activates the downstream Akt/PI3K, p-CREB, and Nrf2/HO-1 pathways. Additionally, we found that 11-de could reverse the 6-OHDA-induced downregulation of total swimming distance in a zebrafish model of PD. Using a rat model of PD, we showed that a 6-OHDA-induced increase in the number of turns, and increased time spent by rats on the beam, could be reversed by 11-de treatment. Lastly, we showed that 6-OHDA-induced attenuation in tyrosine hydroxylase (TH), a dopaminergic neuronal marker, in zebrafish and rat models of PD could also be reversed by treatment with 11-de. Moreover, the patterns of DJ-1 expression observed in this study in the zebrafish and rat models of PD corroborated the trend noted in previous in vitro studies.
View Full-Text
►

▼

Figures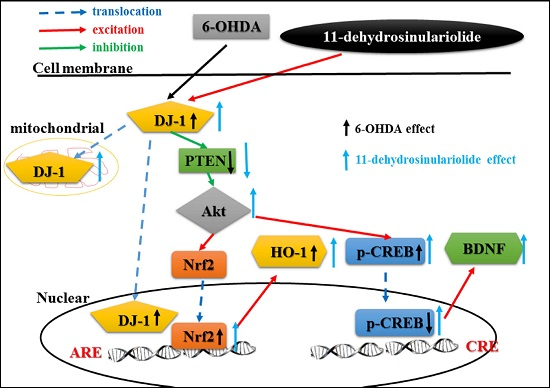 This is an open access article distributed under the
Creative Commons Attribution License
which permits unrestricted use, distribution, and reproduction in any medium, provided the original work is properly cited. (CC BY 4.0).
Share & Cite This Article
MDPI and ACS Style
Feng, C.-W.; Hung, H.-C.; Huang, S.-Y.; Chen, C.-H.; Chen, Y.-R.; Chen, C.-Y.; Yang, S.-N.; Wang, H.-M.; Sung, P.-J.; Sheu, J.-H.; Tsui, K.-H.; Chen, W.-F.; Wen, Z.-H. Neuroprotective Effect of the Marine-Derived Compound 11-Dehydrosinulariolide through DJ-1-Related Pathway in In Vitro and In Vivo Models of Parkinson's Disease. Mar. Drugs 2016, 14, 187.
Note that from the first issue of 2016, MDPI journals use article numbers instead of page numbers. See further details here.
Related Articles
Comments
[Return to top]