The Marine-Derived Kinase Inhibitor Fascaplysin Exerts Anti-Thrombotic Activity
1
Institute for Clinical and Experimental Surgery, Saarland University, 66421 Homburg/Saar, Germany
2
Institute for Hemostasiology and Transfusion Medicine, Saarland University, 66421 Homburg/Saar, Germany
*
Author to whom correspondence should be addressed.
Academic Editors: Vitor H. Pomin and Paulo A.S. Mourão
Received: 8 July 2015 / Revised: 27 October 2015 / Accepted: 2 November 2015 / Published: 9 November 2015
Abstract
Background: The marine-derived kinase inhibitor fascaplysin down-regulates the PI3K pathway in cancer cells. Since this pathway also plays an essential role in platelet signaling, we herein investigated the effect of fascaplysin on thrombosis. Methods: Fascaplysin effects on platelet activation, platelet aggregation and platelet-leukocyte aggregates (PLA) formation were analyzed by flow cytometry. Mouse dorsal skinfold chambers were used to determine
in vivo
the effect of fascaplysin on photochemically induced thrombus formation and tail-vein bleeding time. Results: Pre-treatment of platelets with fascaplysin reduced the activation of glycoprotein (GP)IIb/IIIa after protease-activated receptor-1-activating peptide (PAR-1-AP), adenosine diphosphate (ADP) and phorbol-12-myristate-13-acetate (PMA) stimulation, but did not markedly affect the expression of P-selectin. This was associated with a decreased platelet aggregation. Fascaplysin also decreased PLA formation after PMA but not PAR-1-AP and ADP stimulation. This may be explained by an increased expression of CD11b on leukocytes in PAR-1-AP- and ADP-treated whole blood. In the dorsal skinfold chamber model of photochemically induced thrombus formation, fascaplysin-treated mice revealed a significantly extended complete vessel occlusion time when compared to controls. Furthermore, fascaplysin increased the tail-vein bleeding time. Conclusion: Fascaplysin exerts anti-thrombotic activity, which represents a novel mode of action in the pleiotropic activity spectrum of this compound.
View Full-Text
►

▼

Figures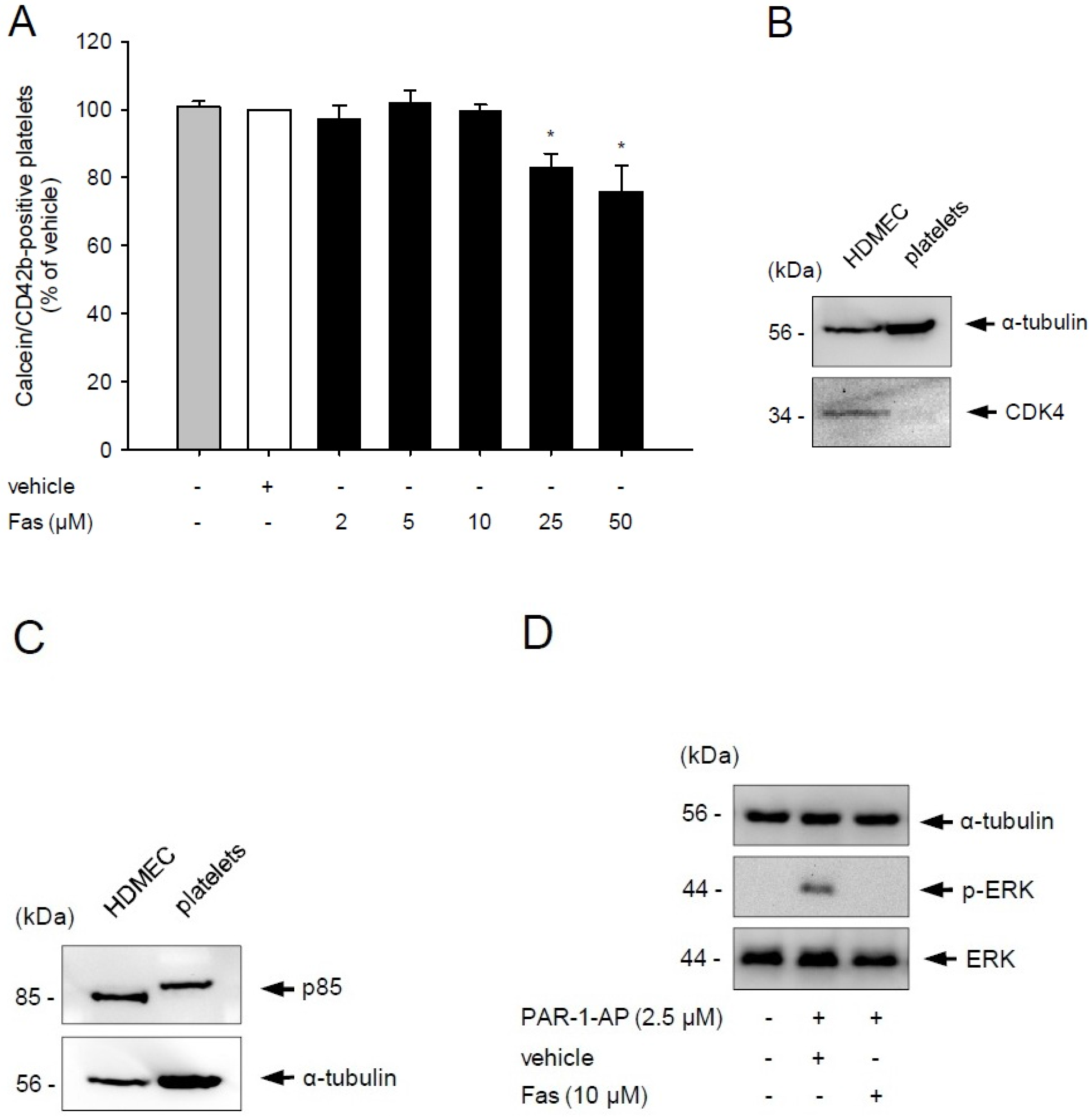 Figure 1
This is an open access article distributed under the
Creative Commons Attribution License
which permits unrestricted use, distribution, and reproduction in any medium, provided the original work is properly cited. (CC BY 4.0).
Share & Cite This Article
MDPI and ACS Style
Ampofo, E.; Später, T.; Müller, I.; Eichler, H.; Menger, M.D.; Laschke, M.W. The Marine-Derived Kinase Inhibitor Fascaplysin Exerts Anti-Thrombotic Activity. Mar. Drugs 2015, 13, 6774-6791.
Related Articles
Comments
[Return to top]