Open Access This article is
freely available
re-usable
Review
Synthetic Biology and Metabolic Engineering for Marine Carotenoids: New Opportunities and Future Prospects
Division of Applied Life Science (BK21 Plus), PMBBRC, Gyeongsang National University, Jinju 660-701, Korea
*
Author to whom correspondence should be addressed.
Received: 14 June 2014; in revised form: 29 August 2014 / Accepted: 1 September 2014 / Published: 17 September 2014
Abstract
: Carotenoids are a class of diverse pigments with important biological roles such as light capture and antioxidative activities. Many novel carotenoids have been isolated from marine organisms to date and have shown various utilizations as nutraceuticals and pharmaceuticals. In this review, we summarize the pathways and enzymes of carotenoid synthesis and discuss various modifications of marine carotenoids. The advances in metabolic engineering and synthetic biology for carotenoid production are also reviewed, in hopes that this review will promote the exploration of marine carotenoid for their utilizations.
Keywords:
marine carotenoids; carotenoid synthesis; carotenoid modification; metabolic engineering; synthetic biology; protein engineering
1. Introduction
Carotenoids are a class of naturally occurring pigments originated in the chloroplasts and chromoplasts of plants, algae and some photosynthetic microorganisms [1,2,3,4]. As of 2004, over 750 known carotenoids, which can be divided into xanthophylls (containing oxygen) and carotenes (pure hydrocarbons), have been isolated from natural sources [5]. These structurally diverse pigments play important biological roles in light capture, protection of cells from the damaging effects of free radicals, and synthesis of many hormones as a precursor [6,7,8,9,10]. Carotenoids are traditionally used as food colorants, animal feed supplements, and, very recently, as nutraceuticals and pharmaceuticals [11,12]. Over the past few decades, researches have supported that the ability of carotenoids to reduce the risk of certain cancers, cardiovascular diseases, and degenerative pathogenesis (e.g., Alzheimer and Parkinson) due to their antioxidative properties [13,14]. According to "Carotenoids: A Global Strategic Business Report" from Global Industry Analysts (GIA), the global market for carotenoids was estimated at approximately $1.07 billion in 2010 and is projected to top $1.2 billion by 2015 [15]. Therefore, many efforts have been made to improve the production of these natural compounds for ever-increasing demands [12,16,17].
The ocean is a complex aquatic ecosystem covering about 71% of the Earth's surface, which is around 300 times larger than the habitable volume of the terrestrial habitats on Earth. A large proportion of all life on Earth lives in the ocean. Ecologically distinct from the terrestrial ecosystem, the ocean constitutes a unique reservoir of marine biodiversity and provides a vast resource of foodstuffs, medicines, and other useful materials. As such, more than 250 novel carotenoids have originated from marine species [10], many of which show great potential in commercial applications [18]. With the advent of synthetic biology and metabolic engineering, many engineering tools including vectors, genetic controllers, and enzyme designing, have been developed for heterologous production of valuable chemicals. These tools create new opportunities for exploring marine carotenoids for food and health industries. In this review, we describe diverse and novel carotenoids from marine resources and summarize recent progresses in synthetic biology and metabolic engineering which provide great application potential for marine carotenoids.
2. Diversity of Marine Carotenoids
Many carotenoids have been reported from a wide range of marine species. The advances in current technologies facilitate the elucidation of the carotenoid biosynthetic pathways and relevant enzymes from marine species, which would enable the production of important carotenoids from marine organisms.
2.1. Pathways and Diverse Enzymes for Biosynthesis of Carotenoids
Biosynthetic routes to carotenoids begin with the basic building blocks isopentenyl diphosphate (IPP) and its isomer dimethylallyl diphosphate (DMAPP), although carotenoids are very diverse in chemical structure. Two distinct pathways, the 2-C-methyl-d-erythritol 4-phospahte (MEP) pathway and the mevalonic acid (MVA) pathway, are responsible for the synthesis of IPP and DMAPP. These two pathways have been reviewed in detail elsewhere [19,20,21,22]. IPP and DMAPP are head-to-tail condensed to generate farnesyl diphosphate (FPP) and geranylgeranyl diphosphate (GGPP) by isoprenyl diphosphate synthases (e.g., IspA of Escherichia coli and CrtE of Pantoea agglomerans) [23,24]. As shown in Figure 1, FPP and GGPP are further head-to-head condensed to produce symmetric hydrosqualene (C30) and phytoene (C40), which are dehydrogenated in a stepwise manner by desaturating enzymes representing an important branch point for pathway diversification [25,26].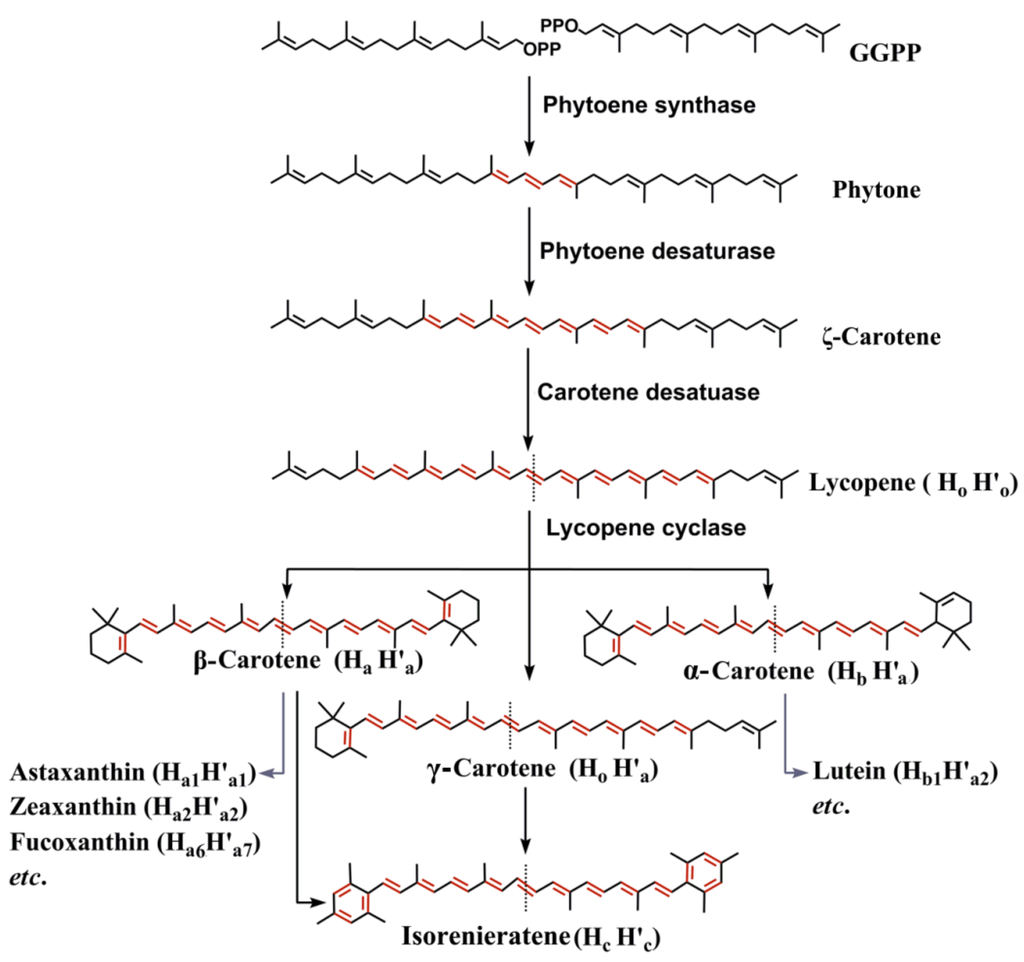 Figure 1.
Synthesis pathway of phytoene-based C40 carotenoid backbones. Most C40 marine carotenoids are modified from the backbones of α/β/γ-carotenes or isorenieratene. Carotenoid structures are presented with two symmetric or asymmetric halves (
Figure 2
), for example, lycopene is shown as H
o
H'
o
in this review. Conjugated double bonds are shown in red.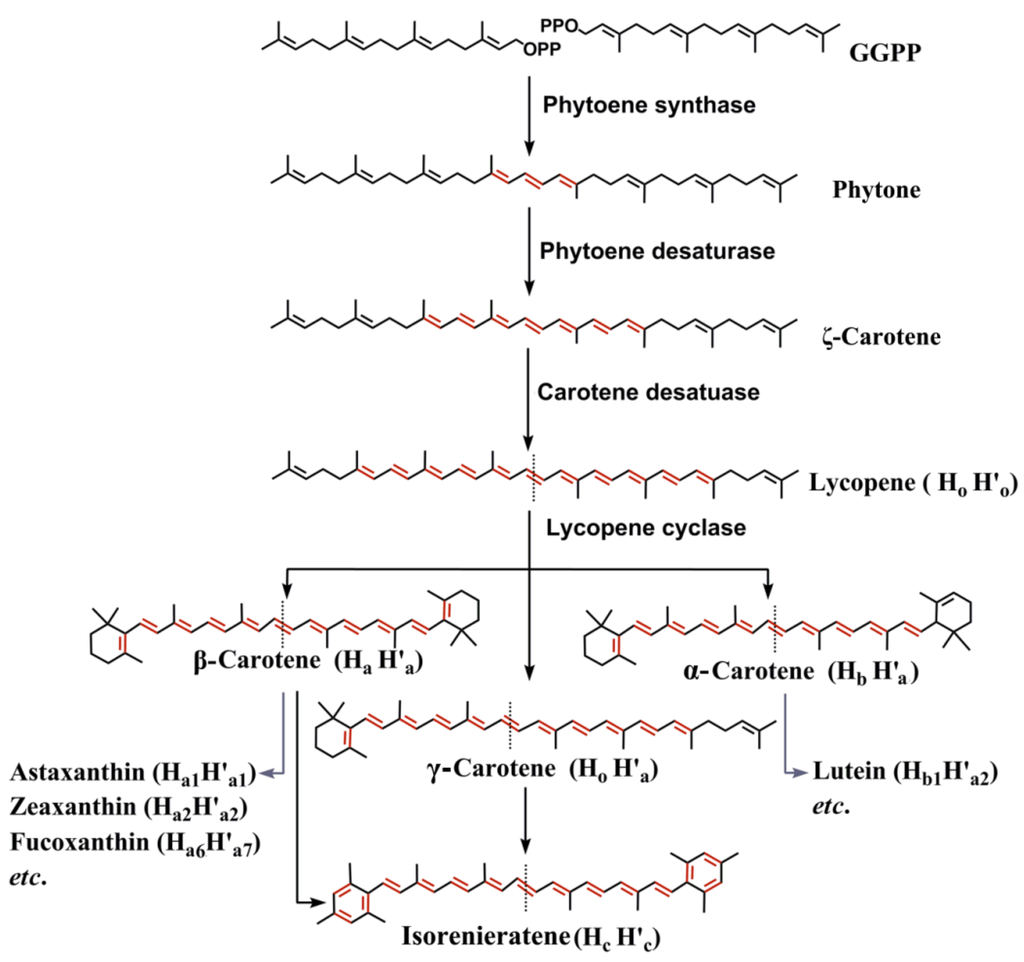 Enzymes involved in the biosynthesis of carotenoids have been mainly investigated in carotenogenic cyanobacteria and land plants [27,28]. They are mostly associated with cytoplasmic and organelle membranes where the hydrophobic substrates of carotenogenic enzymes are located [29]. So far, very few crystal structures of carotenogenic enzymes have been elucidated because of their association with the membranes [30,31]. More than 95% of carotenoids have been characterized in nature to be phytoene-based [32], which will be extensively discussed in this review.
Phytoene synthase is positioned early in the carotenoid synthesis pathway and is responsible as a pathway gatekeeper to discriminate GGPP substrate from enormous isoprenyl diphosphates [29]. Phylogenic analysis of 20 phytoene synthases from marine organisms supports the endosymbiotic theory that plastids evolve from a cyanobacterium, which is engulfed and retained by a unicellular protist [33,34]. Cyanobacteria Acaryochloris marina and Prochlorococcus marinus are clustered with green algae and land plant tomato (Figure 2A). However, phytoene synthases still display a significant diversification by evolution. A consensus position of 24.5% (identity of 0.5%) is remained among phytoene synthases from marine algae, bacteria, Achaea and land plants. There is only a similarity of 31.9% even between the two proteobacteria phyla α-proteobacteria and γ-proteobacteria.
The photochemical properties of a carotenoid depend on the size of the chromophore formed by conjugated double bonds, and a C40 backbone can accumulate up to 15 conjugated double bonds [35]. Thus, six sequential desaturation steps are required to dehydrogenate colorless phytoene, which has three conjugated double bonds in the center [26]. Lycopene containing a chromophore with eleven conjugated double bonds is the direct precursor of α/β/γ-carotenes or isorenieratene, the phytoene-based C40 carotenoid backbone (Figure 1). In general, oxygenic phototrophs require three enzymes, phytoene desaturase, ζ-carotene desaturase and cis-carotene isomerase to generate lycopene [6]. However, most bacterial phytoene desaturases are able to catalyze all three reactions [30]. There are also some organisms that disobey this general rule. Primitive cyanobacteirum Gloeobacter violaceus PCC 7421 uses bacterial type phytoene desaturase, and no homolog of ζ-carotene desaturase or cis-carotene isomerase is found in its genome [36,37]. Among anoxygenic phototrophs, green sulfur bacteria use three enzymes to catalyze desaturation, whereas purple bacteria, green filamentous bacteria, and heliobacteria use only one enzyme [38,39]. Phytoene desaturases also exhibit significant diversities among different organisms (Figure 2B). Just as phytoene synthase, green algae are clustered with tomato but they are distinguished from cyanobacteria. There is just a similarity of 23.2% among 21 proteins. It is suggested that phytoene desaturase exhibits a much faster evolution from the ancestral blueprint and higher diversities among species than phytoene synthases, which may correspond to promiscuous activities of phytoene desaturase.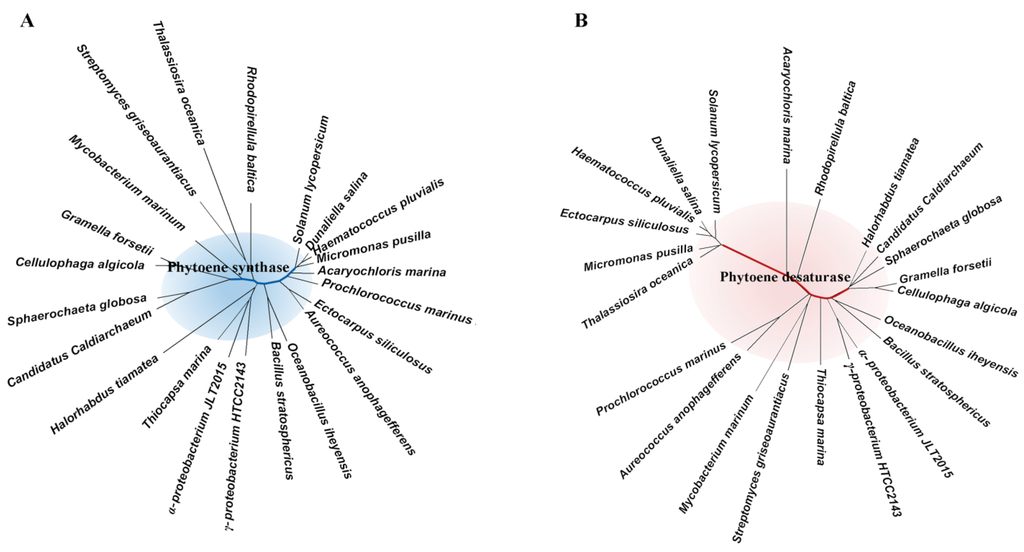 Figure 2. Phylogenic trees of (A) phytoene synthases and (B) phytoene desaturases. Trees were built using MEGA6.0 software by Neighbor-Joining method [40]. Protein sequences were obtained from National Center for Biotechnology Information (NCBI).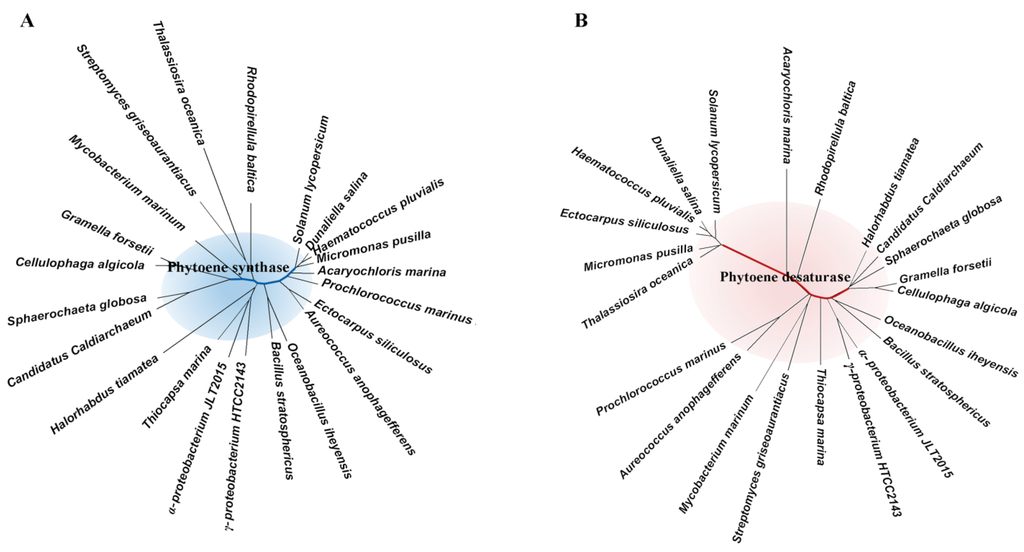 2.2. Diversity of Marine Carotenoids
Carotenogenic organisms in ocean are algae and bacteria, which possess all the genes for de novo synthesis of carotenoids [2,3,4]. Unicellular microalge Dunaliella salina and Dunaliella bardawil are rich in the orange pigment β-carotene (HaH'a, Figure 1) [41,42]. Two rings of β-carotene are often oxidized to form astaxanthin (Ha1H'a1, Figure 3) in some microalgae by β-carotene hydroxylase and ketolase [43], which can individually catalyze the modification of β-carotene to generate zeaxanthin (Ha2H'a2, Figure 3) in Spriulina platensis and Spriulina maxima [44], and canthaxanthin (Ha3H'a3, Figure 3) in Haematococcus pluvialis, Clorella vulgaris and Colastrella striolata [44,45,46]. The modifications can just occur in one ring to generate asymmetric intermediates such as β-cryptoxanthin (HaH'a2, Figure 3) and echinenone (HaH'a3, Figure 3). Chlorophyta Scenedesmus almeriensis and Muriellopsis sp. accumulate a large amount of lutein (Hb1H'a2, Figure 3), which is derived from α-carotene (HbH'a, Figure 1) [47]. Cryptophyta also synthesize α-carotene as well as acetylenic derivatives crocoxanthin (HbH'a4, Figure 3) and monadoxanthin (Hb1H'a4, Figure 3) [28]. Acetylenic groups are also found in β-carotene derivatives alloxanthin (Ha4H'a4, Figure 3) in Cryptophyta [48], and diatoxanthin (Ha2H'a4, Figure 3) and epoxy oxidized diadinoxanthin (Ha4H'a5, Figure 3) in Heterokontophyta, Haptophyta, Dinophyta, and Euglenophyta [28,49,50]. The unique acetylenic carotenoids are only found in algae. In brown algae and diatoms, acetylated and unique allenic modifications produce dinoxanthin (H'a5Ha6, Figure 3) and chain-oxidized fucoxanthin (Ha6H'a7, Figure 3) [2,51]. Some Chlorophyta species modify the methyl group of lutein to generate loroxanthin (Hb1H'a8, Figure 3) in Scenedesmus obliquus and Chlorella vulgaris [52], and siphonaxanthin (Hb1H'a9, Figure 3) in Codium fragile [53]. Aromatic isorenieratene (HcH'c, Figure 1) is a usual biomarker compound, which is synthesized from β-carotene in actinobacteria or γ-carotene (H'oHa, Figure 1) in green and purple sulfur bacteria [54,55]. γ-Carotene can also be converted to chlorobactene (HcH'o, Figure 1) and OH-chlorobactene (HcH'o1, Figure 3). Glycoside modifications generate OH-chlorobactene glucoside (HcH'o2, Figure 3) in green sulfur bacteria and myxol 2'-fucoside (Ho3H'a2, Figure 3) in Cyanophyta [54,56]. Dinophyta can synthesize C37-skeletal carotenoids such as peridinin (Hd1H'a6, Figure 3) [57]. Animals do not have pathways for de novo synthesis of carotenoids, but they obtain carotenoids from food and further modify carotenoids by oxidation, reduction, translocation of double bonds, cleavage of double bonds, etc. Peridinin-originated carotenoids such as peridininol (He1H'd1, Figure 3) and cyclopyrrhoxanthin (He2H'd2, Figure 3) have been isolated from bivalves Crassostrea gigas, Paphia amabillis, and Corbicula japonica [58,59,60]. Two unique nor-carotenoids, 2-nor-astaxanthin (Hf1H'a1, Figure 3) and actinoerythrin (Hf2H'f2, Figure 3), have been found in sea anemones Actinia equine and Tealia feline [61]. The carotenoid diversity in marine animals has been well summarized in detail elsewhere [61]. It is also worthy to note that some carotenoids are present in different stereo configurations among organisms (not covered in this review), which also greatly contributes to the diversification of carotenoids.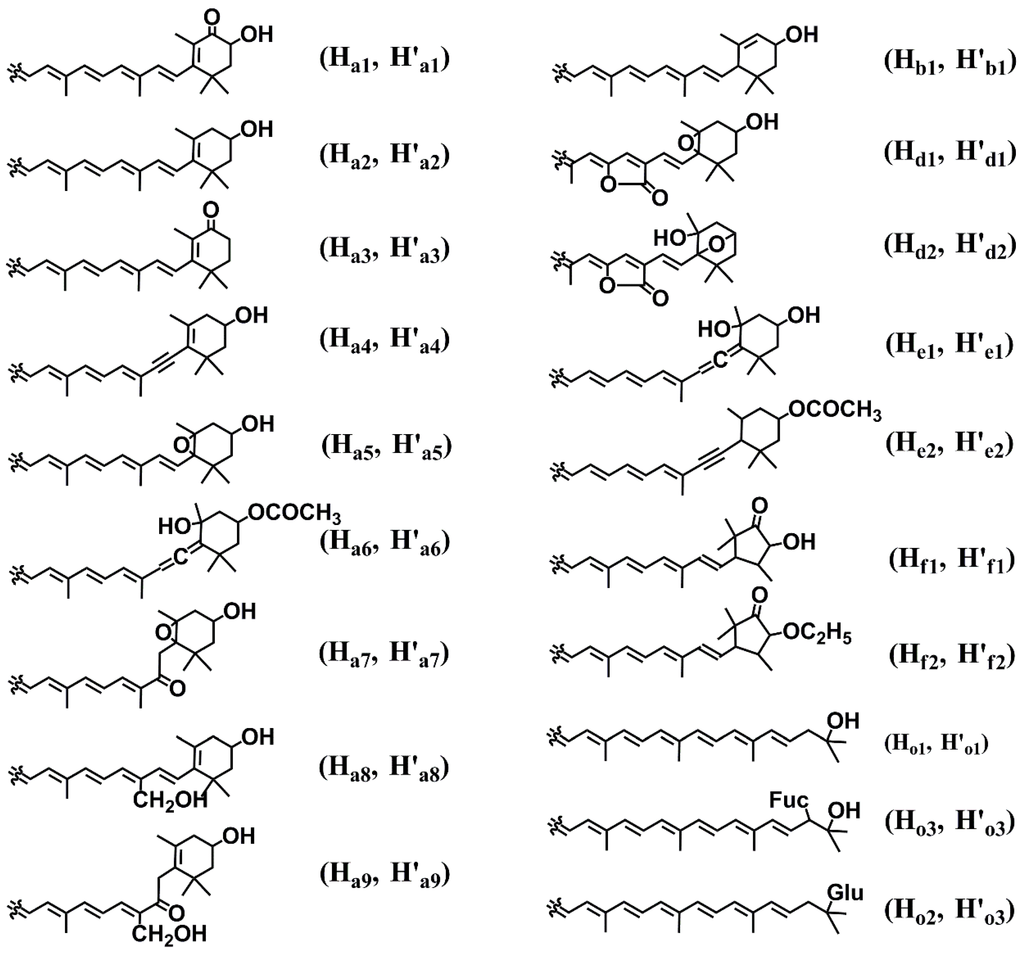 Figure 3. Diverse modifications of carotenoids. The structure shows the modification of a half carotenoid backbone. The stereo configurations are not shown in the structures. Glycosyl moieties of fucose and glucose are represented by Fuc and Glu, respectively.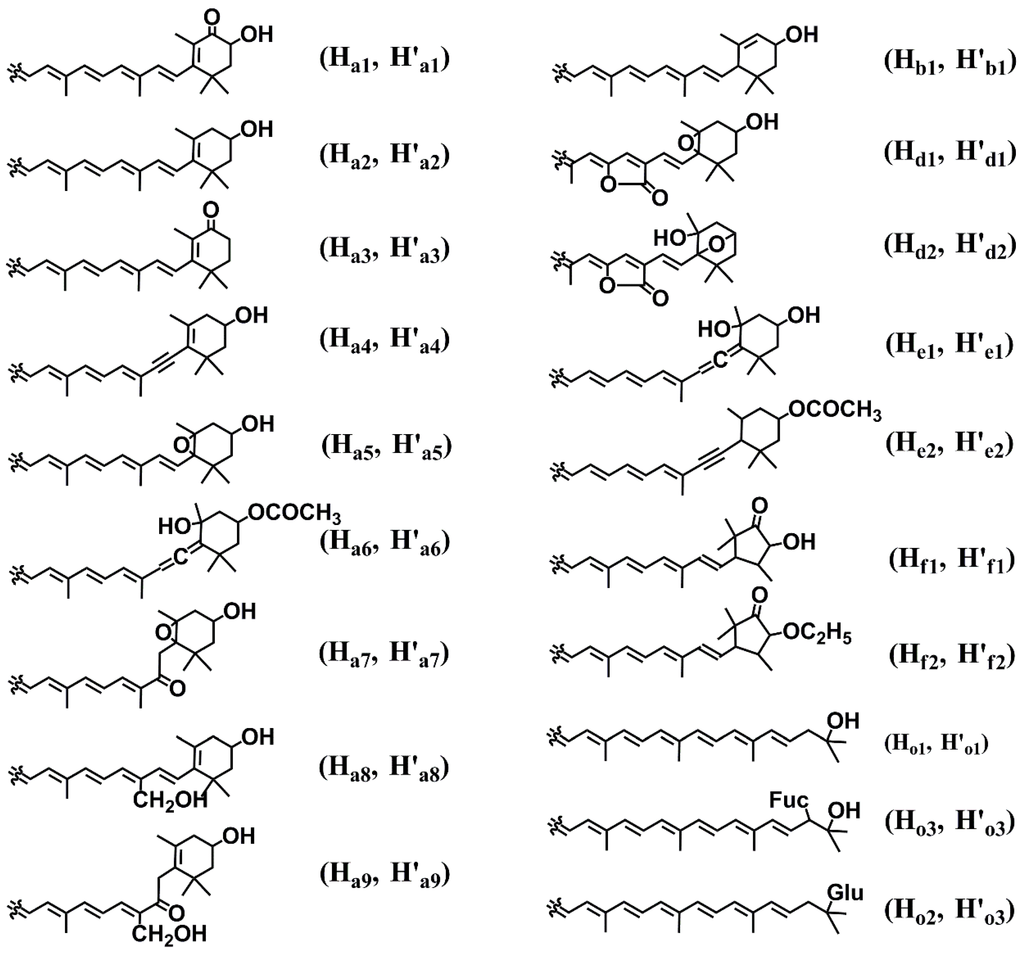 2.3. Synthesis of Some Important Marine Carotenoids and Enzymes
β-Carotene as well as xanthophylls astaxanthin, zeaxanthin, lutein, and fucoxanthin are some representative marine carotenoids due to their abundance in marine organisms and their inherent antioxidant properties. β-Carotene is synthesized from the cyclization of lycopene, a key step in generating carotenoid diversity by lycopene cyclases, which can also lead to α/γ-carotene formation (Figure 1). The β-cyclase catalyzes the symmetrical formation of two identical β-ionone rings of β-carotene. On the other hand, α-carotene contains two different ring structures (ε and β) formed by the action of additional ε-cyclase with β-cyclase. Four distinct families of lycopene cyclases, CrtY-type β-cyclases in proteobacteria, CrtL β/ε-cyclases in some cyanobacteria, the heterodimeric cyclases in some Gram-positive bacteria and FixC dehydrogenase superfamily lycopene cyclases in Chlorobium tepidum and Synechococcus sp. PCC 7002, have been identified to date [62]. Further decorations occur via a variety of ketolation (oxidation), hydroxylation (Figure 4), which are the major causes for the diversity among carotenoids [29]. β-Carotene ketolase (CrtW or CrtO) adds the keto groups at the 4,4′-position of the ring and β-carotene hydroxylase (CrtZ) adds the hydroxyl group at the 3,3′-position [63]. Both enzymes are responsible for the formation of astaxanthin via zeaxanthin or canthaxanthin routes in some cyanobacteria and algae (Figure 3). Lutein formation is ascribed to the hydroxylation of α-carotene by cytochrome P450 enzymes in Arabidopsis thaliana [64], while the pathway and enzymes remain to be elucidated from marine organisms. Fucoxanthin with a unique allenic and epoxide structure is derived from zeaxanthin in brown seaweeds, diatoms and dinoflagellates. Genome analysis indicates that zeaxanthin epoxidases epoxidize zeaxanthin to form antheraxanthin (Ha2H'a5, Figure 3) and violaxanthin (Ha5H'a5, Figure 3) [65]. Two possible routes have been proposed for the synthesis of fucoxanthin from violaxanthin via neoxanthin (He1H'a5, Figure 3) or diadinoxanthin [66]. Very recently, a cytochrome P450-type carotene hydroxylase (PuCHY1) has been isolated from red alga Porphyra umbilicalis. The compensatory expression of PuCHY1 results in the formation of violaxanthin, neoxanthin, and lutein in A. thaliana by the β/ε-hydroxylation activities [67]. Some of the carotenogenic enzymes characterized from marine organisms have been summarized in the literature [28].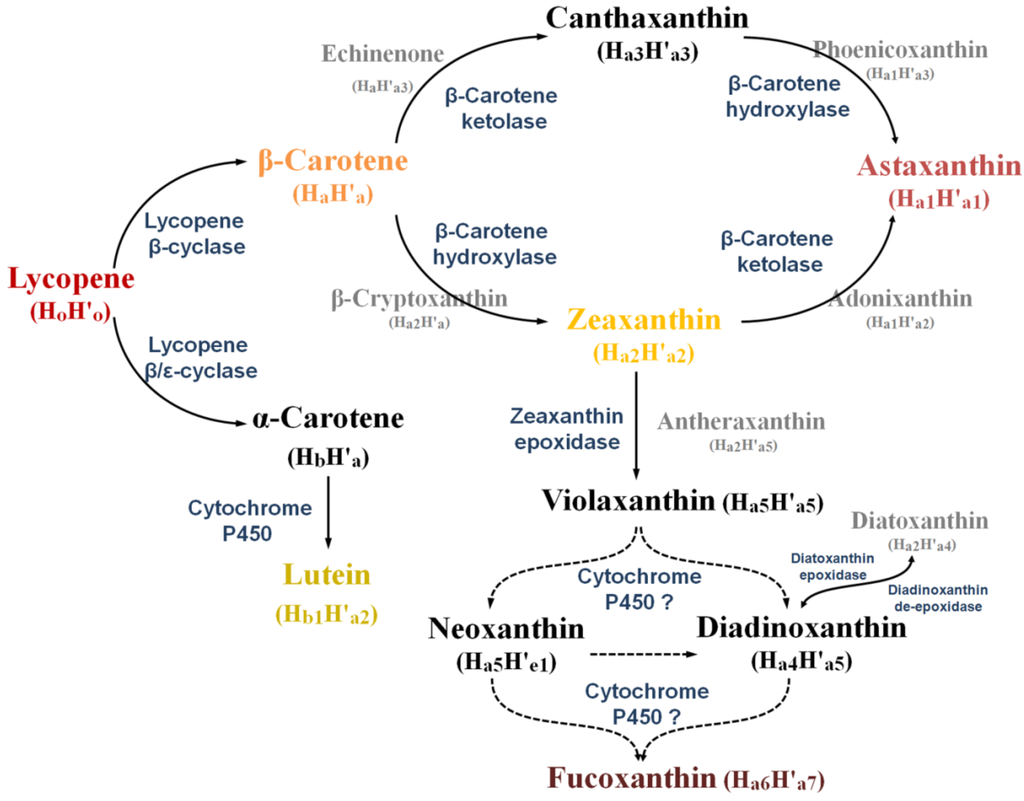 Figure 4. Synthetic pathway of astaxanthin, lutein, and fucoxanthin from lycopene. Arrows indicate each catalysis reaction, and enzymes are shown in blue. Dashed arrows indicate hypothesized reactions. Reaction intermediates are shown in gray.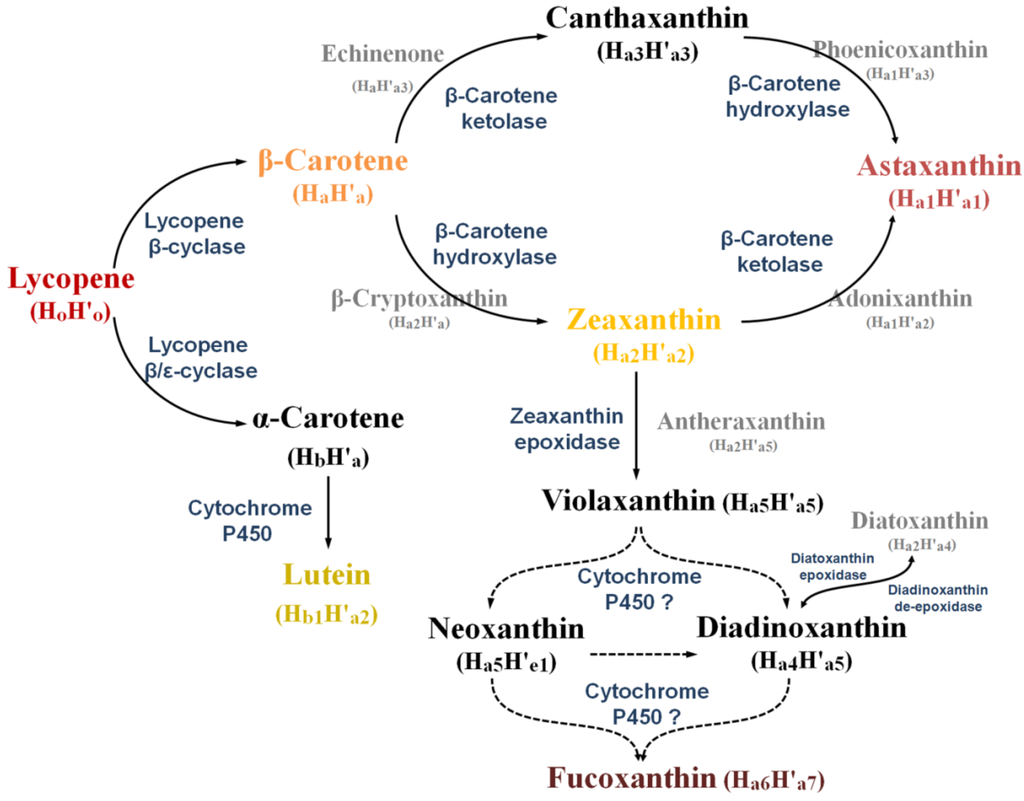 3. Technology Developments for Production of Carotenoids
Over the decades, many researches have been done for the production of carotenoids. Carotenogenic pathways have been identified and manipulated in several organisms, and advances in metabolic engineering and synthetic biology have resulted in significant improved production of carotenoids including astaxanthin, zeaxanthin, and lutein.
4. Opportunities and Challenges
The vast and mysterious ocean breeds diverse marine lives and provides unexhausted foodstuffs, nutriment, and drugs for humans. Diverse carotenoids are found from marine species and show broad utilities as colorant fragrance cosmetics and pharmaceuticals. The synthetic pathway of several carotenoids has been illuminated from marine species, which could benefit engineering processes in several host organisms for the production of carotenoids such as β-carotene, astaxanthin, and lutein. On the other hand, carotenoids such as β-carotene often undergo a series of modifications in the miraculous marine ecosphere. And indeed, several novel carotenoids have been isolated during the exploration of the marine ecosphere, while their pharmaceutical potentials remain to be examined due to the limited amount of extracts. Metabolic engineering and synthetic biology allow the assembly of such a chimeric pathway in a tractable organism for the mass production of rare carotenoids and also exhibit the potential to extend the catalogs of carotenoids to non-natural carotenoids, which could accelerate the exploration of novel carotenoids. It is noted that decoded carotenoid pathways and enzymes are still limited to a few marine organisms, although the J. Craig Venter Institute with worldwide collaboration had sequenced and annotated the genomes of 177 marine microbes up until 2010. However, we believe that the developed and developing technologies will allow us to search for novel marine carotenoid pathways in the future.
Acknowledgments
This work was supported by a grant (NRF-2013R1A1A2008289) from the National Research Foundation, the Intelligent Synthetic Biology Center of Global Frontier Project funded by the MSIP (2011-0031964), and a grant from the Next-Generation BioGreen 21 Program (SSAC, grant#: PJ00952003), Rural Development Administration (RDA), Korea. J.K. is supported by scholarships from the BK21 Plus Program, Ministry of Education, Science & Technology (MEST), Korea.
Author Contributions
S.K. conceived the idea and held and corrected the manuscript. C.W. and J.K collected the literature, analyzed the data, and wrote the manuscript. C.W. and J.K contributed to this manuscript equally.
Conflicts of Interest
The authors declare no conflict of interest.
© 2014 by the authors; licensee MDPI, Basel, Switzerland. This article is an open access article distributed under the terms and conditions of the Creative Commons Attribution license (http://creativecommons.org/licenses/by/3.0/).