Overexpression and Characterization of a Novel Thermostable β-Agarase YM01-3, from Marine Bacterium Catenovulum agarivorans YM01T
1
College of Marine Life Sciences, Ocean University of China, Qingdao 266003, China
2
School of Medicine and Pharmacy, Ocean University of China, Qingdao 266003, China
†
These authors contributed equally to this work.
*
Author to whom correspondence should be addressed.
Received: 26 November 2013 / Revised: 21 April 2014 / Accepted: 22 April 2014 / Published: 12 May 2014
Abstract
Genome sequencing of
Catenovulum agarivorans
YM01
T
reveals 15 open-reading frames (ORFs) encoding various agarases. In this study, extracellular proteins of YM01
T
were precipitated by ammonium sulfate and separated by one-dimensional gel electrophoresis. The results of in-gel agarase activity assay and mass spectrometry analysis revealed that the protein, YM01-3, was an agarase with the most evident agarolytic activity. Agarase YM01-3, encoded by the YM01-3 gene, consisted of 420 amino acids with a calculated molecular mass of 46.9 kDa and contained a glycoside hydrolase family 16 β-agarase module followed by a RICIN superfamily in the C-terminal region. The YM01-3 gene was cloned and expressed in
Escherichia coli
. The recombinant agarase, YM01-3, showed optimum activity at pH 6.0 and 60 °C and had a
K
m
of 3.78 mg mL
−1
for agarose and a
V
max
of 1.14 × 10
4
U mg
−1
. YM01-3 hydrolyzed the β-1,4-glycosidic linkages of agarose, yielding neoagarotetraose and neoagarohexaose as the main products. Notably, YM01-3 was stable below 50 °C and retained 13% activity after incubation at 80 °C for 1 h, characteristics much different from other agarases. The present study highlights a thermostable agarase with great potential application value in industrial production.
View Full-Text
►

▼

Figures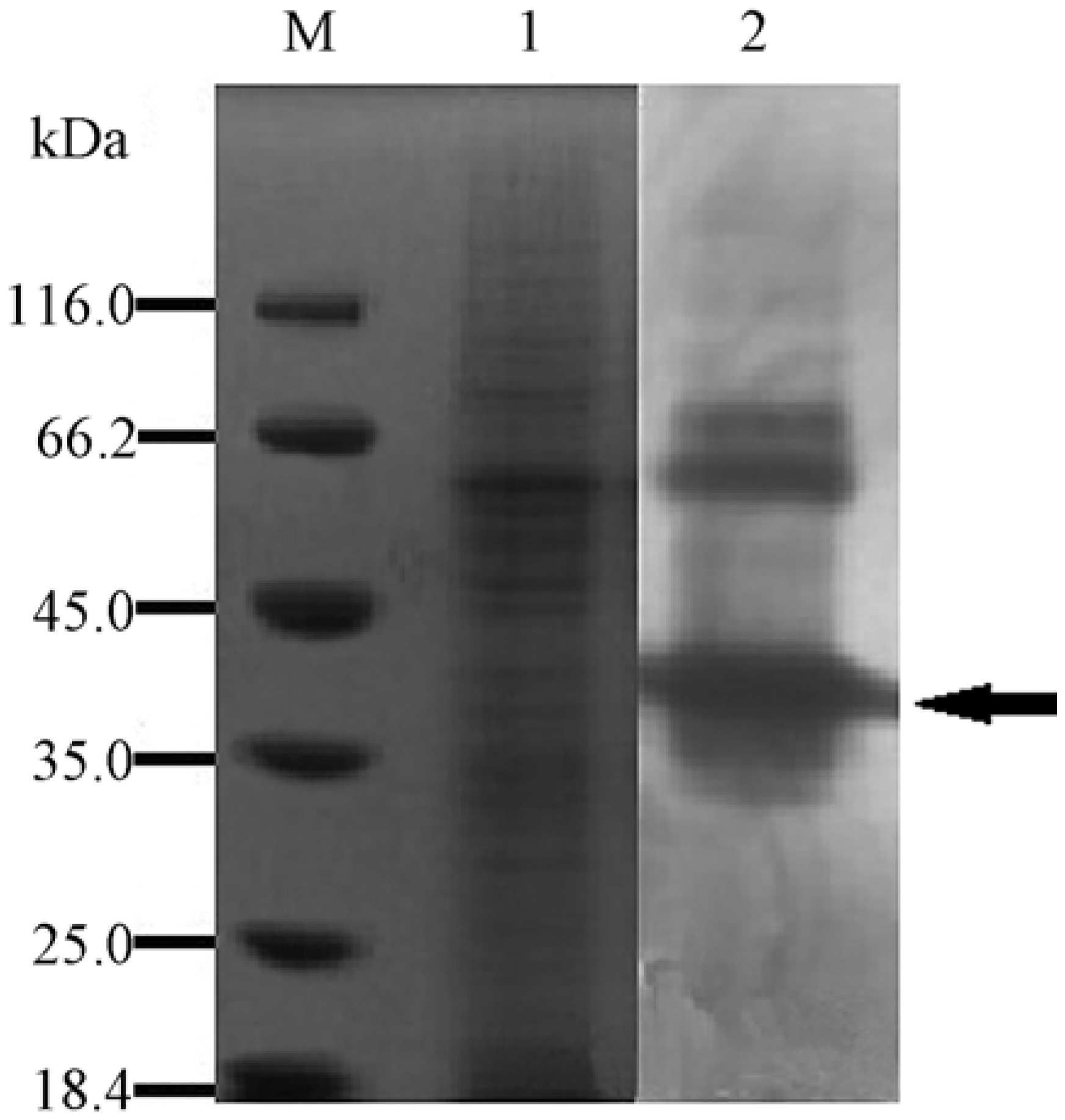 Figure 1
Share & Cite This Article
MDPI and ACS Style
Cui, F.; Dong, S.; Shi, X.; Zhao, X.; Zhang, X.-H. Overexpression and Characterization of a Novel Thermostable β-Agarase YM01-3, from Marine Bacterium Catenovulum agarivorans YM01T. Mar. Drugs 2014, 12, 2731-2747.
Related Articles
Comments
[Return to top]