Double Strand Breaks and Cell-Cycle Arrest Induced by the Cyanobacterial Toxin Cylindrospermopsin in HepG2 Cells
Department of Genetic Toxicology and Cancer Biology, National Institute of Biology, Večna pot 111, Ljubljana 1000, Slovenia
*
Author to whom correspondence should be addressed.
Received: 27 June 2013 / Revised: 23 July 2013 / Accepted: 31 July 2013 / Published: 21 August 2013
Abstract
The newly emerging cyanobacterial cytotoxin cylindrospermopsin (CYN) is increasingly found in surface freshwaters, worldwide. It poses a potential threat to humans after chronic exposure as it was shown to be genotoxic in a range of test systems and is potentially carcinogenic. However, the mechanisms of CYN toxicity and genotoxicity are not well understood. In the present study CYN induced formation of DNA double strand breaks (DSBs), after prolonged exposure (72 h), in human hepatoma cells, HepG2. CYN (0.1–0.5 µg/mL, 24–96 h) induced morphological changes and reduced cell viability in a dose and time dependent manner. No significant increase in lactate dehydrogenase (LDH) leakage could be observed after CYN exposure, indicating that the reduction in cell number was due to decreased cell proliferation and not due to cytotoxicity. This was confirmed by imunocytochemical analysis of the cell-proliferation marker Ki67. Analysis of the cell-cycle using flow-cytometry showed that CYN has an impact on the cell cycle, indicating G0/G1 arrest after 24 h and S-phase arrest after longer exposure (72 and 96 h). Our results provide new evidence that CYN is a direct acting genotoxin, causing DSBs, and these facts need to be considered in the human health risk assessment.
View Full-Text
►

▼

Figures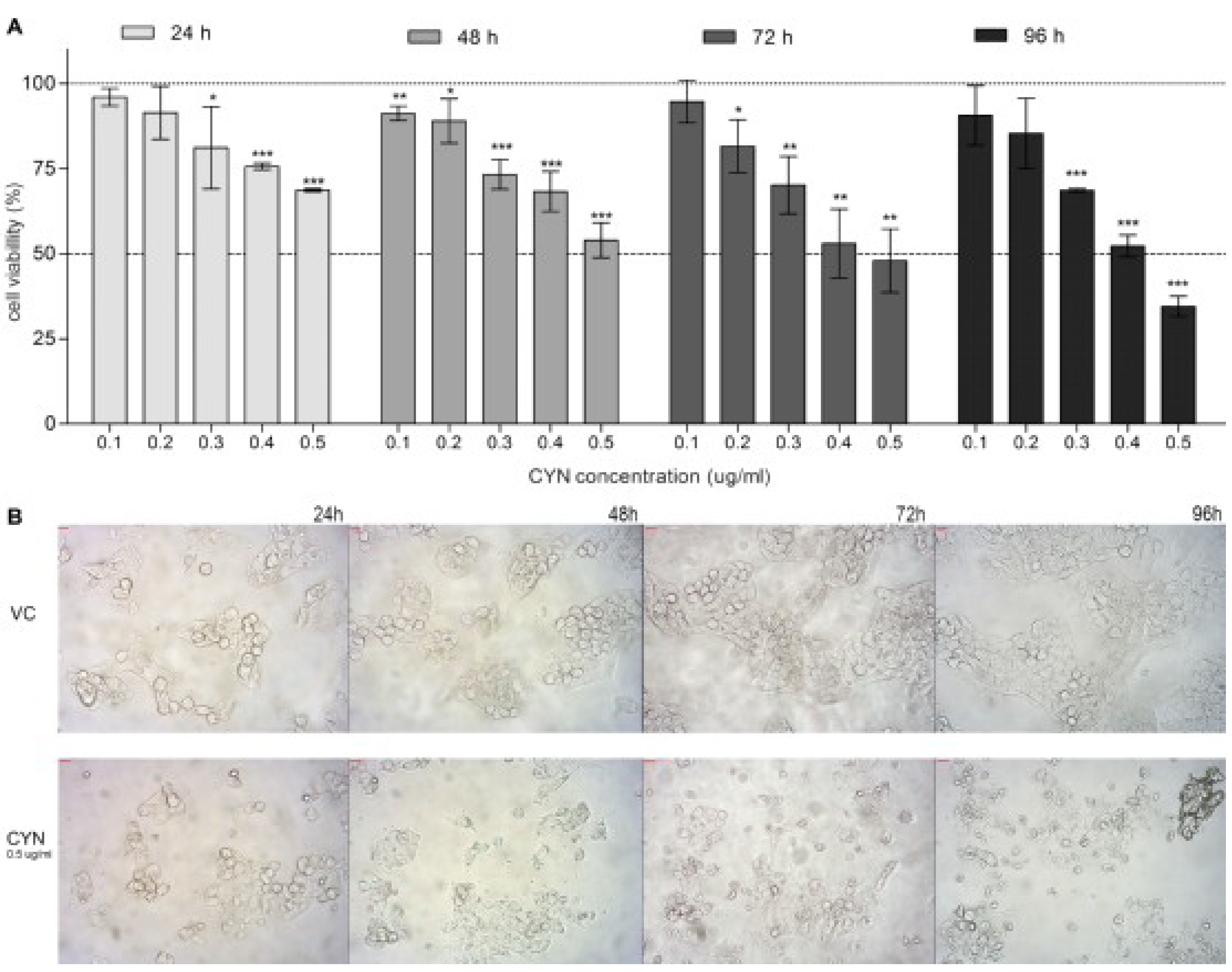 Figure 1
Share & Cite This Article
MDPI and ACS Style
Alja, Š.; Filipič, M.; Novak, M.; Žegura, B. Double Strand Breaks and Cell-Cycle Arrest Induced by the Cyanobacterial Toxin Cylindrospermopsin in HepG2 Cells. Mar. Drugs 2013, 11, 3077-3090.
Related Articles
Comments
[Return to top]