Effect of Co-Administration of Rivaroxaban and Clopidogrel on Bleeding Time, Pharmacodynamics and Pharmacokinetics: A Phase I Study
Clinical Pharmacology, Bayer Pharma AG, D-42096 Wuppertal, Germany
*
Author to whom correspondence should be addressed.
Received: 20 December 2011 / Revised: 18 January 2012 / Accepted: 20 February 2012 / Published: 24 February 2012
Abstract
Dual antiplatelet therapy with acetylsalicylic acid and a thienopyridine, such as clopidogrel, is effective for the secondary prevention of cardiovascular events in patients with acute coronary syndrome, but there is still a substantial residual risk of recurrence. Although anticoagulant therapy with a vitamin K antagonist (e.g. warfarin) in conjunction with antiplatelet therapy has been shown to reduce the risk of cardiovascular events, the rates of bleeding were increased with these combination therapies; hence, triple therapy with warfarin is currently only recommended in patients at low risk of bleeding. In addition, there are other limitations associated with vitamin K antagonist therapy, including the need for routine coagulation monitoring and dose adjustment to maintain the treatment within the therapeutic range. Rivaroxaban is an oral, direct Factor Xa inhibitor; in clinical practice, it is likely that rivaroxaban will be given to patients who also receive antiplatelet therapy, such as clopidogrel. This randomized, non-blinded, three-way crossover study investigated the effect of rivaroxaban on bleeding time when co­administered with clopidogrel. In addition, the influence of clopidogrel on the safety, tolerability, pharmacodynamics and pharmacokinetics of rivaroxaban was investigated. Of 27 healthy male subjects who received a single 300 mg dose of clopidogrel, 14 were identified as clopidogrel responders and were then randomized to the following three treatments: (A) two doses of clopidogrel on two consecutive days (300 mg on day 1; 75 mg on day 2); (B) one dose of rivaroxaban (15 mg); or (C) a combination of treatments A and B (rivaroxaban given on day 2). All treatments were well tolerated. Bleeding time with co­administration of rivaroxaban and clopidogrel was significantly prolonged in four subjects, compared with either drug alone: combination treatment increased the overall least squares-means to 3.77 times baseline (90% confidence interval [CI] 2.82–4.73), compared with 1.13 times baseline (90% CI 0.17–2.09) with rivaroxaban and 1.96 times baseline (90% CI 0.10–2.91) with clopidogrel. Co-administration of clopidogrel had no significant effect on the pharmacokinetics of rivaroxaban and, when compared with rivaroxaban alone, had no further effects on Factor Xa activity or prothrombin time. Inhibition of ADP-stimulated platelet aggregation by clopidogrel was not affected by rivaroxaban. As expected, owing to the mode of action of each study drug, the results of this study demonstrated that co­administration of the Factor Xa inhibitor rivaroxaban and the antiplatelet clopidogrel increased the bleeding time in healthy subjects without affecting other pharmacokinetic or pharmacodynamic parameters of each drug.
View Full-Text
►

▼

Figures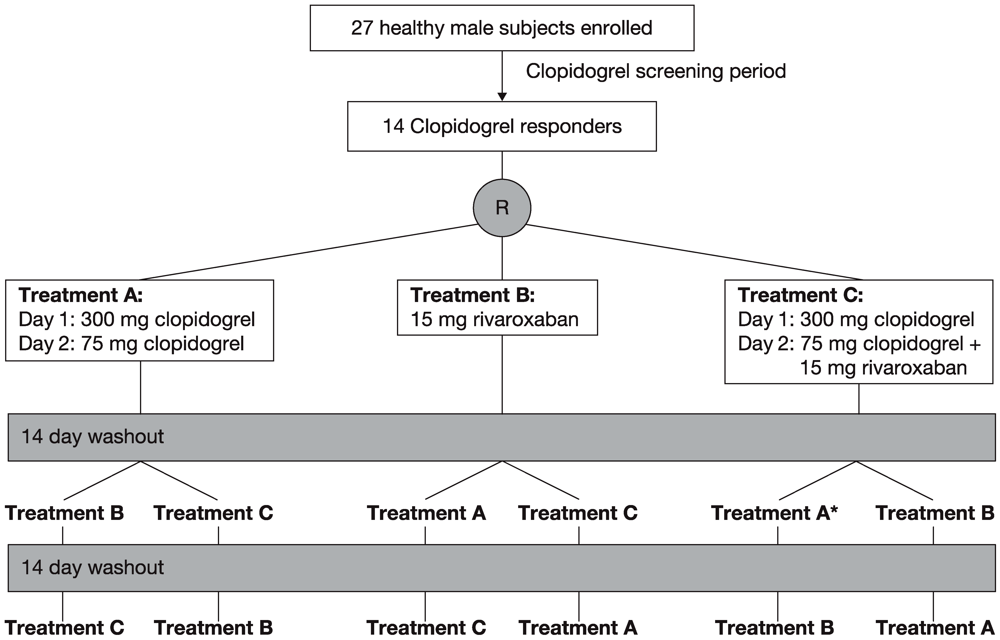 Figure 1
Share & Cite This Article
MDPI and ACS Style
Kubitza, D.; Becka, M.; Mück, W.; Schwers, S. Effect of Co-Administration of Rivaroxaban and Clopidogrel on Bleeding Time, Pharmacodynamics and Pharmacokinetics: A Phase I Study. Pharmaceuticals 2012, 5, 279-296.
Related Articles
Comments
[Return to top]