Greater Genetic Diversity in Spatially Restricted Coral Reef Fishes Suggests Secondary Contact among Differentiated Lineages
Australian Institute of Marine Science, PMB #3, Townsville MC, QLD 4810, Australia
*
Author to whom correspondence should be addressed.
Received: 30 June 2011 / Revised: 1 September 2011 / Accepted: 2 September 2011 / Published: 14 September 2011
Abstract
The maintenance of genetic diversity is a central goal of conservation. It is the raw material for evolutionary change and if lost, can accelerate extinction of species. According to theory, total genetic diversity should be less in species with restricted ranges and in populations on the margins of distributional ranges, making such species or populations more vulnerable to environmental perturbations. Using mtDNA and nuclear Inter Simple Sequence Repeat (ISSR) data we investigated how the genetic diversity and structure of three con-generic species pairs of coral reef fishes (Pomacentridae) was related to species' range size and position of populations within these ranges. Estimates of genetic structure did not differ significantly among species, but mtDNA and nucDNA genetic diversities were up to 10 times greater in spatially restricted species compared to their widespread congeners. In two of the three species pairs, the distribution of genetic variation indicated secondary contact among differentiated lineages in the spatially restricted species. In contrast, the widespread species displayed a typical signature of population expansion suggesting recent genetic bottlenecks, possibly associated with the (re) colonization of the Great Barrier Reef. These results indicate that historical processes, involving hybridization and founder effects, possibly associated with Pleistocene sea level fluctuations, have differentially influenced the widespread and spatially restricted coral reef damselfish species studied here.
View Full-Text
►

▼

Figures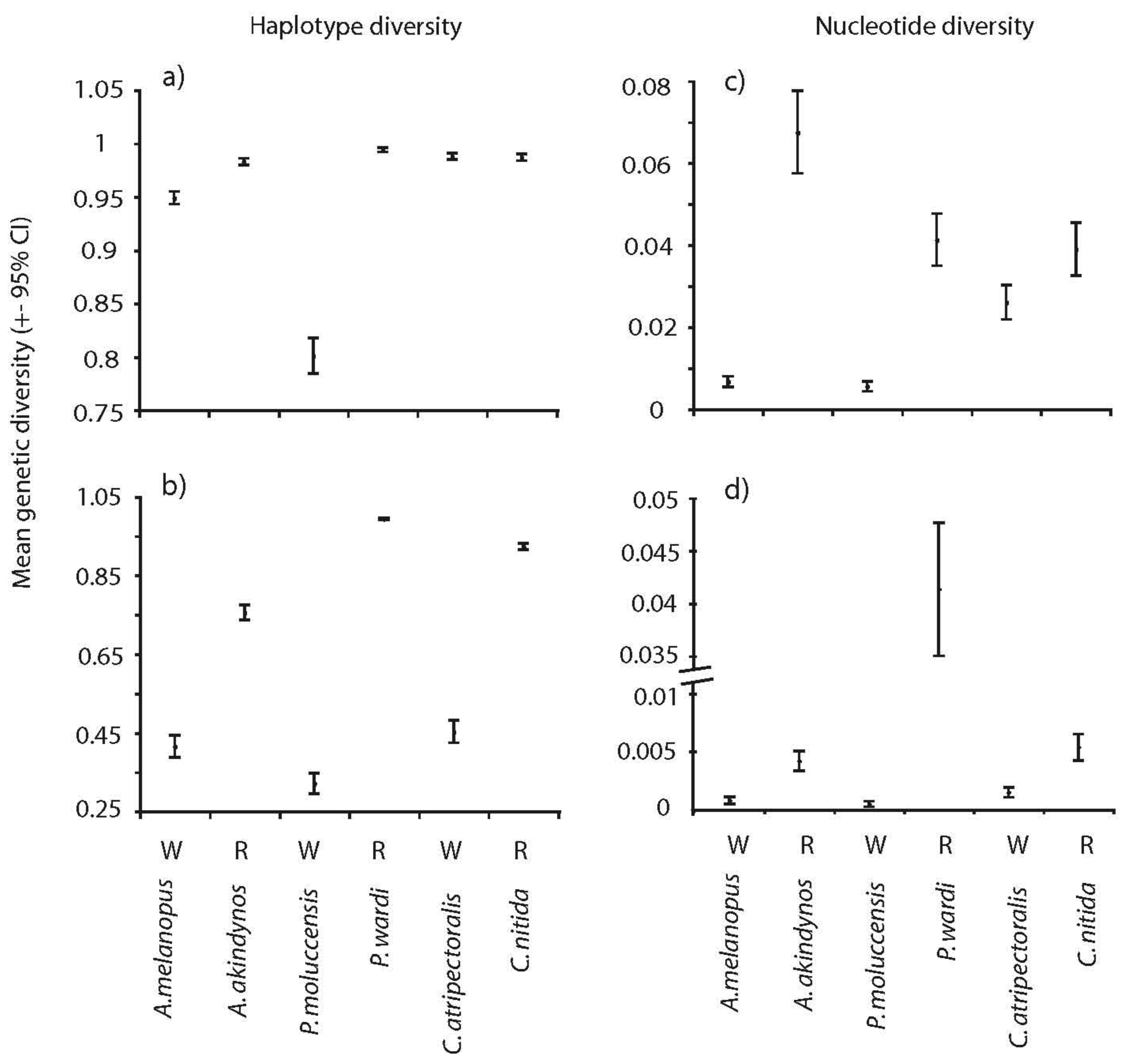 Share & Cite This Article
MDPI and ACS Style
Bay, L.K.; Caley, M.J. Greater Genetic Diversity in Spatially Restricted Coral Reef Fishes Suggests Secondary Contact among Differentiated Lineages. Diversity 2011, 3, 483-502.
Comments
[Return to top]