New Armenian Wood-Associated Coprinoid Mushrooms: Coprinopsis strossmayeri and Coprinellus aff. radians
1
Laboratory of Fungal Biology and Biotechnology, Yerevan State University, 1 A. Manoogian St., 0025, Yerevan, Armenia
2
Genome Analysis, Fritz Lipmann Institute—Leibniz Institute for Age Research, Beutenbergstrasse 11, D-07745, Jena, Germany
3
Molecular Wood Biotechnology and Technical Mycology, Büsgen-Institute, University of Goettingen, Büsgenweg 2, D-37077 Goettingen, Germany
†
Present address: Syngenta Crop Protection AG, 4332 Stein, Switzerland.
*
Author to whom correspondence should be addressed.
Received: 24 January 2011 / Revised: 22 February 2011 / Accepted: 23 February 2011 / Published: 7 March 2011
Abstract
Coprinoid mushrooms grown on wood of broad-leaf species were collected for the first time in Armenia and dikaryotic mycelial cultures were established. ITS (internal transcribed spacer) sequences identified one species as
Coprinopsis strossmayeri
and the other as a species closely related to
Coprinellus radians
. Mycelial growth and morphological features on different media are described. The pearl-white-silky colonies of
C. strossmayeri
are characterized by mycelial strands and by a light-yellow agar colorization. The species forms chlamydospores intercalary in its hyphae. Some hyphal ends form hyphal loops. Colonies of
C.
aff.
radians
have a characteristic yellow pigmentation and stain the agar yellowish. Hyphae are mostly clampless but at some septa, pseudoclamps are seen from which side-branches develop growing along the parental hyphae. In the mycelium of
C.
aff.
radians
, hyphal loops, hyphal swellings, cystidia and typical allocysts were observed. Both new species from Armenia show growth optima at temperatures of 25 to 30 °C and pHs of 6.0 to 7.0. Both grow in alkaline conditions up to pH 12.0 but not at pHs 3.0 and 4.0, classifying them with other coprinoid mushrooms as "ammonia fungi". Both species grew on a variety of lignocellulosic substrates and both show polyphenol oxidase activities.
View Full-Text
►

▼

Figures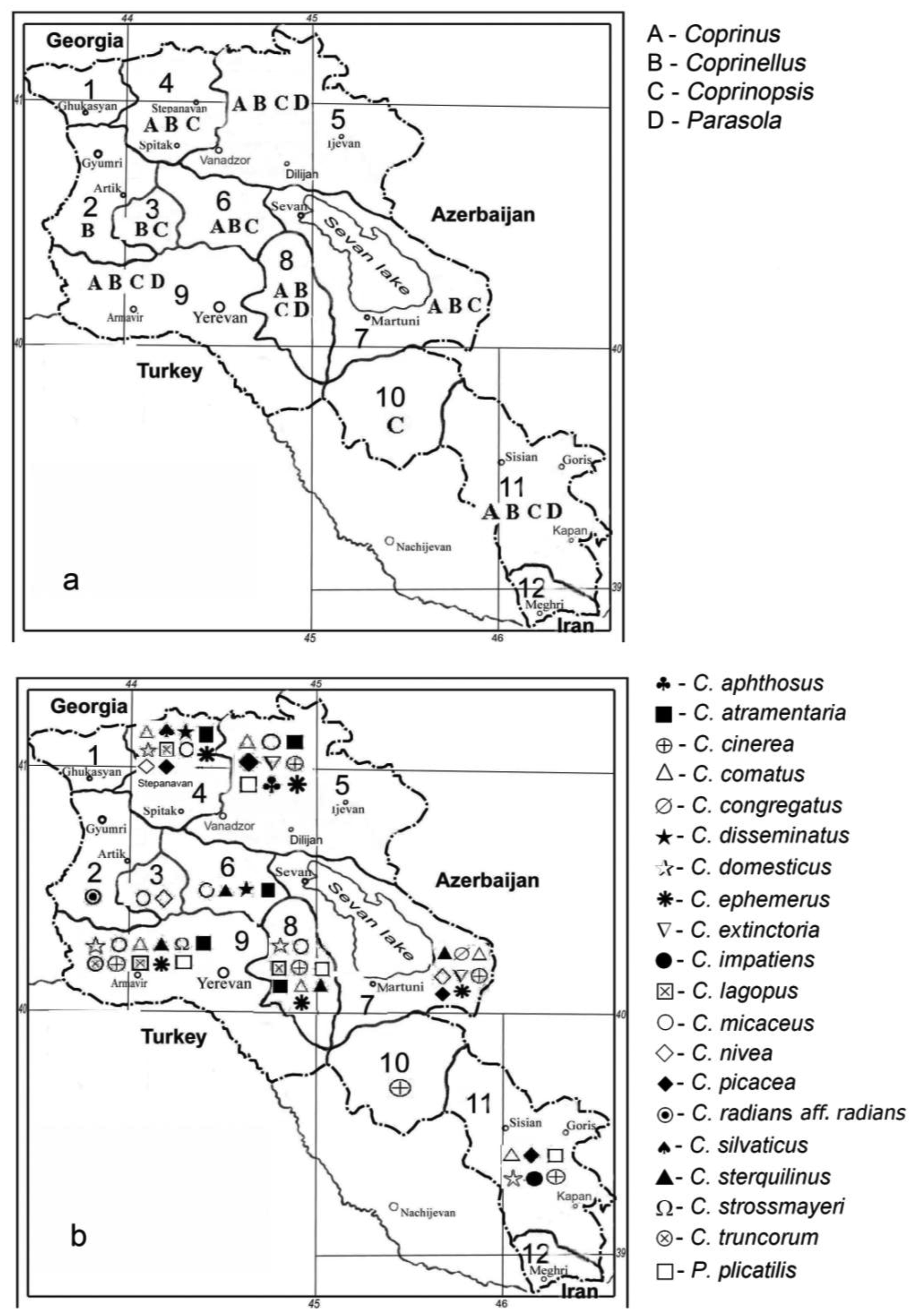 Share & Cite This Article
MDPI and ACS Style
Badalyan, S.M.; Szafranski, K.; Hoegger, P.J.; Navarro-González, M.; Majcherczyk, A.; Kües, U. New Armenian Wood-Associated Coprinoid Mushrooms: Coprinopsis strossmayeri and Coprinellus aff. radians. Diversity 2011, 3, 136-154.
Comments
[Return to top]