Tumor-Associated Macrophages and Mast Cells Positive to Tryptase Are Correlated with Angiogenesis in Surgically-Treated Gastric Cancer Patients
1
Department of Medical and Surgical Sciences, Clinical Surgery Unit, University "Magna Graecia" Medical School, Viale Europa, Germaneto, 88100 Catanzaro, Italy
2
Interventional Oncology Unit with Integrated Section of Translational Medical Oncology National Cancer Research Centre, Istituto Tumori "Giovanni Paolo II", viale Orazio Flacco 65, 70124 Bari, Italy
3
Pathology Unit, "Pugliese-Ciaccio" Hospital, Viale Pio X, 88100 Catanzaro, Italy
4
Department of Medical Biochemistry, Gulhane Medical Faculty, Health Science University, Ankara 06010, Turkey
5
Chair of Pathology, Veterinary Medical School, University "Aldo Moro" of Bari, Via Casamassima, 70010 Bari, Italy
6
Statistic and Epidemiology Unit, National Cancer Research Centre, Istituto Tumori "Giovanni Paolo II", viale Orazio Flacco 65, 70124 Bari, Italy
7
Department of Medical and Surgical Sciences, Clinical Surgery Unit, University "Magna Graecia" Medical School, Viale Europa, Germaneto, 88100 Catanzaro, Italy
8
Department of Medical and Surgical Sciences, Clinical Surgery Unit, University "Magna Graecia" Medical School, Viale Europa, Germaneto, 88100 Catanzaro, Italy
9
Surgery Unit, National Cancer Research Centre Istituto Tumori ''Giovanni Paolo II'', 70124 Bari, Italy
10
Interventional Oncology Unit with Integrated Section of Translational Medical Oncology, National Cancer Research Centre, Istituto Tumori "Giovanni Paolo II", viale Orazio Flacco 65, 70124 Bari, Italy
*
Author to whom correspondence should be addressed.
Received: 27 March 2018 / Revised: 9 April 2018 / Accepted: 9 April 2018 / Published: 12 April 2018
Abstract
Mast cells and macrophages can play a role in tumor angiogenesis by stimulating microvascular density (MVD). The density of mast cells positive to tryptase (MCDPT), tumor-associated macrophages (TAMs), and MVD were evaluated in a series of 86 gastric cancer (GC) tissue samples from patients who had undergone potential curative surgery. MCDPT, TAMs, and MVD were assessed in tumor tissue (TT) and in adjacent normal tissue (ANT) by immunohistochemistry and image analysis. Each of the above parameters was correlated with the others and, in particular for TT, with important clinico-pathological features. In TT, a significant correlation between MCDPT, TAMs, and MVD was found by Pearson
t
-test analysis (
p
ranged from 0.01 to 0.02). No correlation to the clinico-pathological features was found. A significant difference in terms of mean MCDPT, TAMs, and MVD between TT and ANT was found (
p
ranged from 0.001 to 0.002). Obtained data suggest MCDPT, TAMs, and MVD increased from ANT to TT. Interestingly, MCDPT and TAMs are linked in the tumor microenvironment and they play a role in GC angiogenesis in a synergistic manner. The assessment of the combination of MCDPT and TAMs could represent a surrogate marker of angiogenesis and could be evaluated as a target of novel anti-angiogenic therapies in GC patients.
View Full-Text
►

▼

Figures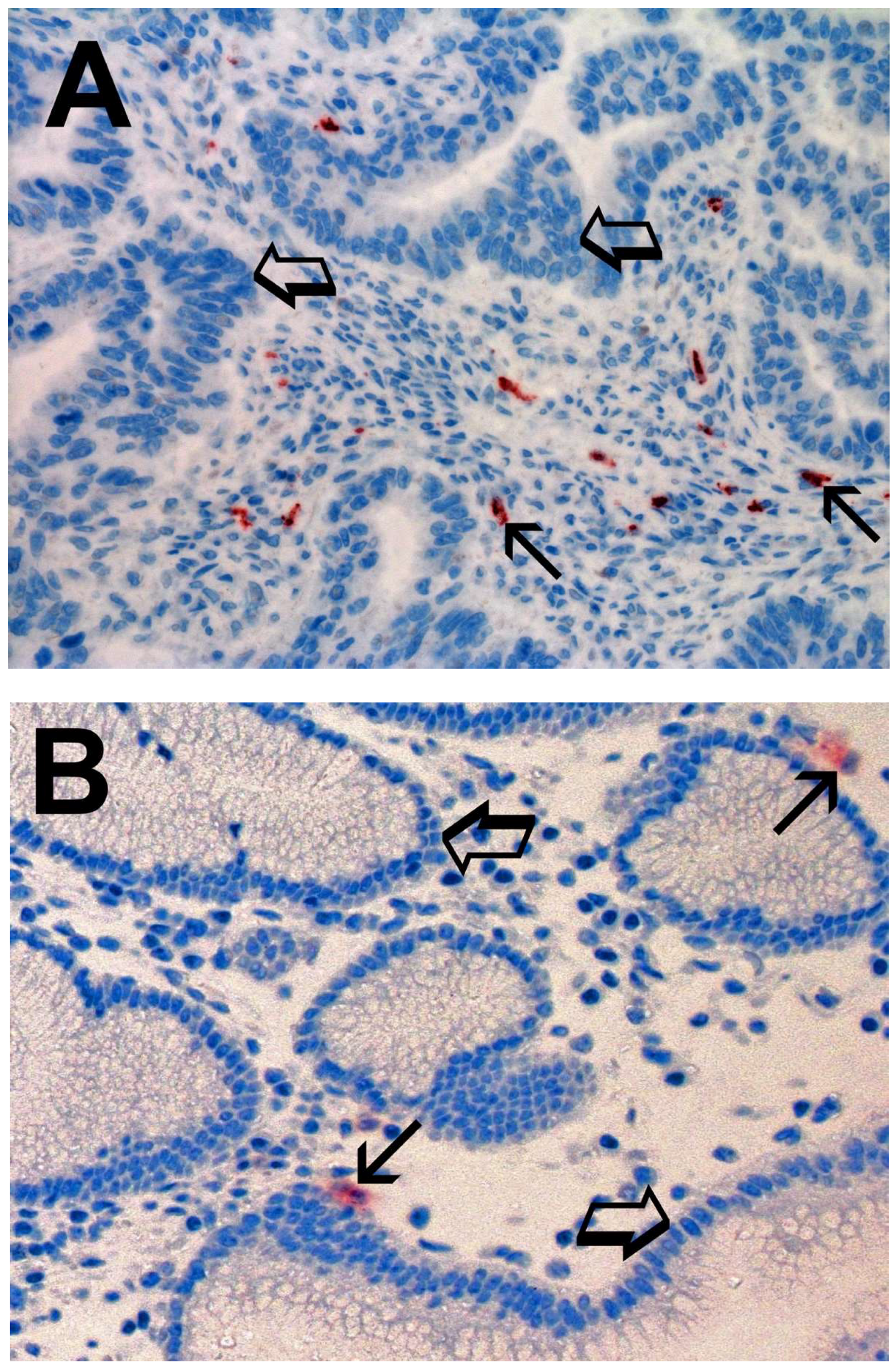 Figure 1
This is an open access article distributed under the
Creative Commons Attribution License
which permits unrestricted use, distribution, and reproduction in any medium, provided the original work is properly cited. (CC BY 4.0).
Share & Cite This Article
MDPI and ACS Style
Sammarco, G.; Gadaleta, C.D.; Zuccalà, V.; Albayrak, E.; Patruno, R.; Milella, P.; Sacco, R.; Ammendola, M.; Ranieri, G. Tumor-Associated Macrophages and Mast Cells Positive to Tryptase Are Correlated with Angiogenesis in Surgically-Treated Gastric Cancer Patients. Int. J. Mol. Sci. 2018, 19, 1176.
Note that from the first issue of 2016, MDPI journals use article numbers instead of page numbers. See further details here.
Related Articles
Comments
[Return to top]