A Novel Synthetic Material, BMM, Accelerates Wound Repair by Stimulating Re-Epithelialization and Fibroblast Activation
1
Department of Biochemistry, School of Medicine, Jeju National University, Jeju 690-756, Korea
2
Department of Pathology, School of Medicine, Jeju National University, Jeju 690-756, Korea
3
Department of Applied Chemistry, Dongduk Women's University, Seoul 136-714, Korea
4
Division of Life & Environmental Science, Daegu University, Gyeongsangbuk-do 38453, Korea
5
Division of Bioscience and Biotechnology, Konkuk University, Seoul 05029, Korea
6
Institute of Medical Science, Jeju National University, Jeju 690-756, Korea
*
Authors to whom correspondence should be addressed.
Received: 9 March 2018 / Revised: 3 April 2018 / Accepted: 9 April 2018 / Published: 11 April 2018
Abstract
Cutaneous wound repair is an intricate process whereby the skin reprograms itself after injury. In the mid-phase of wound repair, the proliferation, migration, and differentiation of cells are the major mechanisms to lead remodeling. We investigated the effect of BMM ((1E,2E)-1,2-bis((6-bromo-2H-chromen-3-yl)methylene)hydrazine), a novel synthetic material, on the migration and viability of keratinocytes or fibroblasts using the in vitro scratch woundhealing, electric cell-substrate imedance sensing (ECIS), invasion, and MTT assays. Cell migration-related factors were analyzed using western blot, and we found that treatment with BMM stimulated the EMT pathway and focal adhesion kinase (FAK)/Src signaling. Differentiation of HaCaT keratinocyte and fibroblast cells was also stimulated by BMM and specifically, NOX2/4 contributed to the activation of fibroblasts for wound healing. Furthermore, BMM treated HaCaT keratinocyte and fibroblast-co-cultured cells increased migration and differentiation. TGF-β and Cyr61 were also secreted to a greater extent than in single cultured cells. In vivo experiments showed that treatment with BMM promotes wound closure by promoting re-epithelialization. In this study, we demonstrated that a novel synthetic material, BMM, is capable of promoting wound healing via the stimulation of re-epithelialization in the epidermis and the activation of fibroblasts in the dermis, in particular, via the acceleration of the interaction between the epidermis and dermis.
View Full-Text
►

▼

Figures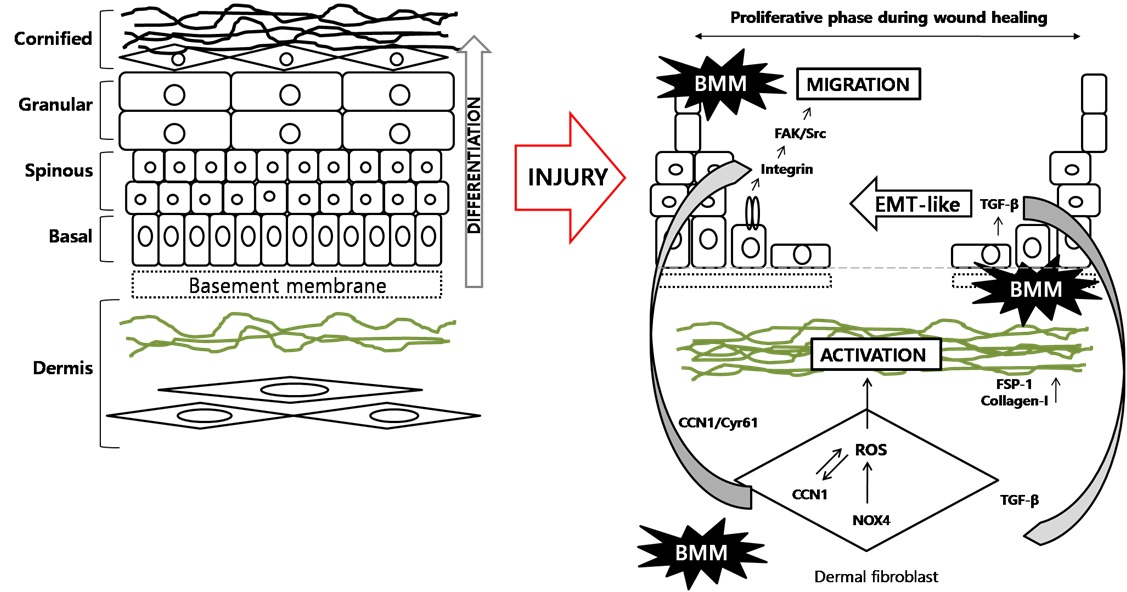 This is an open access article distributed under the
Creative Commons Attribution License
which permits unrestricted use, distribution, and reproduction in any medium, provided the original work is properly cited. (CC BY 4.0).
Share & Cite This Article
MDPI and ACS Style
Seo, G.Y.; Hyun, C.; Koh, D.; Park, S.; Lim, Y.; Kim, Y.M.; Cho, M. A Novel Synthetic Material, BMM, Accelerates Wound Repair by Stimulating Re-Epithelialization and Fibroblast Activation. Int. J. Mol. Sci. 2018, 19, 1164.
Note that from the first issue of 2016, MDPI journals use article numbers instead of page numbers. See further details here.
Related Articles
Comments
[Return to top]