DK1 Induces Apoptosis via Mitochondria-Dependent Signaling Pathway in Human Colon Carcinoma Cell Lines In Vitro
1
Department of Cell and Molecular Biology, Faculty of Biotechnology and Biomolecular Sciences, Universiti Putra Malaysia, Serdang 43400, Malaysia
2
China-ASEAN College of Marine Science, Xiamen University Malaysia, Sepang 43900, Malaysia
3
Department of Microbiology, Faculty of Biotechnology and Biomolecular Sciences, Universiti Putra Malaysia, Serdang 43400, Malaysia
4
Faculty of Industrial Sciences and Technology, Universiti Malaysia Pahang, Kuantan 26300, Malaysia
*
Author to whom correspondence should be addressed.
Received: 30 January 2018 / Revised: 15 February 2018 / Accepted: 23 February 2018 / Published: 11 April 2018
Abstract
Extensive research has been done in the search for innovative treatments against colon adenocarcinomas; however, the incidence rate of patients remains a major cause of cancer-related deaths in Malaysia. Natural bioactive compounds such as curcumin have been substantially studied as an alternative to anticancer drug therapies and have been surmised as a potent agent but, nevertheless, remain deficient due to its poor cellular uptake. Therefore, efforts now have shifted toward mimicking curcumin to synthesize novel compounds sharing similar effects. A synthetic analog, (
Z
)-3-hydroxy-1-(2-hydroxyphenyl)-3-phenylprop-2-ene-1-one (DK1), was recently synthesized and reported to confer improved bioavailability and selectivity toward human breast cancer cells. This study, therefore, aims to assess the anticancer mechanism of DK1 in relation to the induction of in vitro cell death in selected human colon cancer cell lines. Using the3-(4,5-dimethylthiazol-2-yl)-2,5-diphenyltetrazolium bromide(MTT) assay, the cytotoxicity of DK1 towards HT29 and SW620 cell lines were investigated. Acridine orange/propidium iodide (AO/PI) dual-staining assay and flow cytometry analyses (cell cycle analysis, Annexin/V-FITC and JC-1 assays) were incorporated to determine the mode of cell death. To further determine the mechanism of cell death, quantitative real-time polymerase chain reaction (qRT-PCR) and proteome profiling were conducted. Results from this study suggest that DK1 induced changes in cell morphology, leading to a decrease in cell viability and subsequent induction of apoptosis. DK1 treatment inhibited cell viability and proliferation 48 h post treatment with IC
50
values of 7.5 ± 1.6 µM for HT29 cells and 14.5 ± 4.3 µM for SW620 cells, causing cell cycle arrest with increased accumulation of cell populations at the sub-G
0
/G
1
phaseof 74% and 23%, respectively. Flow cytometry analyses showed that DK1 treatment in cancer cells induced apoptosis, as indicated by DNA fragmentation and depolarization of the mitochondrial membrane. qRT-PCR results show significant upregulation in the expression of caspase-9 in both HT29 and SW620 cell lines, further supporting that cell death induction by DK1 is via an intrinsic pathway. These outcomes, therefore, demonstrate DK1 as a potential anticancer agent for colon adenocarcinoma due to its anti-apoptotic attributes.
View Full-Text
►

▼

Figures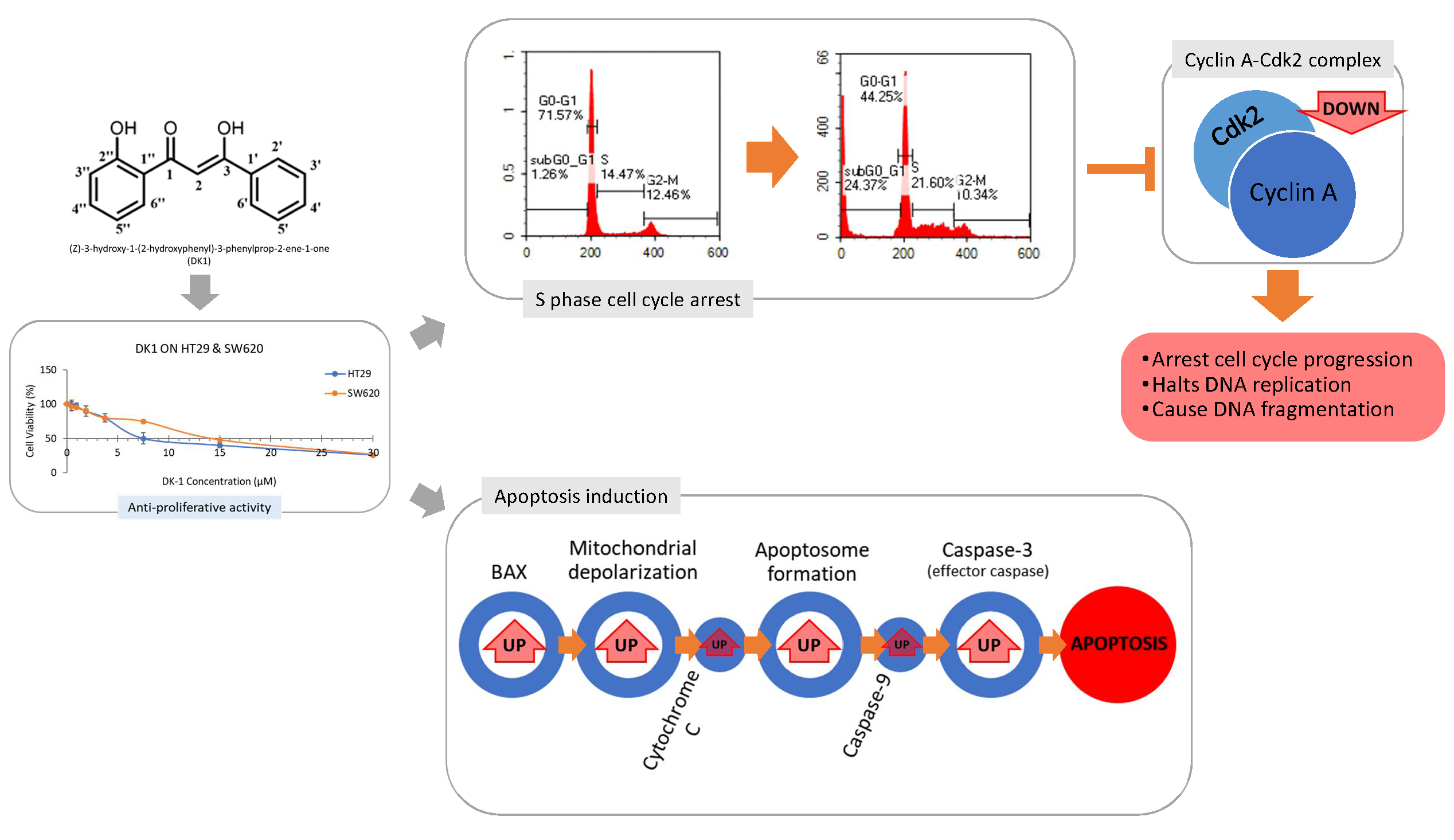 This is an open access article distributed under the
Creative Commons Attribution License
which permits unrestricted use, distribution, and reproduction in any medium, provided the original work is properly cited. (CC BY 4.0).
Share & Cite This Article
MDPI and ACS Style
Hussin, Y.; Aziz, M.N.M.; Che Rahim, N.F.; Yeap, S.K.; Mohamad, N.E.; Masarudin, M.J.; Nordin, N.; Abd Rahman, N.M.-N.; Yong, C.Y.; Akhtar, M.N.; Zamrus, S.N.H.; Alitheen, N.B. DK1 Induces Apoptosis via Mitochondria-Dependent Signaling Pathway in Human Colon Carcinoma Cell Lines In Vitro. Int. J. Mol. Sci. 2018, 19, 1151.
Note that from the first issue of 2016, MDPI journals use article numbers instead of page numbers. See further details here.
Related Articles
Comments
[Return to top]