Irradiation-Induced Cardiac Connexin-43 and miR-21 Responses Are Hampered by Treatment with Atorvastatin and Aspirin
1
Institute for Heart Research, Center of Experimental Medicine, Slovak Academy of Sciences, Bratislava 841 04, Slovak Republic
2
Division of Cardiology, Medical College of Virginia, Virginia Commonwealth University, Richmond, VA 23298, USA
*
Author to whom correspondence should be addressed.
Received: 9 March 2018 / Revised: 31 March 2018 / Accepted: 5 April 2018 / Published: 10 April 2018
Abstract
Radiation of the chest during cancer therapy is deleterious to the heart, mostly due to oxidative stress and inflammation related injury. A single sub-lethal dose of irradiation has been shown to result in compensatory up-regulation of the myocardial connexin-43 (Cx43), activation of the protein kinase C (PKC) signaling along with the decline of microRNA (miR)-1 and an increase of miR-21 levels in the left ventricle (LV). We investigated whether drugs with antioxidant, anti-inflammatory or vasodilating properties, such as aspirin, atorvastatin, and sildenafil, may affect myocardial response in the LV and right ventricle (RV) following chest irradiation. Adult, male Wistar rats were subjected to a single sub-lethal dose of chest radiation at 25 Gy and treated with aspirin (3 mg/day), atorvastatin (0.25 mg/day), and sildenafil (0.3 mg/day) for six weeks. Cx43, PKCε and PKCδ proteins expression and levels of miR-1 as well as miR-21 were determined in the LV and RV. Results showed that the suppression of miR-1 was associated with an increase of total and phosphorylated forms of Cx43 as well as PKCε expression in the LV while having no effect in the RV post-irradiation as compared to the non-irradiated rats. Treatment with aspirin and atorvastatin prevented an increase in the expression of Cx43 and PKCε without change in the miR-1 levels. Furthermore, treatment with aspirin, atorvastatin, and sildenafil completely prevented an increase of miR-21 in the LV while having partial effect in the RV post irradiation. The increase in pro-apoptotic PKCδ was not affected by any of the used treatment. In conclusion, irradiation and drug-induced changes were less pronounced in the RV as compared to the LV. Treatment with aspirin and atorvastatin interfered with irradiation-induced compensatory changes in myocardial Cx43 protein and miR-21 by preventing their elevation, possibly via amelioration of oxidative stress and inflammation.
View Full-Text
►

▼

Figures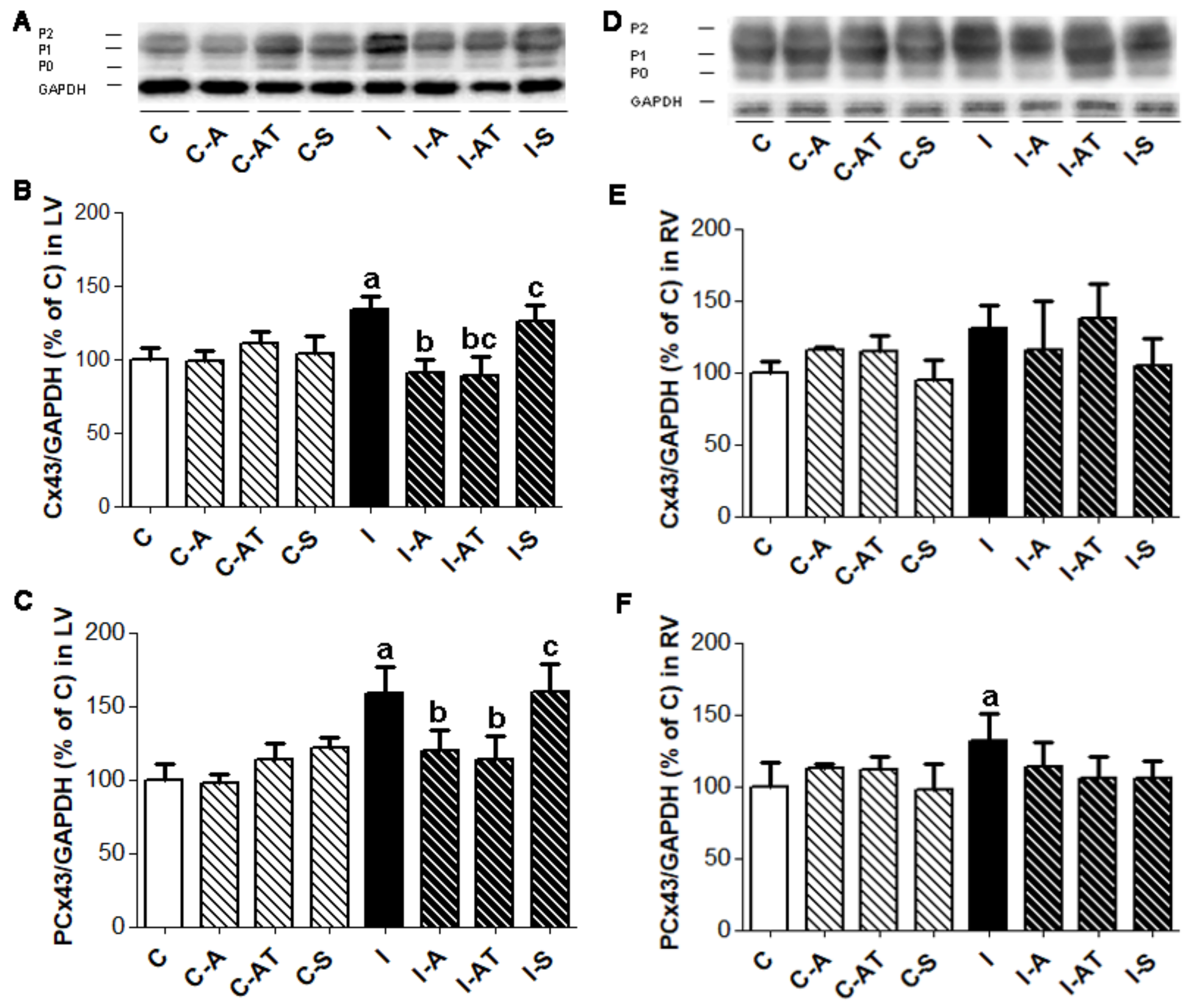 Figure 1
This is an open access article distributed under the
Creative Commons Attribution License
which permits unrestricted use, distribution, and reproduction in any medium, provided the original work is properly cited. (CC BY 4.0).
Share & Cite This Article
MDPI and ACS Style
Viczenczova, C.; Kura, B.; Egan Benova, T.; Yin, C.; Kukreja, R.C.; Slezak, J.; Tribulova, N.; Szeiffova Bacova, B. Irradiation-Induced Cardiac Connexin-43 and miR-21 Responses Are Hampered by Treatment with Atorvastatin and Aspirin. Int. J. Mol. Sci. 2018, 19, 1128.
Note that from the first issue of 2016, MDPI journals use article numbers instead of page numbers. See further details here.
Related Articles
Comments
[Return to top]