Stroke-Like Episodes and Cerebellar Syndrome in Phosphomannomutase Deficiency (PMM2-CDG): Evidence for Hypoglycosylation-Driven Channelopathy
1
Laboratori de Fisiologia Molecular, Departament de Ciències Experimentals i de la Salut, Universitat Pompeu Fabra, 08003 Barcelona, Spain
2
Genetic Medicine and Rare Diseases Pediatric Institute, Hospital Sant Joan de Déu, 08002 Barcelona, Spain
3
Unit of Child Neurology, Department of Pediatrics, Hospital Infantil Universitario Niño Jesús de Madrid, 28009 Madrid, Spain
4
Neuropediatric, Radiology and Clinical Biochemistry Departments, Hospital Sant Joan de Déu, 08002 Barcelona, Spain
5
U-703 Centre for Biomedical Research on Rare Diseases (CIBER-ER), Instituto de Salud Carlos III, 08002 Barcelona, Spain
6
Pediatric Department, Hospital Virgen de la Salud, 45004 Toledo, Spain
7
Pediatric Neurology Unit, Pediatrics Department, Hospital Universitario Rio Hortega, 47012 Valladolid, Spain
8
Neuropediatric Department, Pediatric Service, Hospital Universitario Severo Ochoa, Leganés, 28009 Madrid, Spain
9
Statistics Department, Fundació Sant Joan de Déu, 08002 Barcelona, Spain
10
Centro de Diagnóstico de Enfermedades Moleculares (CEDEM), Universidad Autónoma de Madrid (UAM), U-746 Centre for Biomedical Research on Rare Diseases (CIBER-ER) Madrid, Instituto de Salud Carlos III, IdiPAZ, 28009 Madrid, Spain
11
Grup de Recerca en Neurologia Pediàtrica, Institut de Recerca Vall d'Hebron, Universitat Autònoma de Barcelona, Secció de Neurologia Pediàtrica, Hospital Universitari Vall d'Hebron, 08002 Barcelona, Spain
†
Both authors contributed equally to this work.
*
Authors to whom correspondence should be addressed.
Received: 10 January 2018 / Revised: 15 February 2018 / Accepted: 18 February 2018 / Published: 22 February 2018
Abstract
Stroke-like episodes (SLE) occur in phosphomannomutase deficiency (PMM2-CDG), and may complicate the course of channelopathies related to Familial Hemiplegic Migraine (FHM) caused by mutations in
CACNA1A
(encoding Ca
V
2.1 channel). The underlying pathomechanisms are unknown. We analyze clinical variables to detect risk factors for SLE in a series of 43 PMM2-CDG patients. We explore the hypothesis of abnormal Ca
V
2.1 function due to aberrant
N
-glycosylation as a potential novel pathomechanism of SLE and ataxia in PMM2-CDG by using whole-cell patch-clamp,
N
-glycosylation blockade and mutagenesis. Nine SLE were identified. Neuroimages showed no signs of stroke. Comparison of characteristics between SLE positive versus negative patients' group showed no differences. Acute and chronic phenotypes of patients with PMM2-CDG or
CACNA1A
channelopathies show similarities. Hypoglycosylation of both Ca
V
2.1 subunits (α
1A
and α
2α
) induced gain-of-function effects on channel gating that mirrored those reported for pathogenic
CACNA1A
mutations linked to FHM and ataxia. Unoccupied
N
-glycosylation site N283 at α
1A
contributes to a gain-of-function by lessening Ca
V
2.1 inactivation. Hypoglycosylation of the α
2
δ subunit also participates in the gain-of-function effect by promoting voltage-dependent opening of the Ca
V
2.1 channel. Ca
V
2.1 hypoglycosylation may cause ataxia and SLEs in PMM2-CDG patients. Aberrant Ca
V
2.1
N
-glycosylation as a novel pathomechanism in PMM2-CDG opens new therapeutic possibilities.
View Full-Text
►

▼

Figures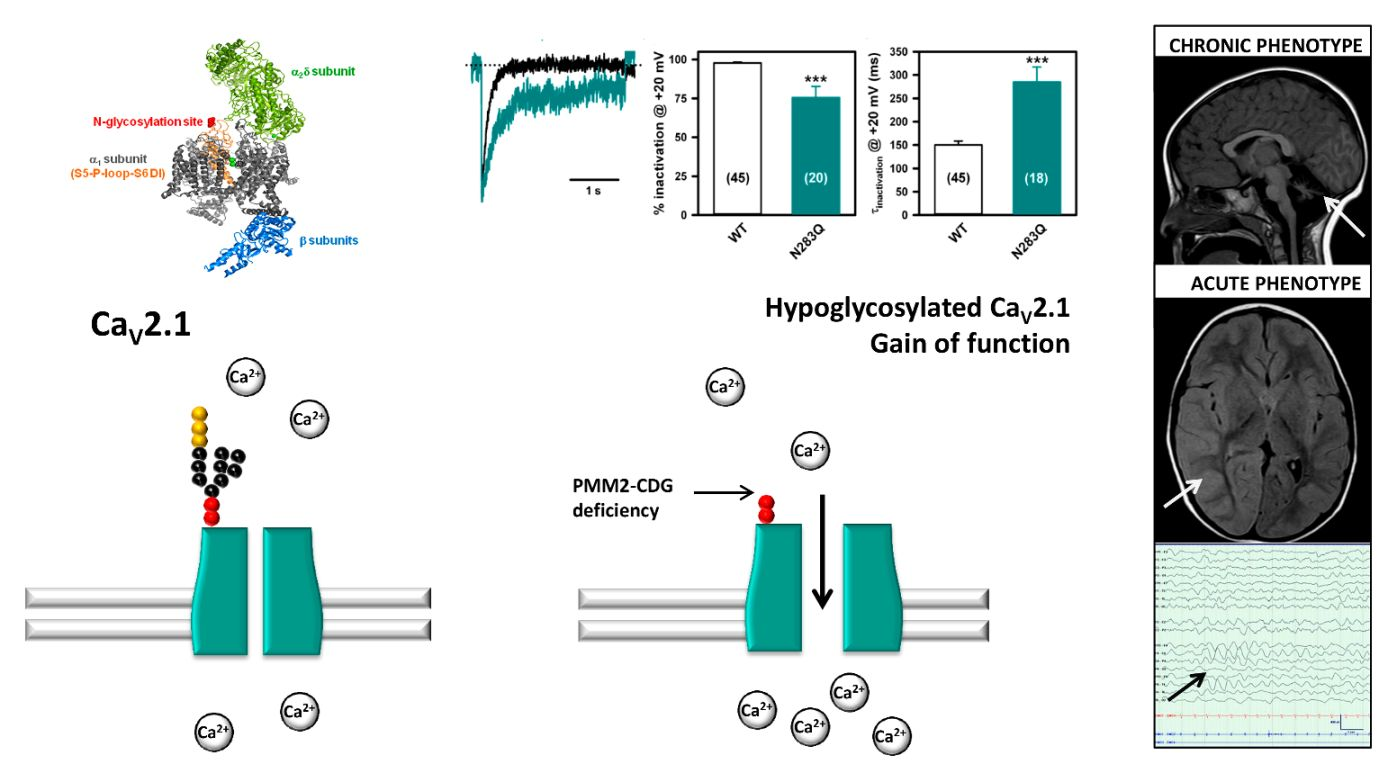 This is an open access article distributed under the
Creative Commons Attribution License
which permits unrestricted use, distribution, and reproduction in any medium, provided the original work is properly cited. (CC BY 4.0).
Scifeed alert for new publications
Never miss any articles
matching your research
from any publisher
Get alerts for new papers matching your research
Find out the new papers from selected authors
Updated daily for 49'000+ journals and 6000+ publishers
Share & Cite This Article
MDPI and ACS Style
Izquierdo-Serra, M.; Martínez-Monseny, A.F.; López, L.; Carrillo-García, J.; Edo, A.; Ortigoza-Escobar, J.D.; García, Ó.; Cancho-Candela, R.; Carrasco-Marina, M.L.; Gutiérrez-Solana, L.G.; Cuadras, D.; Muchart, J.; Montero, R.; Artuch, R.; Pérez-Cerdá, C.; Pérez, B.; Pérez-Dueñas, B.; Macaya, A.; Fernández-Fernández, J.M.; Serrano, M. Stroke-Like Episodes and Cerebellar Syndrome in Phosphomannomutase Deficiency (PMM2-CDG): Evidence for Hypoglycosylation-Driven Channelopathy. Int. J. Mol. Sci. 2018, 19, 619.
Note that from the first issue of 2016, MDPI journals use article numbers instead of page numbers. See further details here.
Related Articles
Comments
[Return to top]