CFTR-NHERF2-LPA2 Complex in the Airway and Gut Epithelia
1
Department of Pediatrics & Department of Physiology, College of Medicine, University of Tennessee Health Science Center, Memphis, TN 38103, USA
2
Department of Bioscience research, College of Dentistry, University of Tennessee Health Science Center, Memphis, TN 38163, USA
3
Department of Pediatrics, Cincinnati Children's Hospital Medical Center, Cincinnati, OH 45229, USA
*
Authors to whom correspondence should be addressed.
Received: 29 July 2017 / Revised: 25 August 2017 / Accepted: 25 August 2017 / Published: 4 September 2017
Abstract
The cystic fibrosis transmembrane conductance regulator (CFTR) is a cAMP- and cGMP-regulated chloride (Cl
−
) and bicarbonate (HCO
3
−
) channel localized primarily at the apical plasma membrane of epithelial cells lining the airway, gut and exocrine glands, where it is responsible for transepithelial salt and water transport. Several human diseases are associated with altered CFTR channel function. Cystic fibrosis (CF) is caused by the absence or dysfunction of CFTR channel activity, resulting from mutations in the gene. Secretory diarrhea is caused by the hyperactivation of CFTR channel activity in the gastrointestinal tract. CFTR is a validated target for drug development to treat CF, and extensive research has been conducted to develop CFTR inhibitors for therapeutic interventions of secretory diarrhea. The intracellular processing, trafficking, apical membrane localization, and channel function of CFTR are regulated by dynamic protein–protein interactions in a complex network. In this paper, we review the current knowledge of a macromolecular complex of CFTR, Na
+
/H
+
exchanger regulatory factor 2 (NHERF2), and lysophosphatidic acids (LPA) receptor 2 (LPA
2
) at the apical plasma membrane of airway and gut epithelial cells, and discuss its relevance in human physiology and diseases. We also explore the possibilities of targeting this complex to fine tune CFTR channel activity, with a hope to open up new avenues to develop novel therapies for CF and secretory diarrhea.
View Full-Text
►

▼

Figures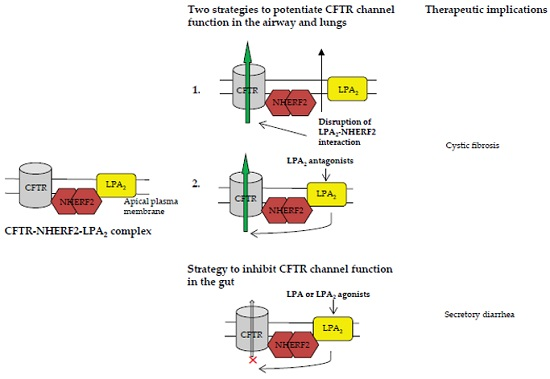 This is an open access article distributed under the
Creative Commons Attribution License
which permits unrestricted use, distribution, and reproduction in any medium, provided the original work is properly cited. (CC BY 4.0).
Share & Cite This Article
MDPI and ACS Style
Zhang, W.; Zhang, Z.; Zhang, Y.; Naren, A.P. CFTR-NHERF2-LPA2 Complex in the Airway and Gut Epithelia. Int. J. Mol. Sci. 2017, 18, 1896.
Note that from the first issue of 2016, MDPI journals use article numbers instead of page numbers. See further details here.
Related Articles
Comments
[Return to top]