Extract of Sheng-Mai-San Ameliorates Myocardial Ischemia-Induced Heart Failure by Modulating Ca2+-Calcineurin-Mediated Drp1 Signaling Pathways
1
State Key Laboratory of Natural Medicines, Jiangsu Key Laboratory of Traditional Chinese Medicine Evaluation and Translational Research, Department of Complex Prescription of Traditional Chinese Medicine, China Pharmaceutical University, Nanjing 211198, China
2
State Key Laboratory of Quality Research in Chinese Medicine, Institute of Chinese Medical Sciences, University of Macau, Macau 999078, China
*
Authors to whom correspondence should be addressed.
Received: 11 July 2017 / Revised: 14 August 2017 / Accepted: 17 August 2017 / Published: 25 August 2017
Abstract
Sheng-Mai-San (SMS) is a well-known traditional Chinese medicine (TCM) complex prescription used to treat heart failure (HF) and angina in clinic. However, its potential therapeutic mechanisms remain unclear. The present study evaluated the cardioprotection of extract of SMS (ESMS) on myocardial ischemia (MI)-induced HF, and explored the underlying molecular mechanisms. The results demonstrated that ESMS (728.0 mg/kg) significantly attenuated MI injury-induced HF by improving cardiac function and pathological changes, decreasing lactate dehydrogenase (LDH), creatine kinase (CK) activities, and brain natriuretic peptide (BNP) levels; increasing ATPase activity; and reducing intracellular Ca
2+
levels in MI-induced HF mice model. It also significantly decreased the apoptotic index. In vitro, ESMS (400 μg/mL) inhibited mitochondrial-dependent myocardial apoptosis by modulating the expression of caspase-3 and the Bcl-2/Bax ratio, and improved mitochondrial function through increasing mitochondrial membrane potential and cellular ATP content. ESMS restored intracellular Ca
2+
and downregulated the expression of Calcineurin A (CnA), thus inhibiting phosphorylation of dynamin-related protein 1 (Drp1) at Ser616 and increasing phosphorylation of Drp1 at Ser637 to prevent cardiomyocyte mitochondrial fission. Above-mentioned results demonstrated ESMS suppressed mitochondrial-mediated apoptosis in oxygen glucose deprivation (OGD) injured H9c2 cardiomyocytes. These findings suggested that ESMS attenuated MI-induced HF by regulating Ca
2+
homeostasis and suppressing mitochondrial mediated apoptosis through the modulation of Ca
2+
-calcineurin-mediated Drp1 signaling pathways. Our results provide insight into the mechanism and clinical applications of SMS and suggest a potential therapeutic strategy for HF.
View Full-Text
►

▼

Figures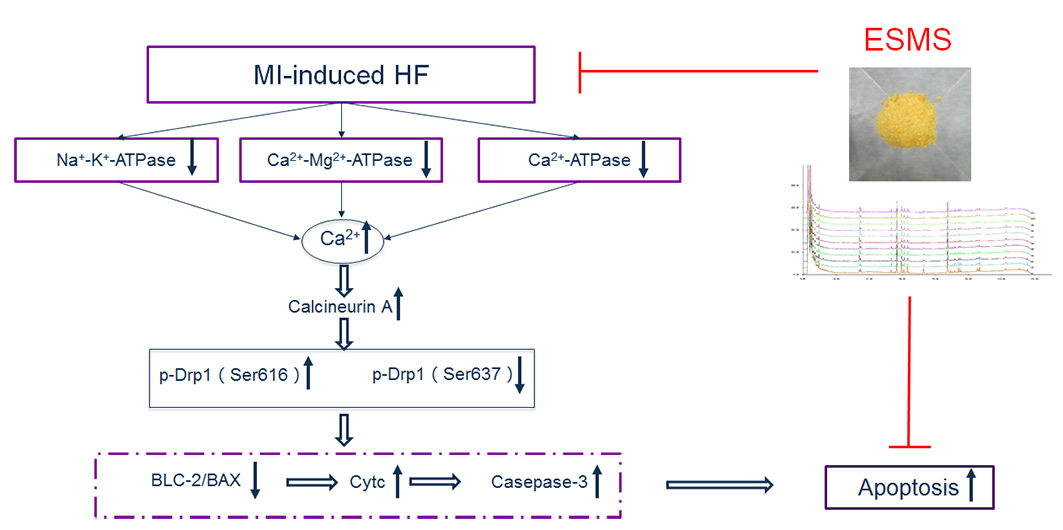 This is an open access article distributed under the
Creative Commons Attribution License
which permits unrestricted use, distribution, and reproduction in any medium, provided the original work is properly cited. (CC BY 4.0).
Share & Cite This Article
MDPI and ACS Style
Yang, Y.; Tian, Y.; Hu, S.; Bi, S.; Li, S.; Hu, Y.; Kou, J.; Qi, J.; Yu, B. Extract of Sheng-Mai-San Ameliorates Myocardial Ischemia-Induced Heart Failure by Modulating Ca2+-Calcineurin-Mediated Drp1 Signaling Pathways. Int. J. Mol. Sci. 2017, 18, 1825.
Note that from the first issue of 2016, MDPI journals use article numbers instead of page numbers. See further details here.
Related Articles
Comments
[Return to top]