Open Access This article is
freely available
re-usable
Review
Gut–CNS-Axis as Possibility to Modulate Inflammatory Disease Activity—Implications for Multiple Sclerosis
1
Department of Neurology, University Hospital Muenster, 48149 Muenster, Germany
2
Institute of Translational Immunology, University Medical Center of the Johannes Gutenberg University Mainz, 55131 Mainz, Germany
3
Division of Gastroenterology, Beth Israel Deaconess Medical Center, Harvard Medical School, Boston, MA 02215, USA
*
Correspondence: Tel.: +48-251-83-48140
Received: 7 June 2017 / Accepted: 11 July 2017 / Published: 14 July 2017
Abstract
:
In the last decade the role of environmental factors as modulators of disease activity and progression has received increasing attention. In contrast to classical environmental modulators such as exposure to sun-light or fine dust pollution, nutrition is an ideal tool for a personalized human intervention. Various studies demonstrate a key role of dietary factors in autoimmune diseases including Inflammatory Bowel Disease (IBD), rheumatoid arthritis or inflammatory central nervous system (CNS) diseases such as Multiple Sclerosis (MS). In this review we discuss the connection between diet and inflammatory processes via the gut–CNS-axis. This axis describes a bi-directional communication system and comprises neuronal signaling, neuroendocrine pathways and modulation of immune responses. Therefore, the gut–CNS-axis represents an emerging target to modify CNS inflammatory activity ultimately opening new avenues for complementary and adjunctive treatment of autoimmune diseases such as MS.
Keywords:
gut–CNS-axis; microbiota; immune system; multiple sclerosis; nutrition
Acknowledgments
This work was supported by the German Research Foundation Grant Number CRC 128 A08 to Luisa Klotz and Detlef Schuppan, CRC 128 Z02 to Heinz Wiendl and the Innovative Medical Research (IMF; Medical faculty Muenster), grant number KL 1 1 15 09 to Luisa Klotz. This work was also supported by the Competence Network Multiple Sclerosis (KKNMS; Federal Ministry of Education and Research) to Luisa Klotz and Heinz Wiendl.
Author Contributions
Ann-Katrin Fleck and Luisa Klotz wrote the paper. Detlef Schuppan and Heinz Wiendl contributed extensive expertise.
Conflicts of Interest
The authors declare no conflict of interest. Heinz Wiendl received compensation for serving on Scientific Advisory Boards/Steering Committees for Bayer Healthcare, Biogen Idec, Genzyme, Merck Serono, Novartis and Sanofi Aventis. He has received speaker honoraria and travel support from Bayer Vital GmbH, Bayer Schering AG, Biogen Idec, CSL Behring, Fresenius Medical Care, Genzyme, Glaxo Smith Kline, GW Pharmaceuticals, Lundbeck, Merck Serono, Omniamed, Novartis and Sanofi Aventis. He has received compensation as a consultant from Biogen Idec, Merck Serono, Novartis and Sanofi Aventis. Heinz Wiendl received research support from Bayer Vital, Biogen Idec, Genzyme Merck Serono, Novartis, Sanofi Aventis Germany, Sanofi US. Luisa Klotz received compensation for serving on Scientific Advisory Boards for Genzyme and Novartis. She received speaker honoraria and travel support from Novartis, Merck Serono and CSL Behring. She receives research support from Novartis and Biogen Idec. Detlef Schuppan received compensation for serving on Scientific Advisory Boards for Amarin, BMS, Boehringer-Ingelheim, Gilead, Nestle, Nimbus, Novartis, Roivant, Takeda and Zealand. He has received research support from Boehringer-Ingelheim.
Abbreviations
| | |
| --- | --- |
| AID | Activation-induced cytidine deaminase |
| ANS | Autonomic nerve system |
| CD | Cluster of differentiation |
| CNS | Central nervous system |
| CXCL16 | Chemokine (C-X-C motif) ligand 16 |
| EAE | Experimental autoimmune encephalomyelitis |
| ENS | Enteric nervous system |
| FoxP3 | Forkhead box P3 |
| GABA | Gamma-aminobutyric acid |
| GALT | Gut-associated lymphatic tissue |
| HPA axis | Hypothalamic–pituitary–adrenal axis |
| IBD | Inflammatory bowel disease |
| IFN | Interferon |
| IgA | Immunoglobulin A |
| IL | Interleukin |
| ILC | Innate immune lymphoid cell |
| MAMP | Microbial-associated molecular pattern |
| MS | Multiple sclerosis |
| NK cell | Natural killer cell |
| NMO | Neuromyelitis optica |
| PD-1 | Programmed cell death 1 |
| PSA | Polysaccharide A |
| RORγt | Retinoic acid receptor-related orphan receptor-γt |
| SCFA | Short-chain fatty acids |
| SFB | Segmented filamentous bacteria |
| TGFβ1 | Transforming growth factor β1 |
| Th1 cell | T helper cell type 1 |
| Th17 cell | T helper cell type 17 |
| TLR | Toll-like receptors |
| TNFα | Tumor necrosis factor α |
| Treg cell | Regulatory T cell |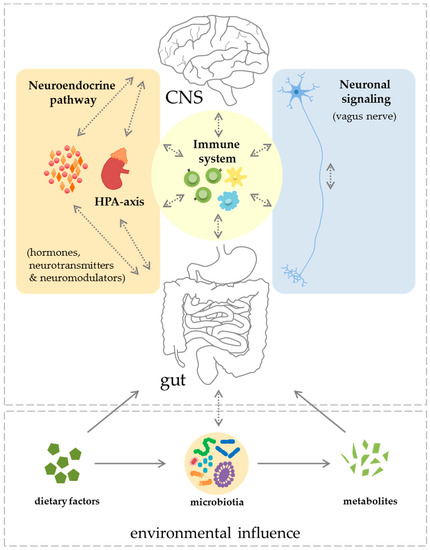 Figure 1. The gut–CNS-axis comprises several mutually interacting systems and signaling pathways. The main components are the neuroendocrine system including the HPA-axis, neuronal signaling via the vagus nerve and the immune system. CNS = central nervous system; HPA-axis = hypothalamic–pituitary–adrenal gland. (⟶ = unidirectional and <⋯> = bidirectional communication).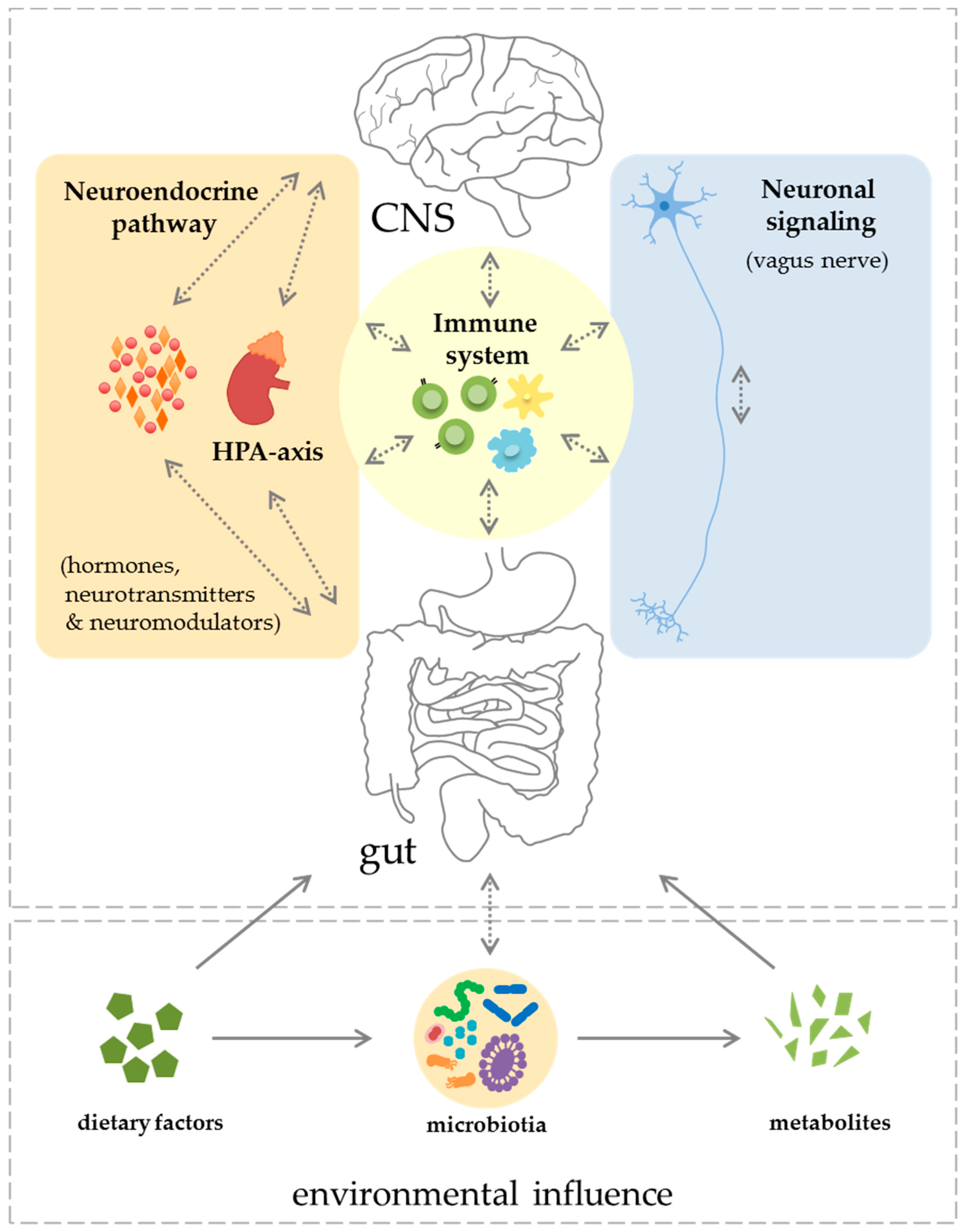 © 2017 by the authors. Licensee MDPI, Basel, Switzerland. This article is an open access article distributed under the terms and conditions of the Creative Commons Attribution (CC BY) license (http://creativecommons.org/licenses/by/4.0/).