Gibberellic Acid Signaling Is Required to Induce Flowering of Chrysanthemums Grown under Both Short and Long Days
College of Horticulture, Nanjing Agricultural University, Key Laboratory of Landscape Agriculture, Ministry of Agriculture, Nanjing 210095, China
*
Authors to whom correspondence should be addressed.
Academic Editor: Gian-Pietro Di Sansebastiano
Received: 5 May 2017 / Revised: 1 June 2017 / Accepted: 6 June 2017 / Published: 12 June 2017
Abstract
Flower bud formation and flowering in chrysanthemums occur under short day conditions (SD), but the molecular basis for the switch to reproductive growth is less well understood than in model plants. Here, a spontaneous mutant able to flower under long days is described. In an attempt to reveal the pathway(s) involved in the formation of flower buds under contrasting daylengths, transcriptome sequencing was carried out in plants grown both under SD and long day conditions (LD). A number of differentially transcribed genes involved in the various known flowering pathways were identified. Both circadian clock genes and Chrysanthemum
FLOWERING LOCUS T Like3
(
CmFTL3
) were up-regulated under SD, thereby inducing floral bud formation and flowering. The gibberellin (GA) signaling pathway-related genes
Gibberellin 20-oxidase
(
GA20ox
) and
Gibberellin receptor
(
GID1
) were up-regulated in the mutant under LD, while the catabolic genes
Gibberellin 2-oxidase
(
GA2ox
) and
GA-INSENSITIVE
(
GAI
) were down-regulated, thereby inducing the transcription of
SUPPRESSOR OF OVEREXPRESSION OF CONSTANS 1
(
SOC1
) and
LEAFY
(
LFY
). The GA content of the leaf was higher in the mutant than in the wild type (WT) under LD and SD, and the mutant has more branching than WT plants under LD or SD. When treated with GA, the mutant flowered earlier under both SD and LD relative to WT, but there was no detectable phenotype difference between the two lines. The indication was that the photoperiod pathway majorly regulates flower bud formation and flowering time in chrysanthemums under SD. The GA signaling pathway only plays a subsidiary role for flowering. However, the GA signaling pathway predominated for flowering under LD.
View Full-Text
►

▼

Figures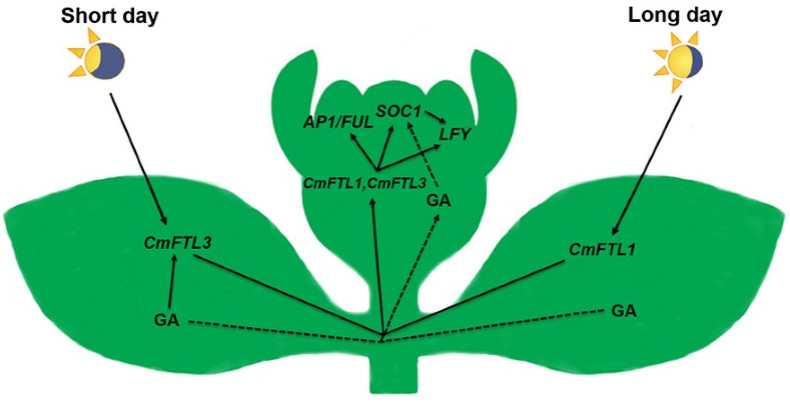 This is an open access article distributed under the
Creative Commons Attribution License
which permits unrestricted use, distribution, and reproduction in any medium, provided the original work is properly cited. (CC BY 4.0).
Share & Cite This Article
MDPI and ACS Style
Dong, B.; Deng, Y.; Wang, H.; Gao, R.; Stephen, G.K.; Chen, S.; Jiang, J.; Chen, F. Gibberellic Acid Signaling Is Required to Induce Flowering of Chrysanthemums Grown under Both Short and Long Days. Int. J. Mol. Sci. 2017, 18, 1259.
Note that from the first issue of 2016, MDPI journals use article numbers instead of page numbers. See further details here.
Related Articles
Comments
[Return to top]