Right- vs. Left-Sided Metastatic Colorectal Cancer: Differences in Tumor Biology and Bevacizumab Efficacy
1
Biosciences Laboratory, Istituto Scientifico Romagnolo per lo Studio e la Cura dei Tumori (IRST) IRCCS, via P. Maroncelli 40, 47014 Meldola, Italy
2
Unit of Biostatistics and Clinical Trials, Istituto Scientifico Romagnolo per lo Studio e la Cura dei Tumori (IRST) IRCCS, via P. Maroncelli 40, 47014 Meldola, Italy
3
Department of Medical Oncology, Istituto Scientifico Romagnolo per lo Studio e la Cura dei Tumori (IRST) IRCCS, via P. Maroncelli 40, 47014 Meldola, Italy
*
Author to whom correspondence should be addressed.
Academic Editor: Peter J. K. Kuppen
Received: 28 April 2017 / Revised: 26 May 2017 / Accepted: 29 May 2017 / Published: 9 June 2017
Abstract
There is evidence of a different response to treatment with regard to the primary tumor localization (right-sided or left-sided) in patients with metastatic colorectal cancer (mCRC). We analyzed the different outcomes and biomolecular characteristics in relation to tumor localization in 122 of the 370 patients with metastatic colorectal cancer enrolled onto the phase III prospective multicenter "Italian Trial in Advanced Colorectal Cancer (ITACa)", randomized to receive first-line chemotherapy (CT) or CT plus bevacizumab (CT + B).
RAS
and
BRAF
mutations; baseline expression levels of circulating vascular endothelial growth factor (VEGF), endothelial nitric oxide synthase (eNOS), cyclooxygenase-2 (COX2), ephrin type-B receptor 4 (EPHB4), hypoxia-inducible factor 1-alpha (HIF-1α), lactate dehydrogenase (LDH), and high-sensitivity C reactive protein (hs-CRP); and inflammatory indexes such as the neutrophil-to-lymphocyte ratio, platelet-lymphocyte rate and systemic immune-inflammation index were evaluated. Patients with right-sided tumors showed a longer median progression-free survival in the CT + B arm than in the CT group (12.6 vs. 9.0 months, respectively,
p
= 0.017). Baseline inflammatory indexes were significantly higher in left-sided tumors, whereas eNOS and EPHB4 expression was significantly higher and
BRAF
mutation more frequent in right-sided tumors. Our data suggest a greater efficacy of the CT + B combination in right-sided mCRC, which might be attributable to the lower inflammatory status and higher expression of pro-angiogenic factors that appear to characterize these tumors.
View Full-Text
►

▼

Figures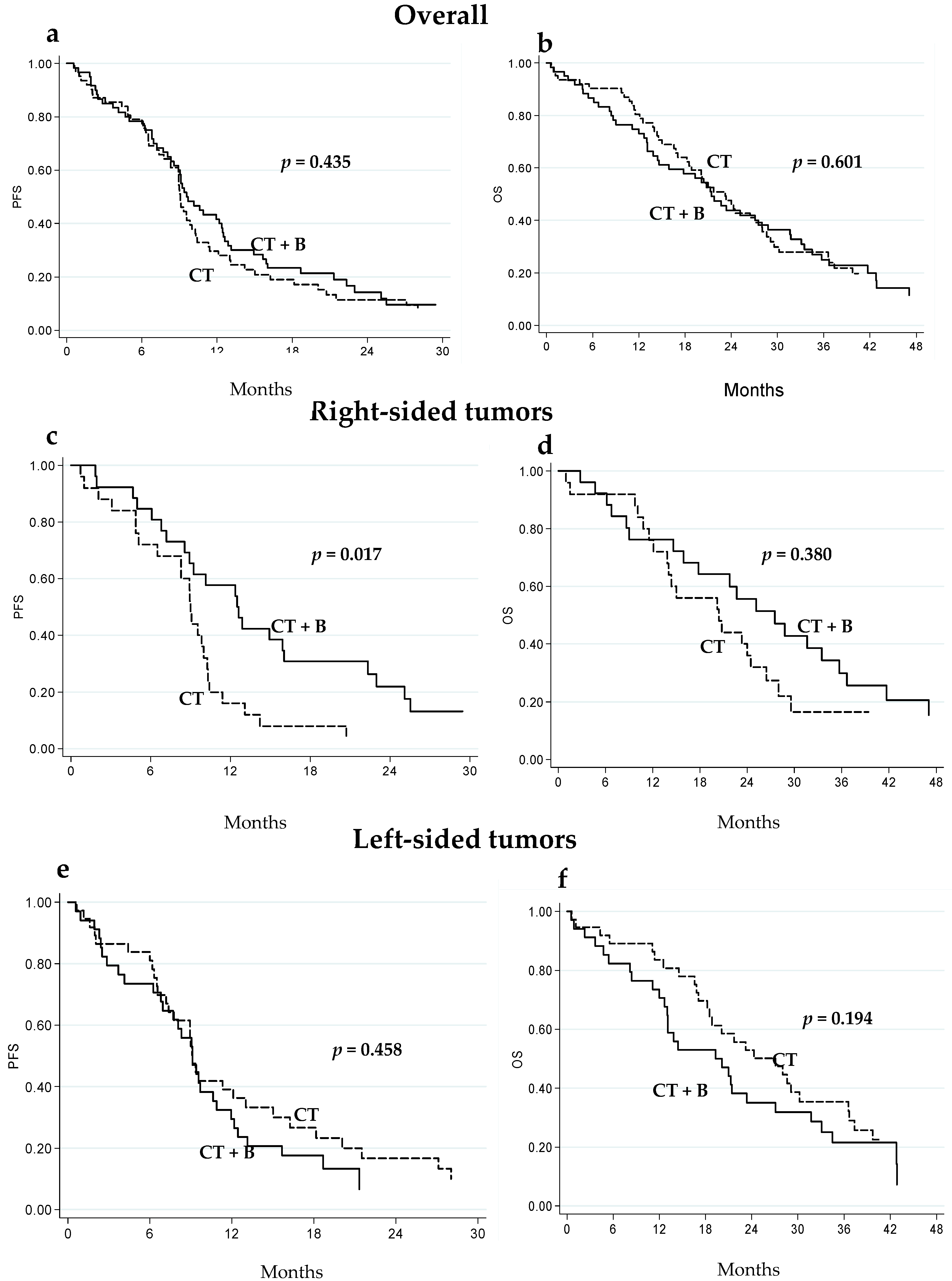 Figure 1
This is an open access article distributed under the
Creative Commons Attribution License
which permits unrestricted use, distribution, and reproduction in any medium, provided the original work is properly cited. (CC BY 4.0).
Share & Cite This Article
MDPI and ACS Style
Ulivi, P.; Scarpi, E.; Chiadini, E.; Marisi, G.; Valgiusti, M.; Capelli, L.; Casadei Gardini, A.; Monti, M.; Ruscelli, S.; Frassineti, G.L.; Calistri, D.; Amadori, D.; Passardi, A. Right- vs. Left-Sided Metastatic Colorectal Cancer: Differences in Tumor Biology and Bevacizumab Efficacy. Int. J. Mol. Sci. 2017, 18, 1240.
Note that from the first issue of 2016, MDPI journals use article numbers instead of page numbers. See further details here.
Related Articles
Comments
[Return to top]