Novel Structurally Related Flavones Augment Cell Death Induced by rhsTRAIL
1
Department of Microbiology and Immunology, School of Medicine with the Division of Dentistry in Zabrze, Medical University of Silesia in Katowice, Jordana 19, Zabrze 41808, Poland
2
Department of Chemistry, Wrocław University of Environmental and Life Sciences, Norwida 25, Wrocław 50375, Poland
3
Institute of Rheumatology in Warsaw, Spartańska 1, Warszawa 02637, Poland
†
Deceased on 10 May 2016.
*
Author to whom correspondence should be addressed.
Academic Editor: Hsueh-Wei Chang
Received: 13 April 2017 / Revised: 26 May 2017 / Accepted: 1 June 2017 / Published: 6 June 2017
Abstract
TRAIL (tumor necrosis factor-related apoptosis-inducing ligand) was identified as a powerful activator of apoptosis in tumor cells and one of the most promising candidates for cancer therapy with no toxicity against normal tissues. However, many tumor cells are resistant to TRAIL-induced apoptosis. The aim of this work was to analyze the improvement of the anticancer effect of rhsTRAIL (recombinant human soluble TRAIL) by nine flavones: 5-Hydroxyflavone, 6-Hydroxyflavone, 7-Hydroxyflavone and their new synthetic derivatives 5-acetoxyflavone, 5-butyryloxyflavone, 6-acetoxyflavone, 6-butyryloxyflavone, 7-acetoxyflavone and 7-butyryloxyflavone. We examined the cytotoxic and apoptotic effects of rhsTRAIL enhanced by novel structurally-related flavones on SW480 and SW620 colon cancer cells using the3-(4,5-dimethylthiazol-2-yl)-2,5-diphenyltetrazolium bromide test, the lactate dehydrogenase assay and annexin V-FITC fluorescence staining. We observed a slight difference in the activities of the flavones that was dependent on their chemical structure. Our study indicates that all nine flavones significantly augment cell death by rhsTRAIL (cytotoxicity range 36.8 ± 1.7%–91.4 ± 1.7%; apoptosis increase of 33.0 ± 0.7%–78.5 ± 0.9%). Our study demonstrates the potential use of tested flavones in TRAIL-based anticancer therapy and prevention.
View Full-Text
►

▼

Figures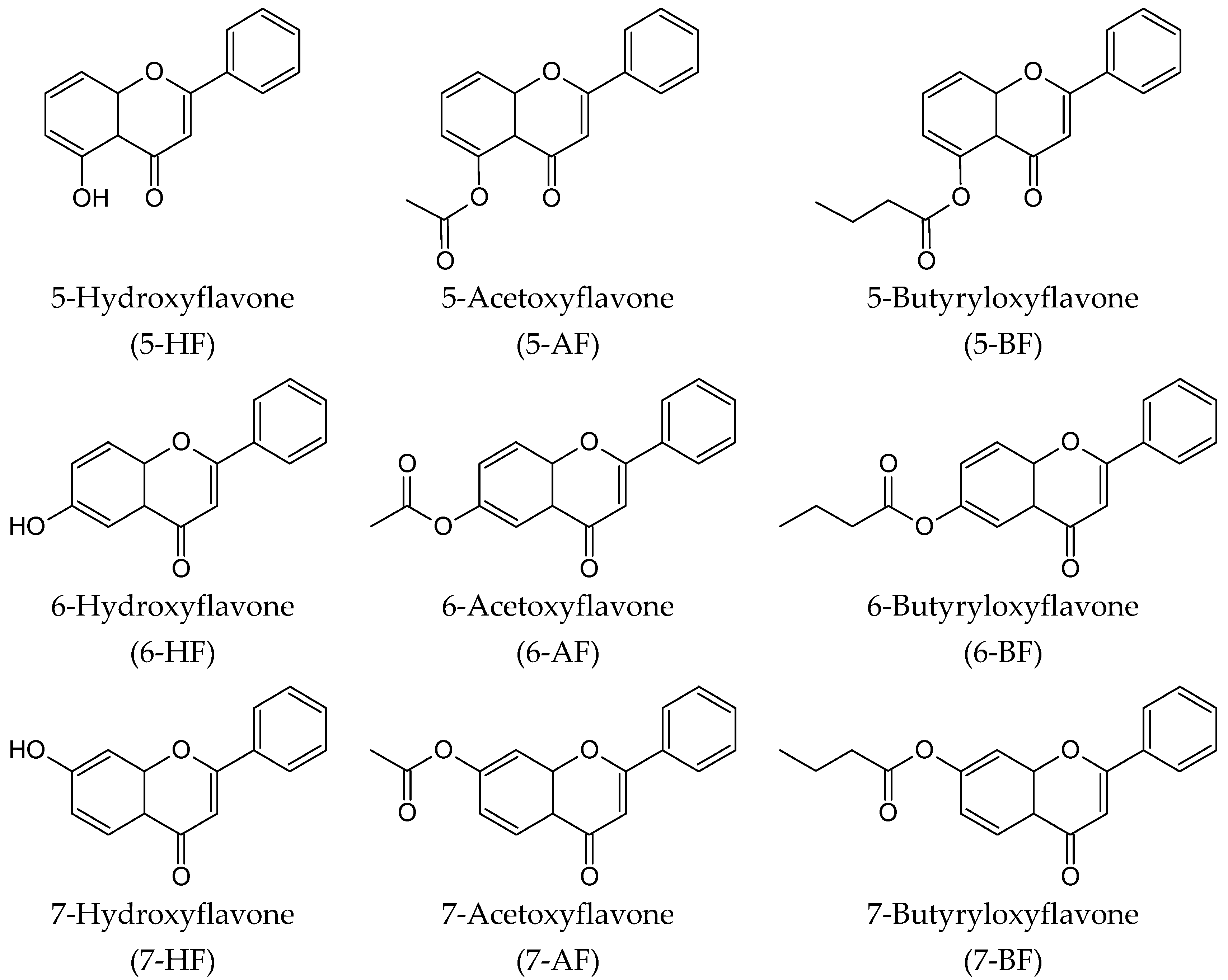 Figure 1
This is an open access article distributed under the
Creative Commons Attribution License
which permits unrestricted use, distribution, and reproduction in any medium, provided the original work is properly cited. (CC BY 4.0).
Share & Cite This Article
MDPI and ACS Style
Bronikowska, J.; Szliszka, E.; Kostrzewa-Susłow, E.; Jaworska, D.; Czuba, Z.P.; Bednarski, P.; Król, W. Novel Structurally Related Flavones Augment Cell Death Induced by rhsTRAIL. Int. J. Mol. Sci. 2017, 18, 1211.
Note that from the first issue of 2016, MDPI journals use article numbers instead of page numbers. See further details here.
Related Articles
Comments
[Return to top]