Molecular Characterization and Expression Profiling of Tomato GRF Transcription Factor Family Genes in Response to Abiotic Stresses and Phytohormones
1
Department of Agricultural Industry Economy and Education, Sunchon National University, 413 Jungangno, Suncheon, Jeonnam 540-950, Korea
2
Department of Horticulture, Sunchon National University, 413 Jungangno, Suncheon, Jeonnam 540-950, Korea
3
Department of Horticultural Science, Kyungpook National University, Daegu 702-701, Korea
4
Department of Agricultural Education, Sunchon National University, 413 Jungangno, Suncheon, Jeonnam 540-950, Korea
*
Author to whom correspondence should be addressed.
Academic Editor: Hikmet Budak
Received: 24 March 2017 / Revised: 7 May 2017 / Accepted: 9 May 2017 / Published: 13 May 2017
Abstract
Growth regulating factors (GRFs) are plant-specific transcription factors that are involved in diverse biological and physiological processes, such as growth, development and stress and hormone responses. However, the roles of GRFs in vegetative and reproductive growth, development and stress responses in tomato (
Solanum lycopersicum
) have not been extensively explored. In this study, we characterized the 13
SlGRF
genes. In silico analysis of protein motif organization, intron–exon distribution, and phylogenetic classification confirmed the presence of GRF proteins in tomato. The tissue-specific expression analysis revealed that most of the
SlGRF
genes were preferentially expressed in young and growing tissues such as flower buds and meristems, suggesting that
SlGRFs
are important during growth and development of these tissues. Some of the
SlGRF
genes were preferentially expressed in fruits at distinct developmental stages suggesting their involvement in fruit development and the ripening process. The strong and differential expression of different
SlGRFs
under NaCl, drought, heat, cold, abscisic acid (ABA), and jasmonic acid (JA) treatment, predict possible functions for these genes in stress responses in addition to their growth regulatory functions. Further, differential expression of
SlGRF
genes upon gibberellic acid
(
GA3) treatment indicates their probable function in flower development and stress responses through a gibberellic acid
(
GA)-mediated pathway. The results of this study provide a basis for further functional analysis and characterization of this important gene family in tomato.
View Full-Text
►

▼

Figures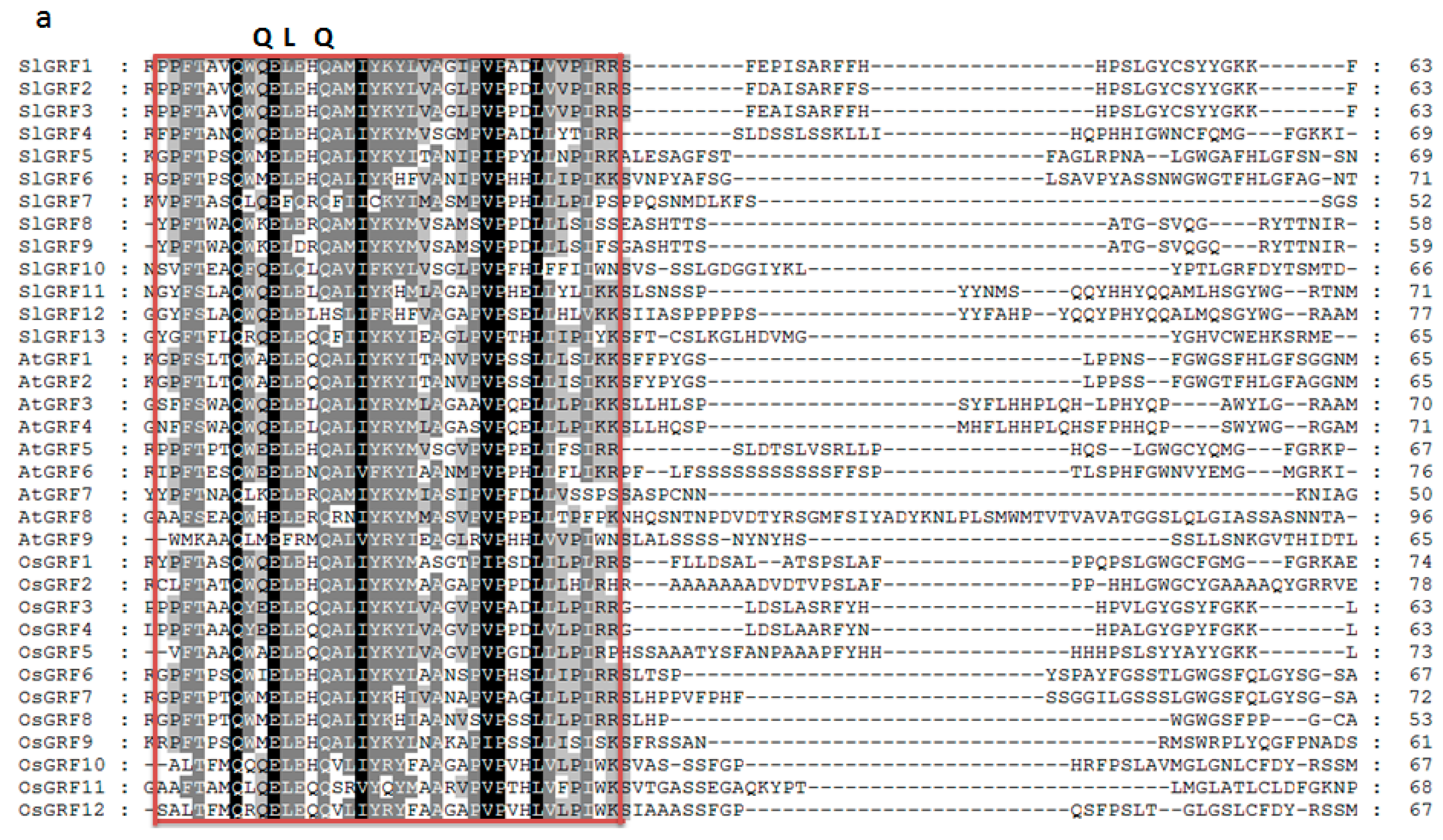 Figure 1a
This is an open access article distributed under the
Creative Commons Attribution License
which permits unrestricted use, distribution, and reproduction in any medium, provided the original work is properly cited. (CC BY 4.0).
Share & Cite This Article
MDPI and ACS Style
Khatun, K.; Robin, A.H.K.; Park, J.-I.; Nath, U.K.; Kim, C.K.; Lim, K.-B.; Nou, I.S.; Chung, M.-Y. Molecular Characterization and Expression Profiling of Tomato GRF Transcription Factor Family Genes in Response to Abiotic Stresses and Phytohormones. Int. J. Mol. Sci. 2017, 18, 1056.
Note that from the first issue of 2016, MDPI journals use article numbers instead of page numbers. See further details here.
Related Articles
Comments
[Return to top]