Mrpl10 and Tbp Are Suitable Reference Genes for Peripheral Nerve Crush Injury
1
School of Biology and Basic Medical Sciences, Soochow University, Suzhou 215123, China
2
Key Laboratory of Neuroregeneration of Jiangsu and Ministry of Education, Co-Innovation Center of Neuroregeneration, Nantong University, Nantong 226001, China
3
Department of Radiotherapy and Oncology, The Affiliated Hospital of Nantong University, Nantong 226001, China
†
These authors contributed equally to this work.
*
Author to whom correspondence should be addressed.
Academic Editor: Irmgard Tegeder
Received: 21 December 2016 / Revised: 20 January 2017 / Accepted: 23 January 2017 / Published: 27 January 2017
Abstract
Peripheral nerve injury triggers the dysregulation of a large number of genes at multiple sites, including neurons, peripheral nerve stump, and the target organ. Housekeeping genes were frequently used as reference genes to normalize the expression values of target genes. Suitable selection of housekeeping genes that are stably expressed after nerve injury minimizes bias elicited by reference genes and thus helps to better and more sensitively reflect gene expression changes. However, many housekeeping genes have been used as reference genes without testing the expression patterns of themselves. In the current study, we calculated the expression stability of nine commonly used housekeeping genes, such as
18S
(18S ribosomal RNA),
Actb
(β-actin),
CypA
(cyclophilin A),
Gapdh
(glyceraldehydes-3-phosphate dehydrogenase),
Hprt
(hypoxanthine guanine phosphoribosyl transferase),
Pgk1
(phosphoglycerate kinase 1),
Tbp
(TATA box binding protein),
Ubc
(ubiquitin C),
YwhaZ
(tyrosine 3-monooxygenase/tryptophan 5-monooxygenase activation), and four newly identified housekeeping genes, including
Ankrd27
(Ankyrin repeat domain 27),
Mrpl10
(mitochondrial ribosomal protein L10),
Rictor
(rapamycin-insensitive companion of mTOR, Complex 2), and
Ubxn 11
(UBX domain protein 11), in both distal sciatic nerve samples and dorsal root ganglion (DRG) samples after sciatic nerve injury. Our results suggested that following peripheral nerve injury,
Mrpl10
and
Tbp
might be used as suitable reference genes for sciatic nerve stump and DRGs, respectively.
View Full-Text
►

▼

Figures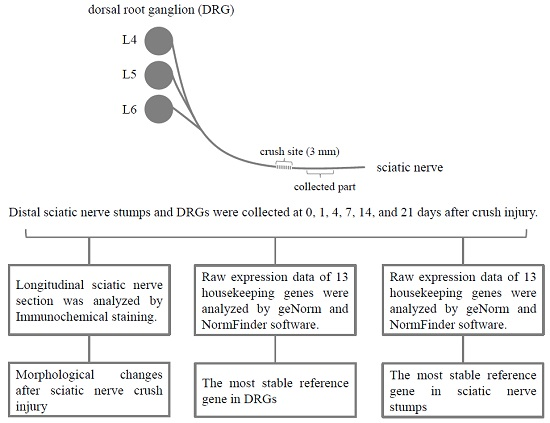 This is an open access article distributed under the
Creative Commons Attribution License
which permits unrestricted use, distribution, and reproduction in any medium, provided the original work is properly cited. (CC BY 4.0).
Share & Cite This Article
MDPI and ACS Style
Wang, Y.; Shan, Q.; Meng, Y.; Pan, J.; Yi, S. Mrpl10 and Tbp Are Suitable Reference Genes for Peripheral Nerve Crush Injury. Int. J. Mol. Sci. 2017, 18, 263.
Note that from the first issue of 2016, MDPI journals use article numbers instead of page numbers. See further details here.
Related Articles
Comments
[Return to top]