In Situ Synthesis of Silver Nanoparticles in a Hydrogel of Carboxymethyl Cellulose with Phthalated-Cashew Gum as a Promising Antibacterial and Healing Agent
1
Center for Biodiversity Research and Biotechnology, Biotec, Federal University of Piauí, Av. São Sebastião, 2819, Reis Veloso, 64202-020 Parnaíba-PI, Brazil
2
REQUIMTE/LAQV, Superior Engineering Institute of Porto, Polytechnic Institute of Porto, Rua Dr. António Bernardino de Almeida, 431, 4200-072 Porto, Portugal
3
Medicinal Plants Reserarch Center, NPPM, Federal University of Piauí, Campus Ministro Petrônio Portella, Bairro Ininga, 64049-550 Teresina- PI, Brazil
4
REQUIMTE/LAQV, Department of Chemistry and Biochemistry, Faculty of Sciences of the University of Porto, Rua do Campo Alegre, 4169-007 Porto, Portugal
5
Area Morphology, Faculty of Medicine, University of Brasília (UnB), University campus Darcy Ribeiro, Asa Norte, 70910-900 Brasília-DF, Brazil
*
Author to whom correspondence should be addressed.
Received: 10 October 2017 / Revised: 2 November 2017 / Accepted: 3 November 2017 / Published: 12 November 2017
Abstract
Silver nanoparticles have been shown to possess considerable antibacterial activity, but in vivo applications have been limited due to the inherent, but low, toxicity of silver. On the other hand, silver nanoparticles could provide cutaneous protection against infection, due to their ability to liberate silver ions via a slow release mechanism, and their broad-spectrum antimicrobial action. Thus, in this work, we describe the development of a carboxymethyl cellulose-based hydrogel containing silver nanoparticles. The nanoparticles were prepared in the hydrogel in situ, utilizing two variants of cashew gum as a capping agent, and sodium borohydride as the reducing agent. This gum is non-toxic and comes from a renewable natural source. The particles and gel were thoroughly characterized through using rheological measurements, UV-vis spectroscopy, nanoparticles tracking analysis, and transmission electron microscopy analysis (TEM). Antibacterial tests were carried out, confirming antimicrobial action of the silver nanoparticle-loaded gels. Furthermore, rat wound-healing models were used and demonstrated that the gels exhibited improved wound healing when compared to the base hydrogel as a control. Thus, these gels are proposed as excellent candidates for use as wound-healing treatments.
View Full-Text
►

▼

Figures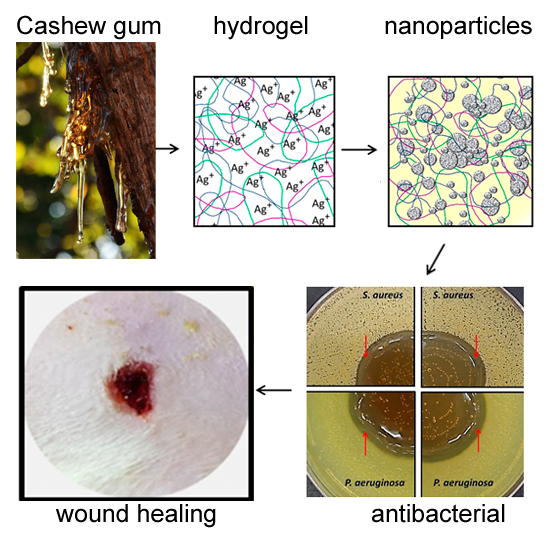 This is an open access article distributed under the
Creative Commons Attribution License
which permits unrestricted use, distribution, and reproduction in any medium, provided the original work is properly cited. (CC BY 4.0).
Share & Cite This Article
MDPI and ACS Style
Lustosa, A.K.M.F.; de Jesus Oliveira, A.C.; Quelemes, P.V.; Plácido, A.; da Silva, F.V.; Oliveira, I.S.; de Almeida, M.P.; Amorim, A.G.N.; Delerue-Matos, C.; de Oliveira, R.C.M.; da Silva, D.A.; Eaton, P.; de Almeida Leite, J.R.S. In Situ Synthesis of Silver Nanoparticles in a Hydrogel of Carboxymethyl Cellulose with Phthalated-Cashew Gum as a Promising Antibacterial and Healing Agent. Int. J. Mol. Sci. 2017, 18, 2399.
Note that from the first issue of 2016, MDPI journals use article numbers instead of page numbers. See further details here.
Related Articles
Comments
[Return to top]