Cardiotoxic Effects of Short-Term Doxorubicin Administration: Involvement of Connexin 43 in Calcium Impairment
1
Department of Pharmacy, University of Salerno, Fisciano (SA) 84084, Italy
2
Cardiovascular Diseases Research Group, Department of Cardiology, Vall d'Hebron University Hospital and Research Institute, Universitat Autònoma de Barcelona (UAB), Barcelona 08035, Spain
3
Department of Medicine and Surgery, University of Salerno, Baronissi (SA) 84084, Italy
*
Author to whom correspondence should be addressed.
Received: 8 September 2017 / Revised: 29 September 2017 / Accepted: 9 October 2017 / Published: 11 October 2017
Abstract
The use of Doxorubicin (DOXO), a potent antineoplastic agent, is limited by the development of cardiotoxicity. DOXO-induced cardiotoxicity is multifactorial, although alterations in calcium homeostasis, seem to be involved. Since even the Connexin43 (Cx43) plays a pivotal role in these two phenomena, in this study we have analyzed the effects of DOXO on Cx43 expression and localization. Damage caused by anthracyclines on cardiomyocytes is immediate after each injection, in the present study we used a short-term model of DOXO-induced cardiomyopathy. C57BL/6j female mice were randomly divided in groups and injected with DOXO (2 or 10 mg/kg i.p.) for 1–3 or 7 days once every other day. Cardiac function was assessed by Echocardiography. Sarco/endoplasmic reticulum Ca
2+
-ATPase (SERCAII) and phospholamban (PLB) expression were assessed by Western blot analysis, intracellular [Ca
2+
] were detected spectrofluorometrically by means of Fura-2 pentakis (acetoxymethyl) ester (FURA-2AM), and Cx43 and pCx43 expression and localization was analyzed by Western blot and confirmed by immunofluorescence analysis. DOXO induces impairment in Ca
2+
homeostasis, already evident after a single administration, and affects Cx43 expression and localization. Our data suggest that DOXO-induced alterations in Ca
2+
homeostasis causes in the cells the induction of compensatory mechanisms until a certain threshold, above which cardiac injury is triggered.
View Full-Text
►

▼

Figures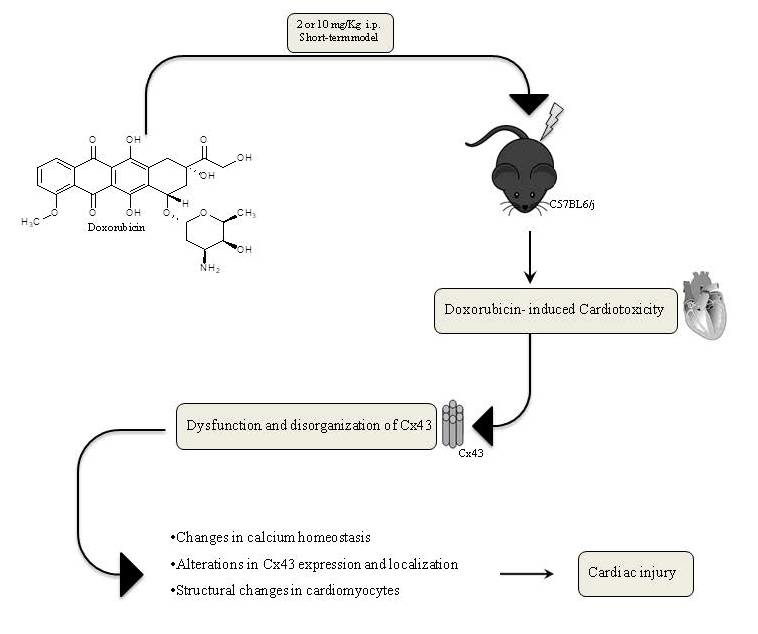 This is an open access article distributed under the
Creative Commons Attribution License
which permits unrestricted use, distribution, and reproduction in any medium, provided the original work is properly cited. (CC BY 4.0).
Share & Cite This Article
MDPI and ACS Style
Pecoraro, M.; Rodríguez-Sinovas, A.; Marzocco, S.; Ciccarelli, M.; Iaccarino, G.; Pinto, A.; Popolo, A. Cardiotoxic Effects of Short-Term Doxorubicin Administration: Involvement of Connexin 43 in Calcium Impairment. Int. J. Mol. Sci. 2017, 18, 2121.
Note that from the first issue of 2016, MDPI journals use article numbers instead of page numbers. See further details here.
Related Articles
Comments
[Return to top]