Convergent Effects of Resveratrol and PYK2 on Prostate Cells
1
Department of Molecular Medicine and Medical Biotechnologies, University of Naples "Federico II", 80131 Naples, Italy
2
Institute of Experimental Oncology and Endocrinology, National Research Council of Italy, 80131 Naples, Italy
3
Centro di Ingegneria Genetica (CEINGE)—Biotecnologie Avanzate, 80131 Naples, Italy
4
Institute of Polymers, Composites and Biomaterials, National Research Council of Italy, 80131 Naples, Italy
5
Centro Sanitario, University of Calabria, 87036 Rende (CS), Italy
6
Department of Pharmacy, Health Science and Nutrition, University of Calabria, 87036 Rende (CS), Italy
7
Department of Medical and Translational Science, University Federico II of Naples, 80131 Naples, Italy
*
Authors to whom correspondence should be addressed.
Academic Editor: Maurizio Battino
Received: 28 July 2016 / Revised: 31 August 2016 / Accepted: 7 September 2016 / Published: 13 September 2016
Abstract
Resveratrol, a dietary polyphenol, is under consideration as chemopreventive and chemotherapeutic agent for several diseases, including cancer. However, its mechanisms of action and its effects on non-tumor cells, fundamental to understand its real efficacy as chemopreventive agent, remain largely unknown. Proline-rich tyrosine kinase 2 (PYK2), a non-receptor tyrosine kinase acting as signaling mediator of different stimuli, behaves as tumor-suppressor in prostate. Since, PYK2 and RSV share several fields of interaction, including oxidative stress, we have investigated their functional relationship in human non-transformed prostate EPN cells and in their tumor-prone counterpart EPN-PKM, expressing a PYK2 dead-kinase mutant. We show that RSV has a strong biological activity in both cell lines, decreasing ROS production, inducing morphological changes and reversible growth arrest, and activating autophagy but not apoptosis. Interestingly, the PYK2 mutant increases basal ROS and autophagy levels, and modulates the intensity of RSV effects. In particular, the anti-oxidant effect of RSV is more potent in EPN than in EPN-PKM, whereas its anti-proliferative and pro-autophagic effects are more significant in EPN-PKM. Consistently, PYK2 depletion by RNAi replicates the effects of the PKM mutant. Taken together, our results reveal that PYK2 and RSV act on common cellular pathways and suggest that RSV effects on prostate cells may depend on mutational-state or expression levels of PYK2 that emerges as a possible mediator of RSV mechanisms of action. Moreover, the observation that resveratrol effects are reversible and not associated to apoptosis in tumor-prone EPN-PKM cells suggests caution for its use in humans.
View Full-Text
►

▼

Figures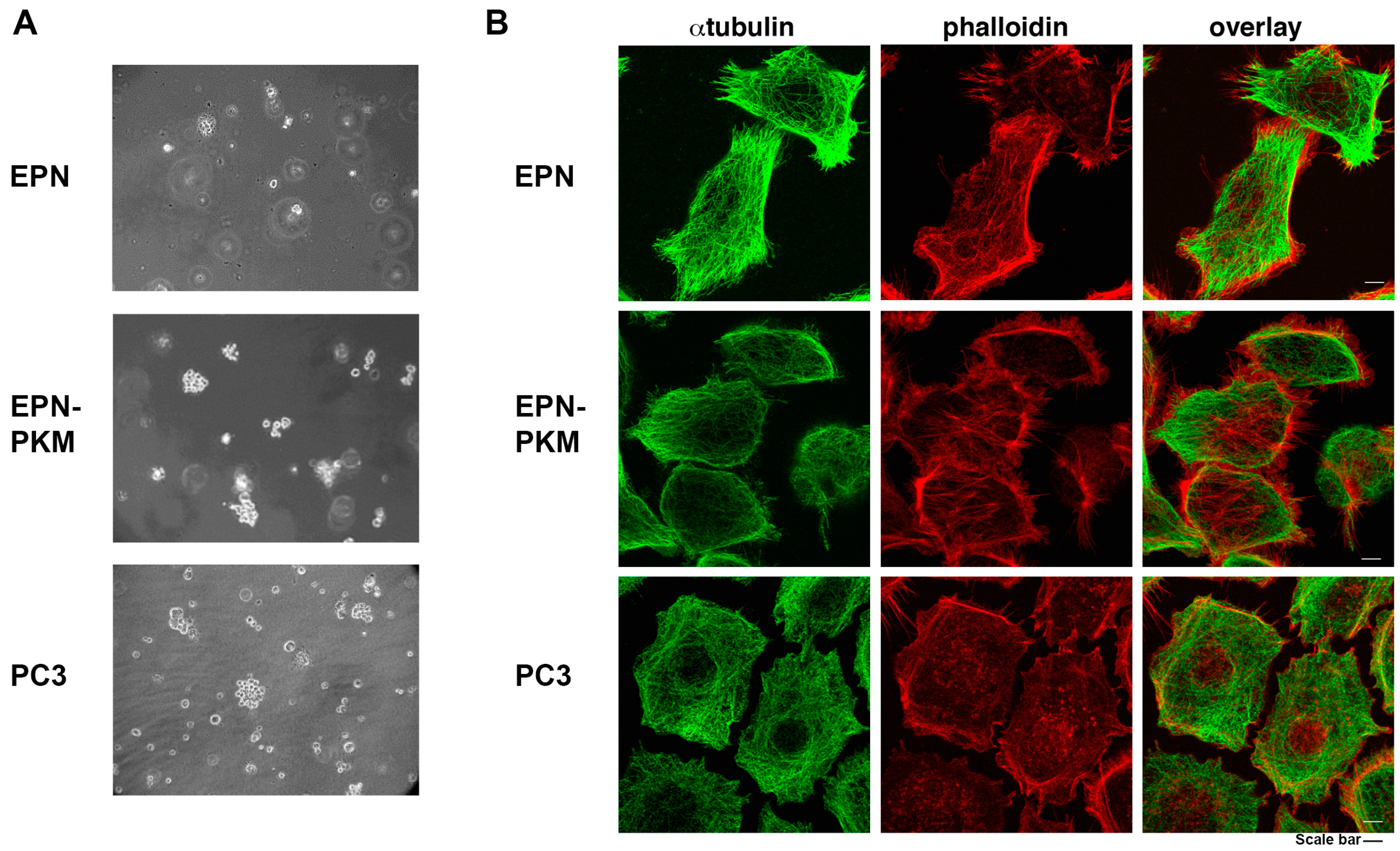 Figure 1
This is an open access article distributed under the
Creative Commons Attribution License
which permits unrestricted use, distribution, and reproduction in any medium, provided the original work is properly cited. (CC BY 4.0).
Share & Cite This Article
MDPI and ACS Style
Conte, A.; Kisslinger, A.; Procaccini, C.; Paladino, S.; Oliviero, O.; de Amicis, F.; Faicchia, D.; Fasano, D.; Caputo, M.; Matarese, G.; Pierantoni, G.M.; Tramontano, D. Convergent Effects of Resveratrol and PYK2 on Prostate Cells. Int. J. Mol. Sci. 2016, 17, 1542.
Note that from the first issue of 2016, MDPI journals use article numbers instead of page numbers. See further details here.
Related Articles
Comments
[Return to top]