Expression of Tenascin C, EGFR, E-Cadherin, and TTF-1 in Medullary Thyroid Carcinoma and the Correlation with RET Mutation Status
1
Department of Pathology, Paracelsus Medical University Salzburg, Müllner Hauptstrasse 48, A-5020 Salzburg, Austria
2
Department of Nuclear Medicine and Endocrinology, Paracelsus Medical University Salzburg, Müllner Hauptstrasse 48, A-5020 Salzburg, Austria
*
Author to whom correspondence should be addressed.
Academic Editor: Daniela Gabriele Grimm
Received: 15 May 2016 / Revised: 21 June 2016 / Accepted: 24 June 2016 / Published: 9 July 2016
Abstract
Tenascin C expression correlates with tumor grade and indicates worse prognosis in several tumors. Epidermal growth factor receptor (EGFR) plays an important role in driving proliferation in many tumors. Loss of E-cadherin function is associated with tumor invasion and metastasis. Thyroid transcription factor-1 (TTF-1) is involved in rearranged during transfection (RET) transcription in Hirschsprung's disease. Tenascin C, EGFR, E-cadherin, TTF-1-expression, and their correlations with RET mutation status were investigated in 30 patients with medullary thyroid carcinoma (MTC) (
n
= 26) or C-cell hyperplasia (
n
= 4). Tenascin C was found in all, EGFR in 4/26, E-cadherin in 23/26, and TTF-1 in 25/26 MTC. Tenascin C correlated significantly with tumor proliferation (overall,
r
= 0.61,
p
< 0.005; RET-mutated,
r
= 0.81,
p
< 0.01). E-cadherin showed weak correlation, whereas EGFR and TTF-1 showed no significant correlation with tumor proliferation. EGFR, E-cadherin, and TTF-1 showed weak correlation with proliferation of RET-mutated tumors. Correlation between TTF-1 and tenascin C, E-cadherin, and EGFR was
r
= −0.10, 0.37, and 0.21, respectively. In conclusion, MTC express tenascin C, E-cadherin, and TTF-1. Tenascin C correlates significantly with tumor proliferation, especially in RET-mutated tumors. EGFR is low, and tumors expressing EGFR do not exhibit higher proliferation. TTF-1 does not correlate with RET mutation status and has a weak correlation with tenascin C, E-cadherin, and EGFR expression.
View Full-Text
►

▼

Figures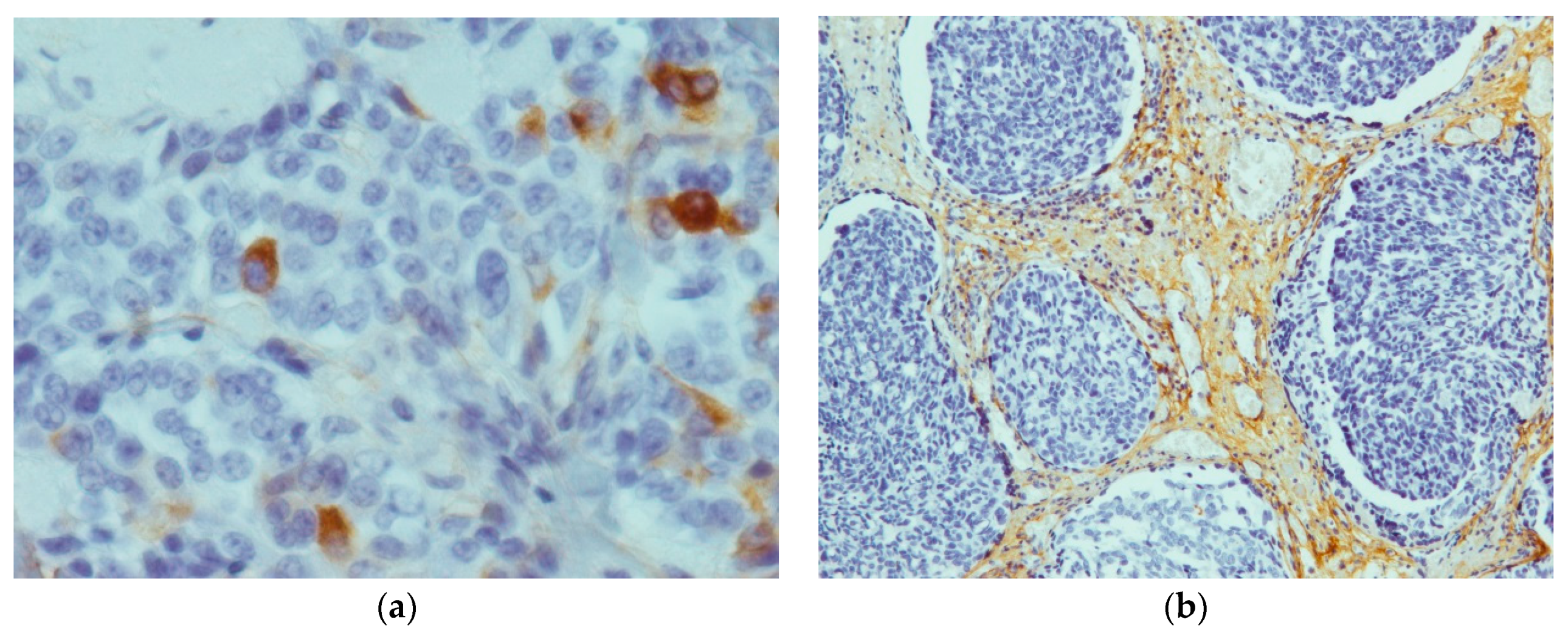 Figure 1
This is an open access article distributed under the
Creative Commons Attribution License
which permits unrestricted use, distribution, and reproduction in any medium, provided the original work is properly cited. (CC BY 4.0).
Share & Cite This Article
MDPI and ACS Style
Steiner, F.; Hauser-Kronberger, C.; Rendl, G.; Rodrigues, M.; Pirich, C. Expression of Tenascin C, EGFR, E-Cadherin, and TTF-1 in Medullary Thyroid Carcinoma and the Correlation with RET Mutation Status. Int. J. Mol. Sci. 2016, 17, 1093.
Note that from the first issue of 2016, MDPI journals use article numbers instead of page numbers. See further details here.
Related Articles
Comments
[Return to top]