Pediatric Tuberculosis in Italian Children: Epidemiological and Clinical Data from the Italian Register of Pediatric Tuberculosis
1
Department of Health Sciences, University of Florence, Pediatric Infectious Diseases Division, Anna Meyer Children's University Hospital, Florence 50139, Italy
2
Unit of General Pediatrics and Pediatric Infectious Diseases, Istituto di Ricovero e Cura a Carattere Scientifico (IRCCS) Bambino Gesù Hospital, Rome 00165, Italy
3
Department of Pediatrics, University of Modena and Reggio Emilia, Modena 41121, Italy
4
Pediatric Infectious Diseases Unit, Regina Margherita Hospital, University of Turin, Turin 10126, Italy
5
Pediatric Unit, Ramazzini Hospital, Carpi (Modena) 41124, Italy
6
Section of Pediatrics, Department of Translational Medical Science, University of Naples Federico II, Naples 80131, Italy
7
Infectious Diseases Unit, IRCCS Giannina Gaslini, Genoa 16148, Italy
8
Pediatric Clinic, University of Pavia, IRCCS Policlinico "S. Matteo" Foundation, Pavia 27100, Italy
9
Pediatric Highly Intensive Care Unit, Department of Pathophysiology and Transplantation, Università degli Studi di Milano, Fondazione IRCCS Ca' Granda Ospedale Maggiore Policlinico, Milan 20122, Italy
10
Infectious Diseases Unit, St. Giovanni XXIII Pediatric Hospital, Bari 70120, Italy
11
Pediatric Unit, S. Maria del Carmine Hospital, Rovereto (Trento) 38068, Italy
12
Institute of Pediatrics, Università Cattolica del Sacro Cuore, Rome 00168, Italy
13
Pediatric Unit, "Campo di Marte" Hospital, Lucca 55100, Italy
14
Pediatric Clinic, San Paolo Hospital, University of Milan, Milan 20142, Italy
15
Department of Pediatrics, Parma University Hospital, Parma 43126, Italy
16
Pediatric Unit, Ca' Foncello Civil Hospital, Treviso 31100, Italy
17
Pediatric Unit, St. Anna Hospital, Como 22100, Italy
18
Pediatric Unit, Arcispedale Sant'Anna, University of Ferrara, Ferrara 44100, Italy
19
Division of Infectious Diseases, Istituti Ospitalieri di Cremona, Cremona 26100, Italy
20
Pediatric Unit, Sesto San Giovanni Hospital, Milan 20099, Italy
21
Infectious Diseases Unit, S. Antonio Abate Hospital, Trapani 91016, Italy
22
Department of Internal Medicine and Public Health, University of L'Aquila, L'Aquila 67100, Italy
23
Infectious Disease Section, Department of Experimental Medicine and Biochemical Sciences, University of Perugia, Perugia 06100, Italy
24
Department of Pediatrics, Gynecology, Microbiological and Biomedical Sciences, University of Messina, Messina 98126, Italy
25
Pediatric Infectious Disease Unit, Narni Hospital, Narni (Terni) 05035, Italy
26
Infectious Disease Section, Palermo-Civico Hospital, Azienda di Rilievo Nazionale ad Alta Specializzazione (ARNAS), Palermo 90127, Italy
27
Pediatric clinic, Santa Maria della Misericordia Hospital, Perugia 06156, Italy
28
Department of Health Sciences, University of Florence, Anna Meyer Children's University Hospital, Florence 50139, Italy
*
Author to whom correspondence should be addressed.
Academic Editor: William Chi-shing Cho
Received: 22 February 2016 / Revised: 5 May 2016 / Accepted: 5 May 2016 / Published: 17 June 2016
Abstract
Tuberculosis (TB) is one of the leading causes of death worldwide. Over the last decades, TB has also emerged in the pediatric population. Epidemiologic data of childhood TB are still limited and there is an urgent need of more data on very large cohorts. A multicenter study was conducted in 27 pediatric hospitals, pediatric wards, and public health centers in Italy using a standardized form, covering the period of time between 1 January 2010 and 31 December 2012. Children with active TB, latent TB, and those recently exposed to TB or recently adopted/immigrated from a high TB incidence country were enrolled. Overall, 4234 children were included; 554 (13.1%) children had active TB, 594 (14.0%) latent TB and 3086 (72.9%) were uninfected. Among children with active TB, 481 (86.8%) patients had pulmonary TB. The treatment of active TB cases was known for 96.4% (
n
= 534) of the cases. Overall, 210 (39.3%) out of these 534 children were treated with three and 216 (40.4%) with four first-line drugs. Second-line drugs where used in 87 (16.3%) children with active TB. Drug-resistant strains of
Mycobacterium tuberculosis
were reported in 39 (7%) children. Improving the surveillance of childhood TB is important for public health care workers and pediatricians. A non-negligible proportion of children had drug-resistant TB and was treated with second-line drugs, most of which are off-label in the pediatric age. Future efforts should concentrate on improving active surveillance, diagnostic tools, and the availability of antitubercular pediatric formulations, also in low-endemic countries.
View Full-Text
►

▼

Figures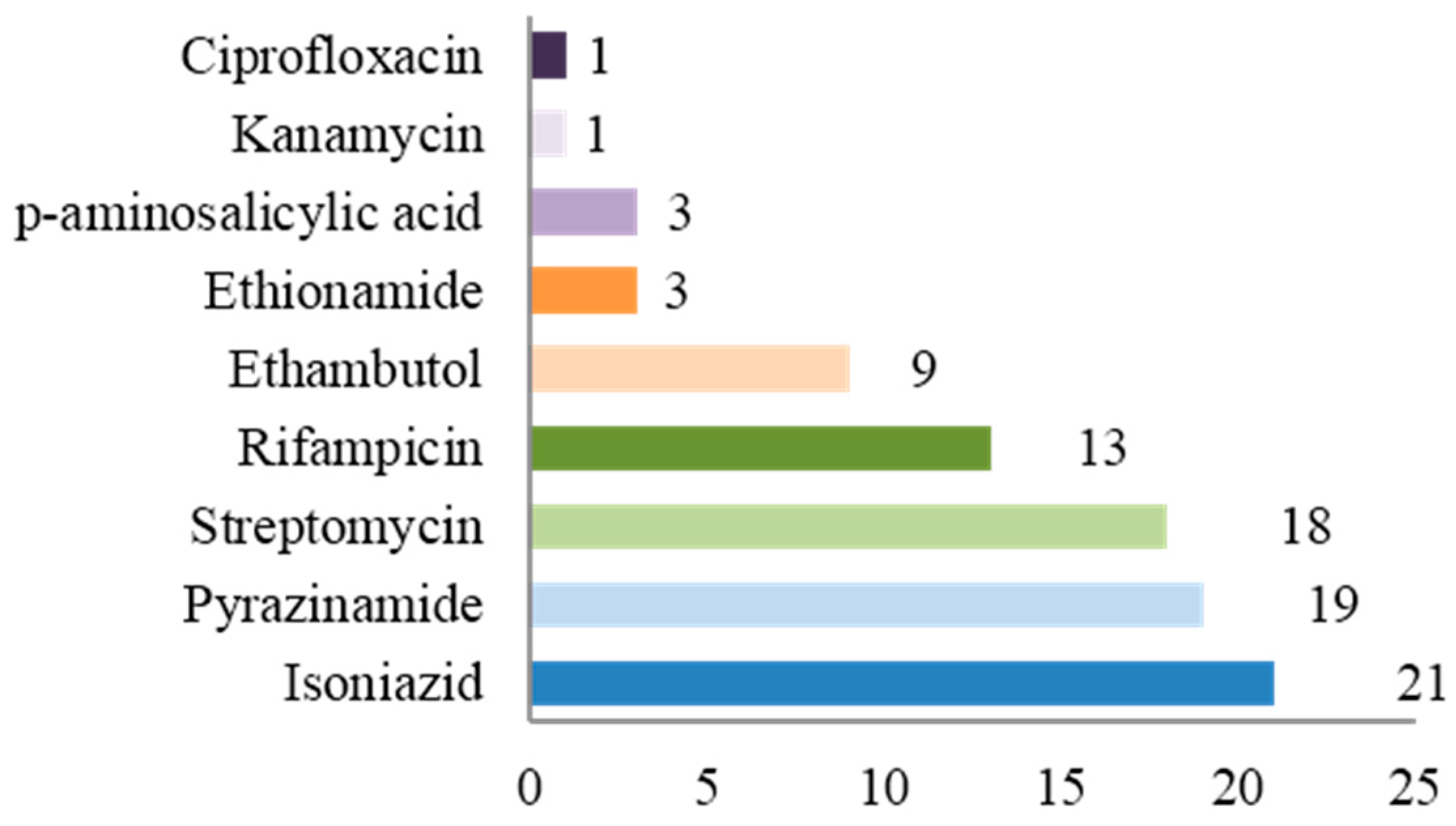 Figure 1
This is an open access article distributed under the
Creative Commons Attribution License
which permits unrestricted use, distribution, and reproduction in any medium, provided the original work is properly cited. (CC BY 4.0).
Scifeed alert for new publications
Never miss any articles
matching your research
from any publisher
Get alerts for new papers matching your research
Find out the new papers from selected authors
Updated daily for 49'000+ journals and 6000+ publishers
Share & Cite This Article
MDPI and ACS Style
Galli, L.; Lancella, L.; Tersigni, C.; Venturini, E.; Chiappini, E.; Bergamini, B.M.; Codifava, M.; Venturelli, C.; Tosetti, G.; Marabotto, C.; Cursi, L.; Boccuzzi, E.; Garazzino, S.; Tovo, P.A.; Pinon, M.; Le Serre, D.; Castiglioni, L.; Lo Vecchio, A.; Guarino, A.; Bruzzese, E.; Losurdo, G.; Castagnola, E.; Bossi, G.; Marseglia, G.L.; Esposito, S.; Bosis, S.; Grandolfo, R.; Fiorito, V.; Valentini, P.; Buonsenso, D.; Domenici, R.; Montesanti, M.; Salvini, F.M.; Riva, E.; Dodi, I.; Maschio, F.; Abbagnato, L.; Fiumana, E.; Fornabaio, C.; Ballista, P.; Portelli, V.; Bottone, G.; Palladino, N.; Valenzise, M.; Vecchi, B.; Di Gangi, M.; Lupi, C.; Villani, A.; de Martino, M. Pediatric Tuberculosis in Italian Children: Epidemiological and Clinical Data from the Italian Register of Pediatric Tuberculosis. Int. J. Mol. Sci. 2016, 17, 960.
Note that from the first issue of 2016, MDPI journals use article numbers instead of page numbers. See further details here.
Related Articles
Comments
[Return to top]