Novel Zinc(II) Complexes [Zn(atc-Et)2] and [Zn(atc-Ph)2]: In Vitro and in Vivo Antiproliferative Studies
1
Faculdade de Ciencias Farmaceuticas, UNESP—Univ Estadual Paulista, Campus Araraquara, Araraquara, São Paulo 14800-903, Brazil
2
Instituto de Química de São Carlos, USP—Univ de São Paulo, São Carlos, São Paulo 13560-970, Brazil
3
Centro de Estudos Ambientais, UNESP—Univ Estadual Paulista, Campus Rio Claro, Rio Claro, São Paulo 13506-900, Brazil
*
Author to whom correspondence should be addressed.
Academic Editor: Sotiris Hadjikakou
Received: 31 March 2016 / Revised: 2 May 2016 / Accepted: 6 May 2016 / Published: 21 May 2016
Abstract
Cisplatin and its derivatives are the main metallodrugs used in cancer therapy. However, low selectivity, toxicity and drug resistance are associated with their use. The zinc(II) (Zn
II
) thiosemicarbazone complexes [Zn(atc-Et)
2
] (
1
) and [Zn(atc-Ph)
2
] (
2
) (atc-R: monovalent anion of 2-acetylpyridine N4-R-thiosemicarbazone) were synthesized and fully characterized in the solid state and in solution via elemental analysis, Fourier transform infrared (FTIR), ultraviolet-visible (UV-Vis) and proton nuclear magnetic resonance (
1
H NMR) spectroscopy, conductometry and single-crystal X-ray diffraction. The cytotoxicity of these complexes was evaluated in the HepG2, HeLa, MDA-MB-231, K-562, DU 145 and MRC-5 cancer cell lines. The strongest antiproliferative results were observed in MDA-MB-231 and HepG2 cells, in which these complexes displayed significant selective toxicity (3.1 and 3.6, respectively) compared with their effects on normal MRC-5 cells.
In vivo
studies were performed using an alternative model (
Artemia salina
L.) to assure the safety of these complexes, and the results were confirmed using a conventional model (BALB/c mice). Finally, tests of oral bioavailability showed maximum plasma concentrations of 3029.50 µg/L and 1191.95 µg/L for complexes
1
and
2
, respectively. According to all obtained results, both compounds could be considered as prospective antiproliferative agents that warrant further research.
View Full-Text
►

▼

Figures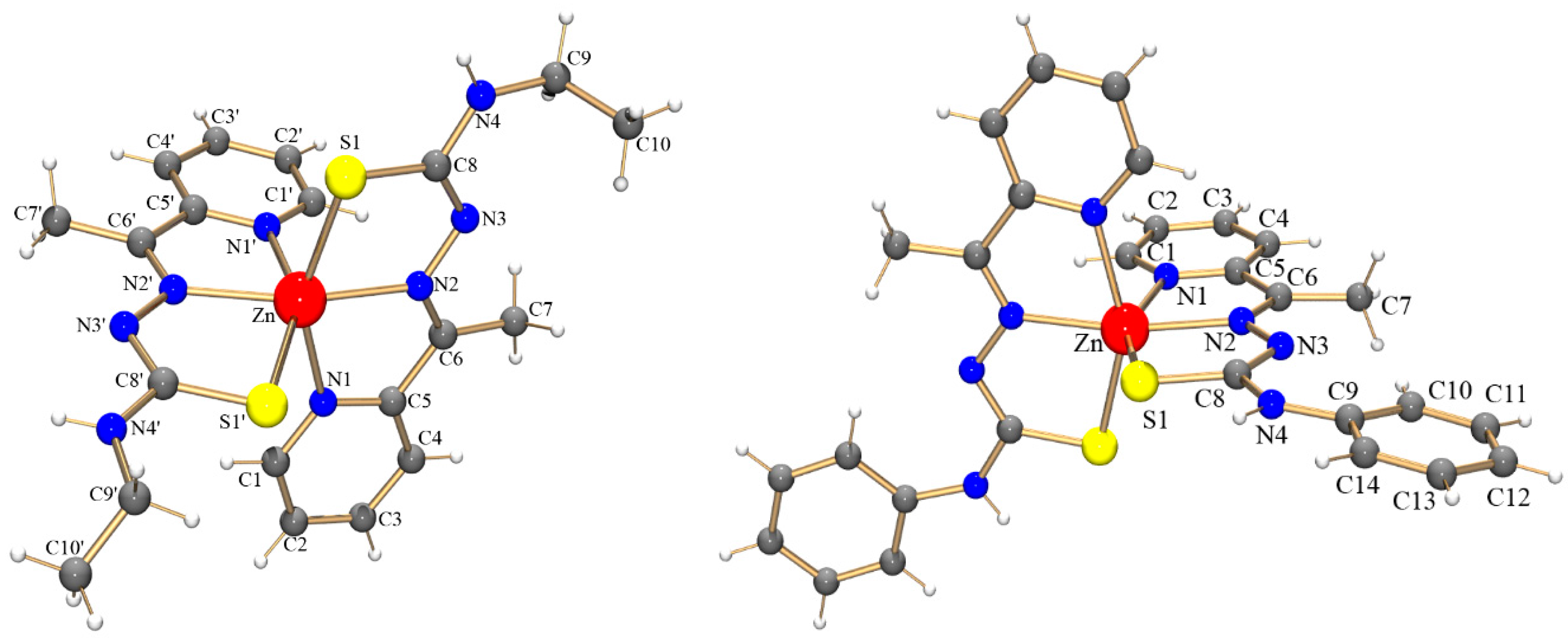 Figure 1
This is an open access article distributed under the
Creative Commons Attribution License
which permits unrestricted use, distribution, and reproduction in any medium, provided the original work is properly cited. (CC BY 4.0).
Share & Cite This Article
MDPI and ACS Style
Lopes, E.O.; Oliveira, C.G.; Silva, P.B.; Eismann, C.E.; Suárez, C.A.; Menegário, A.A.; Leite, C.Q.F.; Deflon, V.M.; Pavan, F.R. Novel Zinc(II) Complexes [Zn(atc-Et)2] and [Zn(atc-Ph)2]: In Vitro and in Vivo Antiproliferative Studies. Int. J. Mol. Sci. 2016, 17, 781.
Note that from the first issue of 2016, MDPI journals use article numbers instead of page numbers. See further details here.
Related Articles
Comments
[Return to top]