Modulation of GLO1 Expression Affects Malignant Properties of Cells
1
Institute of Biochemistry, Medical Faculty, University of Leipzig, Johannisallee 30, Leipzig 04103, Germany
2
Max Planck Institute of Evolutionary Anthropology, Deutscher Platz 6, Leipzig 04103, Germany
3
Institute of Medical Microbiology, Faculty of Medicine, University of Leipzig, Liebigstrasse 21, Leipzig 04103, Germany
4
College of Medicine and Health Sciences, Bahir Dar University, Bahir Dar P.O. Box 79, Ethiopia
5
Department of Neurosurgery, University Hospital Leipzig, Liebigstrasse 20, Leipzig 04103, Germany
*
Author to whom correspondence should be addressed.
Academic Editor: Casper Schalkwijk
Received: 31 August 2016 / Revised: 8 December 2016 / Accepted: 12 December 2016 / Published: 18 December 2016
Abstract
The energy metabolism of most tumor cells relies on aerobic glycolysis (Warburg effect) characterized by an increased glycolytic flux that is accompanied by the increased formation of the cytotoxic metabolite methylglyoxal (MGO). Consequently, the rate of detoxification of this reactive glycolytic byproduct needs to be increased in order to prevent deleterious effects to the cells. This is brought about by an increased expression of glyoxalase 1 (GLO1) that is the rate-limiting enzyme of the MGO-detoxifying glyoxalase system. Here, we overexpressed GLO1 in HEK 293 cells and silenced it in MCF-7 cells using shRNA. Tumor-related properties of wild type and transformed cells were compared and key glycolytic enzyme activities assessed. Furthermore, the cells were subjected to hypoxic conditions to analyze the impact on cell proliferation and enzyme activities. Our results demonstrate that knockdown of GLO1 in the cancer cells significantly reduced tumor-associated properties such as migration and proliferation, whereas no functional alterations where found by overexpression of GLO1 in HEK 293 cells. In contrast, hypoxia caused inhibition of cell growth of all cells except of those overexpressing GLO1. Altogether, we conclude that GLO1 on one hand is crucial to maintaining tumor characteristics of malignant cells, and, on the other hand, supports malignant transformation of cells in a hypoxic environment when overexpressed.
View Full-Text
►

▼

Figures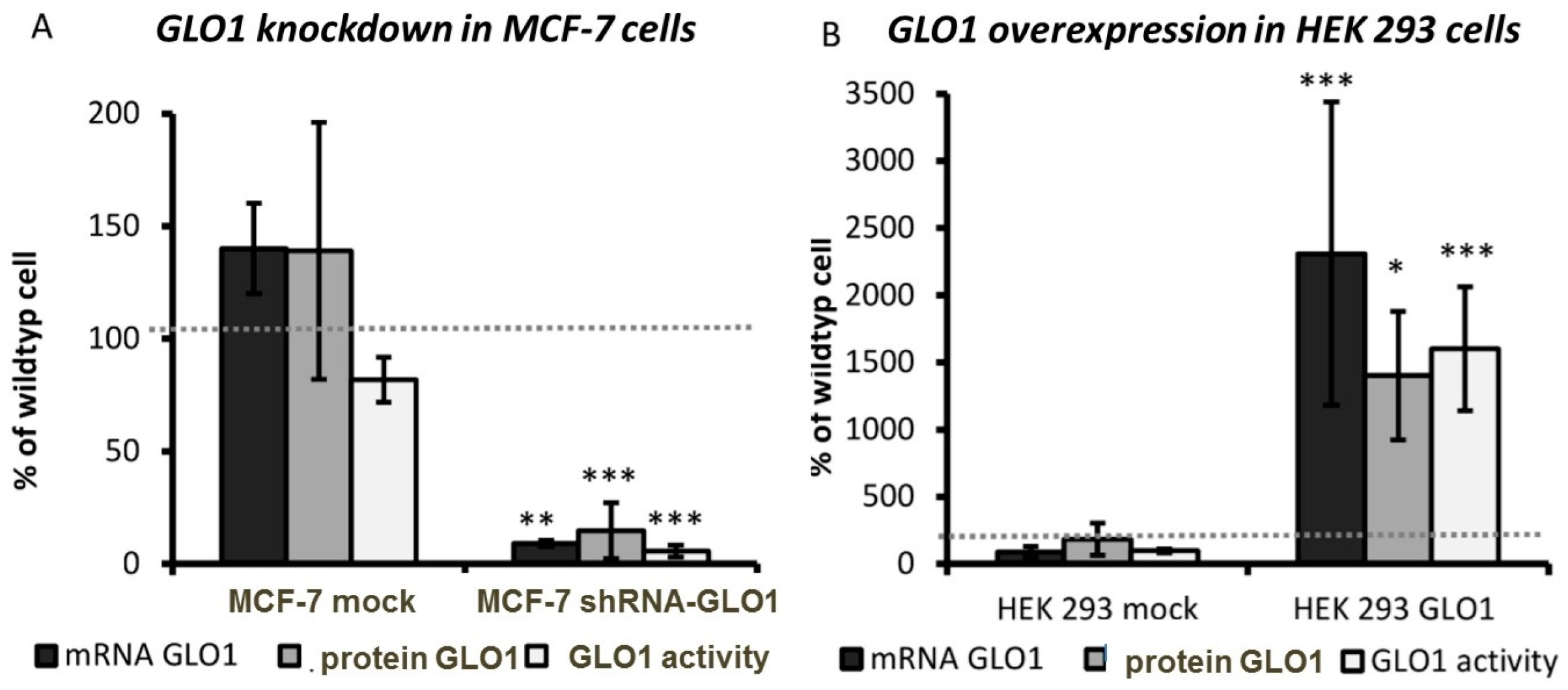 Figure 1a
This is an open access article distributed under the
Creative Commons Attribution License
which permits unrestricted use, distribution, and reproduction in any medium, provided the original work is properly cited. (CC BY 4.0).
Share & Cite This Article
MDPI and ACS Style
Hutschenreuther, A.; Bigl, M.; Hemdan, N.Y.A.; Debebe, T.; Gaunitz, F.; Birkenmeier, G. Modulation of GLO1 Expression Affects Malignant Properties of Cells. Int. J. Mol. Sci. 2016, 17, 2133.
Note that from the first issue of 2016, MDPI journals use article numbers instead of page numbers. See further details here.
Related Articles
Comments
[Return to top]