Knockdown of ELMO3 Suppresses Growth, Invasion and Metastasis of Colorectal Cancer
1
Department of Pathogen Biology and Immunology, Medical College of Nanchang University, Nanchang 330006, China
2
Department of Gastroenterology and Hepatology, Second Affiliated Hospital of Nanchang University, Nanchang 330006, China
3
Department of Gastrointestinal Surgery, Second Affiliated Hospital of Nanchang University, Nanchang 330006, China
4
Department of Pathophysiology, Medical College of Nanchang University, Nanchang 330006, China
5
Institute of Molecular Medicine, Jiangxi Academy of Medical Sciences, Nanchang 330006, China
†
These authors contributed equally to this work.
*
Author to whom correspondence should be addressed.
Academic Editor: Peter J. K. Kuppen
Received: 4 October 2016 / Revised: 5 December 2016 / Accepted: 12 December 2016 / Published: 16 December 2016
Abstract
The engulfment and cell motility (ELMOs) family of proteins plays a crucial role in tumor cell migration and invasion. However, the function of ELMO3 is poorly defined. To elucidate its role in the development and progression of colorectal cancer (CRC), we examined the expression of ELMO3 in 45 cases of paired CRC tumor tissues and adjacent normal tissues. Furthermore, we assessed the effect of the knockdown of ELMO3 on cell proliferation, cell cycle, migration, invasion and F-actin polymerization in HCT116 cells. The result shows that the expression of ELMO3 in CRC tissues was significantly increased in comparison to the adjacent normal colorectal tissues. Moreover, this overexpression was associated with tumor size (
p
= 0.007), tumor differentiation (
p
= 0.001), depth of invasion (
p
= 0.009), lymph node metastasis (
p
= 0.003), distant metastasis (
p
= 0.013) and tumor, node, metastasis (TNM)-based classification (
p
= 0.000). In in vitro experiments, the silencing of ELMO3 inhibited cell proliferation, invasion, metastasis, and F-actin polymerization, and induced Gap 1 (G1) phase cell cycle arrest. Our study demonstrates that ELMO3 is involved in the processes of growth, invasion and metastasis of CRC, and could be used a potential molecular diagnostic tool or therapy target of CRC.
View Full-Text
►

▼

Figures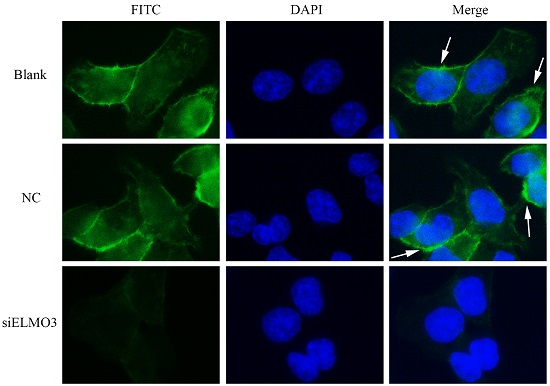 This is an open access article distributed under the
Creative Commons Attribution License
which permits unrestricted use, distribution, and reproduction in any medium, provided the original work is properly cited. (CC BY 4.0).
Share & Cite This Article
MDPI and ACS Style
Peng, H.-Y.; Yu, Q.-F.; Shen, W.; Guo, C.-M.; Li, Z.; Zhou, X.-Y.; Zhou, N.-J.; Min, W.-P.; Gao, D. Knockdown of ELMO3 Suppresses Growth, Invasion and Metastasis of Colorectal Cancer. Int. J. Mol. Sci. 2016, 17, 2119.
Note that from the first issue of 2016, MDPI journals use article numbers instead of page numbers. See further details here.
Related Articles
Comments
[Return to top]