Transcriptome of Cultured Lung Fibroblasts in Idiopathic Pulmonary Fibrosis: Meta-Analysis of Publically Available Microarray Datasets Reveals Repression of Inflammation and Immunity Pathways
1
Centre d'Étude des Pathologies Respiratoires-CEPR, Institut National de la Santé et de la Recherche Médicale-INSERM, Unité Mixte de Recherche-UMR1100, Labex Mabimprove, 37000 Tours, France
2
Université François Rabelais, 37000 Tours, France
3
Centre Hospitalier Régional Universitaire-CHRU de Tours, Hôpital Bretonneau, Service de Pneumologie et Explorations Fonctionnelles Respiratoires, 37000 Tours, France
4
Institut National de la Santé et de la Recherche Médicale-INSERM, Unité Mixte de Recherche-UMR1152, Labex Inflamex, 75018 Paris, France
5
Centre Hospitalier Régional Universitaire-CHRU de Tours, Hôpital Trousseau, Service de Pharmacie, 37170 Chambray-les-Tours, France
6
Université Paris Diderot, PRES Sorbonne Paris Cité, 75018 Paris, France
7
AP-HP, Hôpital Bichat, Service de Pneumologie A, DHU FIRE, 75018 Paris, France
*
Author to whom correspondence should be addressed.
Academic Editor: Alfredo Ciccodicola
Received: 25 September 2016 / Revised: 2 December 2016 / Accepted: 5 December 2016 / Published: 13 December 2016
Abstract
Heritable profibrotic differentiation of lung fibroblasts is a key mechanism of idiopathic pulmonary fibrosis (IPF). Its mechanisms are yet to be fully understood. In this study, individual data from four independent microarray studies comparing the transcriptome of fibroblasts cultured in vitro from normal (total
n
= 20) and IPF (total
n
= 20) human lung were compiled for meta-analysis following normalization to z-scores. One hundred and thirteen transcripts were upregulated and 115 were downregulated in IPF fibroblasts using the Significance Analysis of Microrrays algorithm with a false discovery rate of 5%. Downregulated genes were highly enriched for Gene Ontology and Kyoto Encyclopedia of Genes and Genomes (KEGG) functional classes related to inflammation and immunity such as Defense response to virus, Influenza A, tumor necrosis factor (TNF) mediated signaling pathway, interferon-inducible absent in melanoma2 (AIM2) inflammasome as well as Apoptosis. Although upregulated genes were not enriched for any functional class, select factors known to play key roles in lung fibrogenesis were overexpressed in IPF fibroblasts, most notably
connective tissue growth factor
(
CTGF
) and
serum response factor
(
SRF
), supporting their role as drivers of IPF. The full data table is available as a supplement.
View Full-Text
►

▼

Figures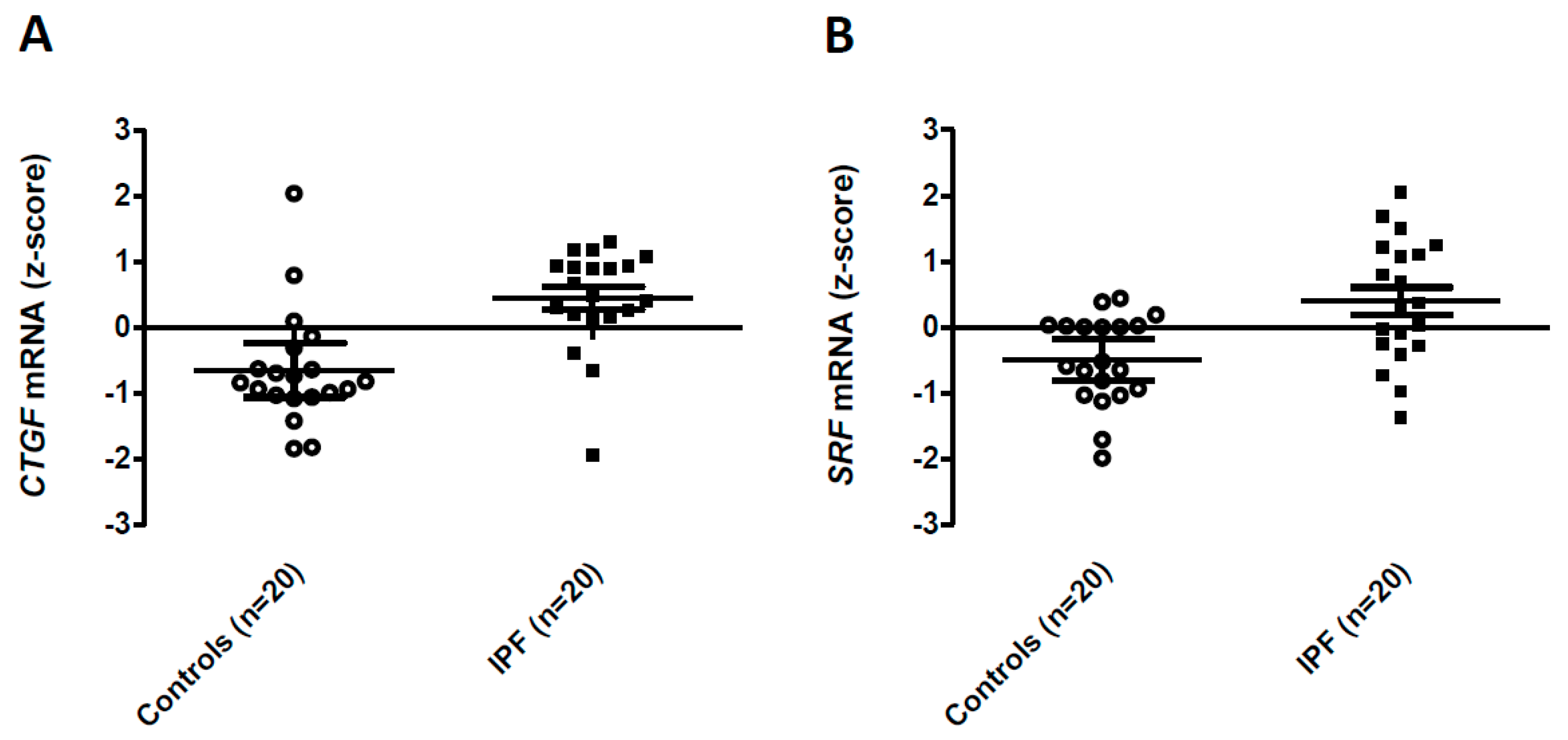 Figure 1
This is an open access article distributed under the
Creative Commons Attribution License
which permits unrestricted use, distribution, and reproduction in any medium, provided the original work is properly cited. (CC BY 4.0).
Share & Cite This Article
MDPI and ACS Style
Plantier, L.; Renaud, H.; Respaud, R.; Marchand-Adam, S.; Crestani, B. Transcriptome of Cultured Lung Fibroblasts in Idiopathic Pulmonary Fibrosis: Meta-Analysis of Publically Available Microarray Datasets Reveals Repression of Inflammation and Immunity Pathways. Int. J. Mol. Sci. 2016, 17, 2091.
Note that from the first issue of 2016, MDPI journals use article numbers instead of page numbers. See further details here.
Related Articles
Comments
[Return to top]