Radiological Patterns of Brain Metastases in Breast Cancer Patients: A Subproject of the German Brain Metastases in Breast Cancer (BMBC) Registry
1
Department of Gynecology, University Medical Center Hamburg-Eppendorf, Hamburg 20246, Germany
2
Department of Neuroradiology, University Medical Center Hamburg-Eppendorf, Hamburg 20246, Germany
3
Department of Medical Biometry and Epidemiology, University Medical Center Hamburg-Eppendorf, Hamburg 20246, Germany
4
Department for Epidemiology, University Medical Center Groningen, Groningen 9700, The Netherlands
5
German Breast Group GmbH, Neu-Isenburg 63263, Germany
6
Department of Gynecology, Agaplesion Diakonie-Clinic Rotenburg, Rotenburg 27356, Germany
7
Department of Radiotherapy, Radiology Allianz, Hamburg 22767, Germany
8
Translational Research Board of the Arbeitsgemeinschaft für Gynäkologische Onkologie (AGO-Trafo), Duesseldorf 40225, Germany
9
Breast Study Group of the Arbeitsgemeinschaft für Gynäkologische Onkologie (AGO-B), Frankfurt 65929, Germany
10
Department of Gynecology, Hannover Medical School, Hannover 30625, Germany
*
Author to whom correspondence should be addressed.
Academic Editors: Sanjay K. Srivastava and Anthony Lemarié
Received: 18 July 2016 / Revised: 30 August 2016 / Accepted: 19 September 2016 / Published: 23 September 2016
Abstract
Evidence about distribution patterns of brain metastases with regard to breast cancer subtypes and its influence on the prognosis of patients is insufficient. Clinical data, cranial computed tomography (CT) and magnetic resonance imaging (MRI) scans of 300 breast cancer patients with brain metastases (BMs) were collected retrospectively in four centers participating in the Brain Metastases in Breast Cancer Registry (BMBC) in Germany. Patients with positive estrogen (ER), progesterone (PR), or human epidermal growth factor receptor 2 (HER2) statuses, had a significantly lower number of BMs at diagnosis. Concerning the treatment mode, HER2-positive patients treated with trastuzumab before the diagnosis of BMs showed a lower number of intracranial metastases (
p
< 0.001). Patients with a HER2-positive tumor-subtype developed cerebellar metastases more often compared with HER2-negative patients (59.8% vs. 44.5%,
p
= 0.021), whereas patients with triple-negative primary tumors had leptomeningeal disease more often (31.4% vs. 18.3%,
p
= 0.038). The localization of Brain metastases (BMs) was associated with prognosis: patients with leptomeningeal disease had shorter survival compared with patients without signs of leptomeningeal disease (median survival 3 vs. 5 months,
p
= 0.025). A shorter survival could also be observed in the patients with metastases in the occipital lobe (median survival 3 vs. 5 months,
p
= 0.012). Our findings suggest a different tumor cell homing to different brain regions depending on subtype and treatment.
View Full-Text
►

▼

Figures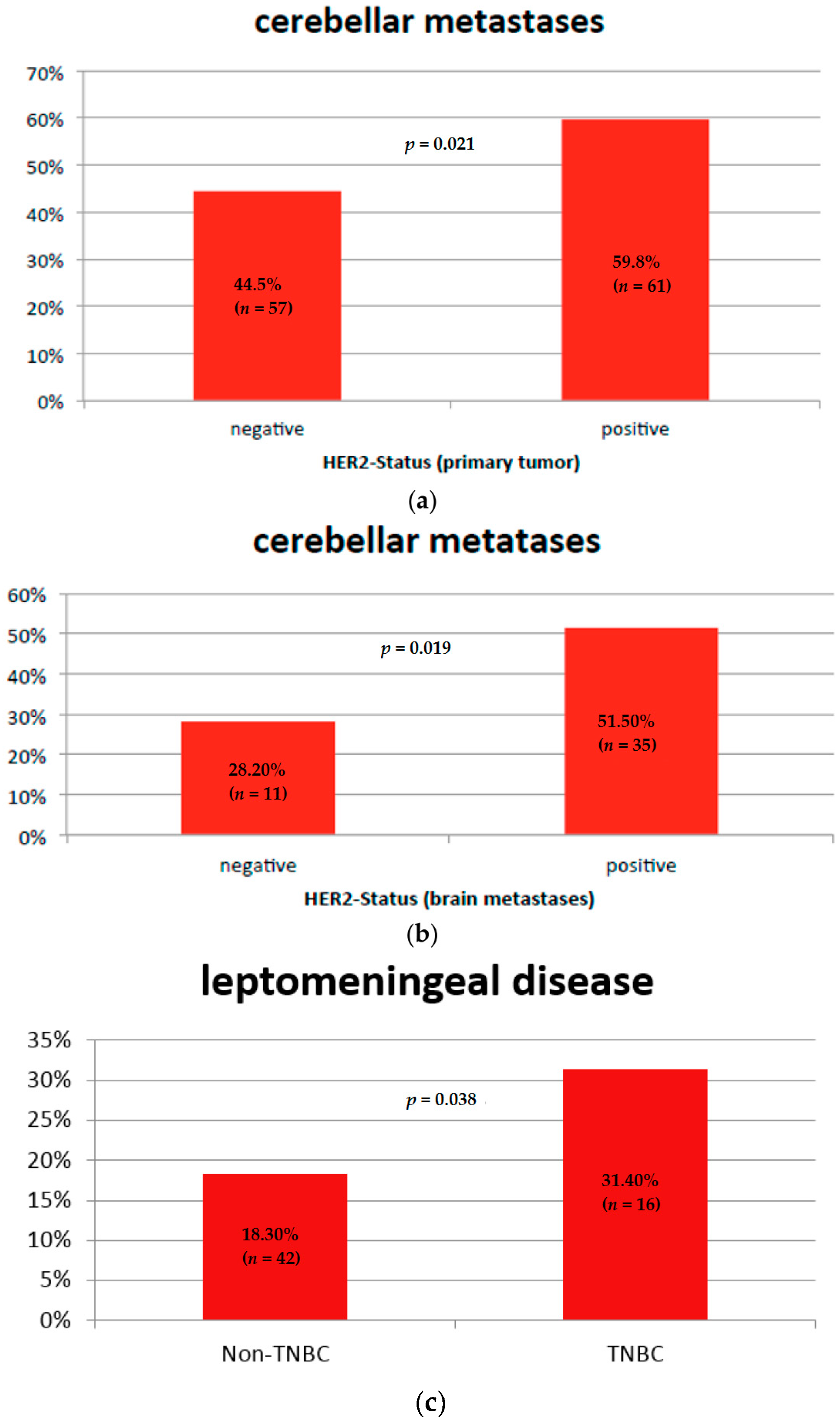 Figure 1
This is an open access article distributed under the
Creative Commons Attribution License
which permits unrestricted use, distribution, and reproduction in any medium, provided the original work is properly cited. (CC BY 4.0).
Share & Cite This Article
MDPI and ACS Style
Laakmann, E.; Witzel, I.; Scriba, V.; Grzyska, U.; zu Eulenburg, C.; Burchardi, N.; Hesse, T.; Würschmidt, F.; Fehm, T.; Möbus, V.; von Minckwitz, G.; Loibl, S.; Park-Simon, T.-W.; Mueller, V. Radiological Patterns of Brain Metastases in Breast Cancer Patients: A Subproject of the German Brain Metastases in Breast Cancer (BMBC) Registry. Int. J. Mol. Sci. 2016, 17, 1615.
Note that from the first issue of 2016, MDPI journals use article numbers instead of page numbers. See further details here.
Related Articles
Comments
[Return to top]