Antiproliferative Activity of Double Point Modified Analogs of 1,25-Dihydroxyvitamin D2 Against Human Malignant Melanoma Cell Lines
1
Department of Histology, Faculty of Medicine, Medical University of Gdańsk, 1a Debinki, Gdańsk 80-211, Poland
2
Pharmaceutical Research Institute, 8 Rydygiera, Warsaw 01-793, Poland
3
School of Immunity and Infection, University of Birmingham, Vincent Drive, Edgbaston, Birmingham, West Midlands B15 2TT, UK
*
Author to whom correspondence should be addressed.
Academic Editors: Roman Perez-Fernandez and Efigenia Arias
Received: 27 November 2015 / Revised: 16 December 2015 / Accepted: 21 December 2015 / Published: 8 January 2016
Abstract
Vitamin D is a lipid soluble steroid hormone with pleiotropic biological properties, including regulation of cell proliferation, differentiation and apoptosis. As to these desirable anticancer actions, 1,25-dihydroxyvitamins D and analogs have been reported to inhibit the proliferation and to induce differentiation of a wide variety of cancer cell types, including human malignant melanoma. However, there is a need for novel and more efficacious vitamin D analogs, and how best to design such is still an open issue. A series of double point modified (DPM) analogs of 1,25-dihydroxyvitamin D
2
(1,25(OH)
2
D
2
) induced differentiation of the vitamin D receptor (VDR) positive A375 and VDR negative SK-MEL 188b human malignant melanoma cell lines. Surprisingly, the dose of 1,25(OH)
2
D
2
required to inhibit the proliferation of the A375 melanoma cell line by was several fold lower than that required in the case of 1,25(OH)
2
D
3
. To evaluate the impact of the modification in the side chain (additional 22-hydroxyl) and in the A-ring (5,6-trans modification), the regular side-chain of vitamin D
2
or D
3
was retained in the structure of our analogs. As expected, 5,6-
trans
modification was advantageous to enhancing the anti-proliferative activity of analogs, but not as a single point modification (SPM). Very unexpectedly, the additional 22-hydroxyl in the side-chain reduced significantly the anti-proliferative activity of both the natural and 5,6-
trans
series analogs. Finally, an induction of pigmentation in melanoma SK-MEL 188b cells was observed to sensitized cells to the effect of vitamin D analogs.
View Full-Text
►

▼

Figures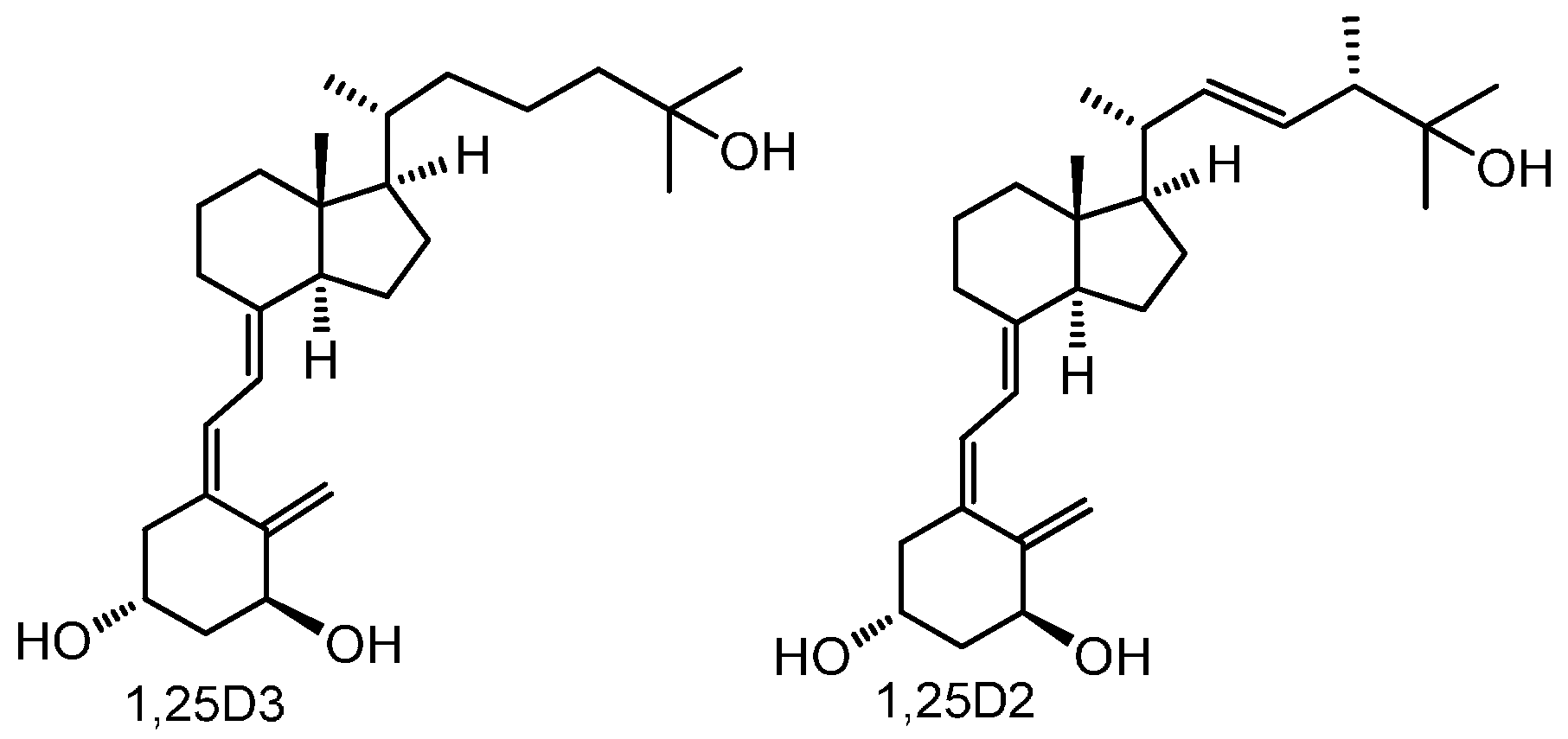 Figure 1
This is an open access article distributed under the
Creative Commons Attribution License
which permits unrestricted use, distribution, and reproduction in any medium, provided the original work is properly cited. (CC BY 4.0).
Share & Cite This Article
MDPI and ACS Style
Piotrowska, A.; Wierzbicka, J.; Nadkarni, S.; Brown, G.; Kutner, A.; Żmijewski, M.A. Antiproliferative Activity of Double Point Modified Analogs of 1,25-Dihydroxyvitamin D2 Against Human Malignant Melanoma Cell Lines. Int. J. Mol. Sci. 2016, 17, 76.
Note that from the first issue of 2016, MDPI journals use article numbers instead of page numbers. See further details here.
Related Articles
Comments
[Return to top]